Library director fired after 'unkind pushback' at Kirk Cameron story hour event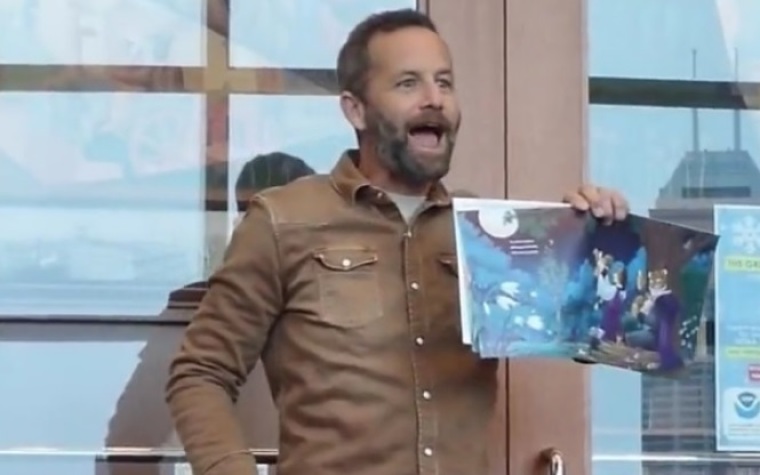 A Tennessee library board fired the director of a local library following allegations that Christian actor and author Kirk Cameron was mistreated during a recent event. 
Last month, the Hendersonville Library hosted Cameron for a children's story hour event featuring his book As You Grow. The event was sponsored by the Christian publishing company Brave Books and also featured University of Kentucky swimmer and women's sports advocate Riley Gaines and reality star Missy Robertson of "Duck Dynasty." 
The Sumner County Library Board voted 4-3 to fire Hendersonville Library Director Allan Morales, reported The Tennessean on Thursday, with Mayor John Isbell stating that the termination was "related to the Kirk Cameron event."
Cameron posted photos of the event on Facebook on Feb. 28, showing the actor, known for his role in the sitcom "Growing Pains," reading to a large crowd of attendees. 
"Despite the rain and the unkind pushback (from one disgruntled librarian), an OVERFLOW crowd of families, mayors, county commissioners, and celebs welcomed and joined us at the library in Hendersonville, TN for singing the National Anthem, Pledge of Allegiance to the flag, praying and teaching faith in God and moral values to our kids," Cameron wrote on Facebook. 
Robertson also accused the library of being rude at last month's story hour event during a March 8 podcast episode of BlazeTV's "Unashamed with Phil & Jase Robertson."
In the interview, the "Duck Dynasty" star claimed that the library staff was talking loudly, playing music and banging cabinets when she and Cameron attempted to film a promotional video on the day of the event. 
According to Robertson, a Brave Books team member then asked someone in charge if they could ask their staff to keep it down for a few minutes. While Robertson didn't mention Morales by name, that person allegedly told the Brave Books team member something to the extent of, "You're not even supposed to be here anyway."
According to the reality star, there had been "tension" leading up to the event, as some unnamed individual had attempted to lead a campaign against the library event. 
When Gaines asked the staff to turn the music off for a few seconds, a female library staff member replied that she had no authority to turn off the music and that the staff was looking for ways to cope with "stress."
The Hendersonville Library and the Sumner County Library Board did not immediately respond to The Christian Post's request for comment. 
In a series of email messages between the library and a Brave Books representative obtained by CP, the former library director appeared concerned about the event's size and that it would be political. 
The former library director noted that a recent Fox News article had created a "stir" and that the activities and guest appearances described by the outlet were not part of an original agreement. 
While Morales did not cite a specific article, given the timing of the email, it's possible he was referring to an article on Fox News' website titled, "Nashville-bound Kirk Cameron rips today's woke culture: 'Tides might finally be turning'." The piece promised that the actor would bring "his messages of faith, family and personal freedoms" to the Tennessee-based library. 
"Our invitation was sincere to read a book during our story time," Morales wrote in a Feb. 22 email. "We guard that time because it is for small children and not adults. We work hard at not promoting any agendas left or right."
Tim Jones, county commissioner for Tennessee's 23rd district, who was present at the event, addressed the allegations against the Hendersonville Library and its staff in a Thursday Facebook post.
Jones said Brave Books had a contract with the library stipulating that they could use the facility's community room for the event and that Morales "reluctantly agreed" to let the group use the foyer to film promotional videos. 
Jones provided transcripts of phone conversations between the publishing company and Morales and an audio transcript detailing the disruptions that occurred when Cameron and the others attempted to film in the foyer. 
"We had an opportunity to be, as the Bible and Ronald Reagan referred to, 'a city on the hill,' a beacon for the nation to see why so many have moved here. Instead, we are an embarrassment," Jones wrote, expressing his disappointment about the occurrences that day. 
Jones believes that Morales did not intervene when his staff became disruptive, and he maintained a negative attitude despite the mayor expressing support for the event.
"For the record, I do not think Mr. Morales is a bad man," he added. "I believe him at his word that he is a Christian. I do not think this should be a question in anyone's mind. I would never judge that. I believe bad decisions were made."
However, Jones clarified that he did not believe a majority of the library staff were responsible for the incident, and he called for people to treat them with respect. 
As CP previously reported, Cameron alleged that he has experienced difficulties hosting story hour events at multiple libraries, even though many of these same facilities have hosted drag queen story hours.