LifeWay President Apologizes for Decade-Old 'Rickshaw Rally' VBS Curriculum at Mosaix Conference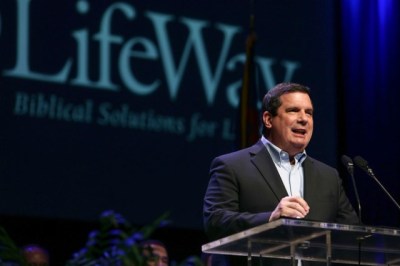 LONG BEACH, Calif. – Thom Rainer, president and CEO of LifeWay Christian Resources, presented a video apology at the Mosaix 2013 conference on Wednesday for publishing a Vacation Bible School initiative 10 years ago that was titled "Rickshaw Rally" that hurt and offended the Asian American Christian community.
"Ten years ago, LifeWay issued student Bible study material with racial stereotypes that offended many in the Asian American community," Rainer said in the video apology.
"I wasn't part of LifeWay then, but I am now, and I recently learned that the decade-old offense was still a wound of hurt for some. As president and CEO of LifeWay Christian Resources, I want to apologize. I am sincerely sorry stereotypes were used in our material, and I apologize for the pain they caused."
He continued, "I agree with those who've come to understand the offensive nature of that material, and I agree that evangelical church and ministry leaders, particularly those of us who are white, need to commit to assuring, as best we can, these events have stopped.
Rainer added that although he believes that Lifeway has made progress, he was making a commitment, before the more than 1,000 people who attended the Mosaix conference, that LifeWay will train its staff to be sensitive to ethnic and cultural differences so that their materials represent all ethnic groups.
"Finally, I will lead our executive leadership staff to engage in dialogue and conversation with ethnic leaders, so that we might go forth together to strengthen leaders, and reach people in North America and around the world," he asserted.
Responding to Rainer's apology, D.J. Chuang, the founder of Social Media Church, told The Christian Post Wednesday that even though the incident happened 10 years ago, it was never resolved.
"Asian American Christian leaders raised the issue of the content for the Vacation Bible School curriculum being offensive, including 1,500 to 1,700 people who signed a petition [objecting to the racial stereotypes in the material]," Chuang explained. "It wasn't just a few activists, it was a significant portion of Asian American Christians and leaders who said that this is a problem, and yet there was no response. Actually, there was a response, but a defensive one, saying, 'Well we had good intentions.'"
Chuang told CP that complaints about the content "fell on deaf ears," 10 years ago, but he's pleased to see that Rainer has apologized on behalf of LifeWay and is moving the relationship forward in the right direction.
"Even 10 years later, to have a sincere apology, is really meaningful to Asian Americans," he continued. "I have relationships on both sides, as a strategy consultant, and for minorities and Asian Americans, in particular, we have more of a collective memory, so when offenses happen, it's not just an isolated incident that someone else did. That tends to be more of the Anglo perspective of: 'why can't we just move on; we weren't here when that happened; that was so long ago.'"
According to Chuang, in the collective memory of some Asian American Christian leaders, the decade-old incident was an offense that reflects systemic problems within evangelical publishing.
"To have this sincere apology will be, hopefully, one of many steps toward progress of evangelicals being more sensitive to all people, for the sake of the Gospel," he added.
Commenting on a separate and more recent incident in which Saddleback mega-church pastor Rick Warren posted a smiling Red Guard member Communist propaganda image on Sept. 23, captioned, "The typical attitude of Saddleback Staff as they start work each day," Chuang said, "One thing that's difficult in navigating these unintentional offenses, is because they're unintentional. However, when you're crossing cultural boundaries, intentions are not good enough."
Chuang also noted comments made by Ed Stetzer, president of LifeWay Research, who gave a brief history about the offensive stereotype in the LifeWay material to the audience at the Mosaix conference and the long overdue apology from the Christian publisher, following his talk at Wednesday's Mosaix conference.
"Stetzer had some good comments about needing to do more than to just having good intentions when we're crossing cultures and things are getting coded or decoded. All of these offenses that Asian American Christian leaders have spoken against and raised awareness for, have been unintentional. That's one thing that makes it difficult to navigate," he said, noting that another issue that's difficult to navigate is that these various incidents only offend certain people within the diverse Asian American community.
"Asian Americans are a very diverse group, comprised of more than 34 ethnicities, and are the fastest-growing racial ethnic grouping," Chuang said.
"There's a wide range of diversity in their opinions, and how much some might be offended and some might not be. But yet, when a part of the body hurts, the whole body should be aware of the body being hurt. We should learn from the sensitivities of all – and not just feel defensive because you have good intentions or because you were 'just joking' – because we want to be sensitive and concerned for all parts of the body."