Lisa Raye Cries During Baptism; Opens Up About 'Serving Others' Amid 'Spiritual Journey' (VIDEO)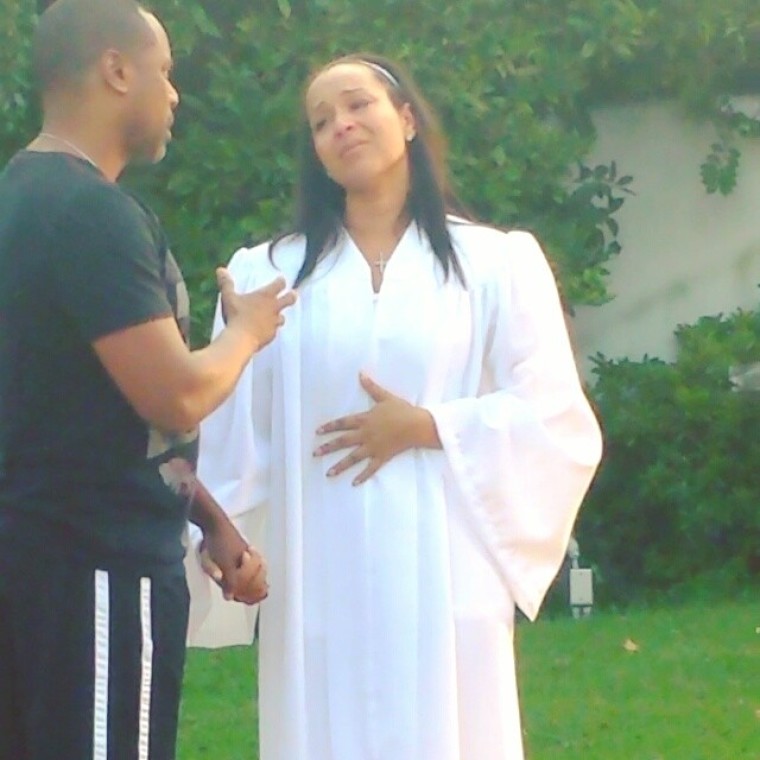 Lisa Raye shared video footage of her recent baptism on social networking site Instagram this week.
The former "Single Ladies" star, 46, was baptized at home on Tuesday by One Church International L.A. pastor Toure Roberts and she shared footage of the emotional experience with her 211,000 followers.
Dressed in a white church robe and sporting a diamond cross necklace, a teary-eyed Raye stood before friends and family while clutching Roberts' hand as she was born again. The video garnered more than 10,000 likes and a number of congratulatory messages.
"Soooo I'd like to share this: Tues evening at my home I celebrated w/ my friends and family getting Baptized by my @onechurchla pastor @toureroberts and it was amazing. I was so full and now wanting to serve you w/some encouragement to believe, conquer & receive Peace and blessings. #faith #truth #liferocks ASK, BELIEVE, RECEIVE. ..... ," Raye captioned alongside the video.
Roberts, who is also an author and motivational speaker, praised the former First Lady of the Turks and Caicos Islands for "blessing" others through faith.
"Im so excited when I see you. I see purpose and destiny, you've done crazy and amazing things at the church and through the church...blessing people. And I just think God is getting ready to take you to a whole other level," she said.
Earlier this year Raye, who was once married to former first Premier of the Turks and Caicos Islands Michael Misick, opened up about what she described as her "spiritual journey." The fashion designer has become more vocal about her Christian faith in recent years and she previously revealed her plans to begin doing God's work.
"I think sometimes as an actress we have an opportunity to tell people what we want and to show people what we want and sometimes it gets misconstrued … But right now my life is on a spiritual journey that I'm just so excited about [and] that empowers me everyday," she told The Humor Mill.
"Now my life is more about serving others, about helping others [and] about reaching out and sharing my experiences with someone else that has gone through the same things ...It's about bridging that gap... Just being a part of something that I feel will be a part of my legacy," she explained.