Looming Ferguson Grand Jury Verdict Prompts Calls for Prayer, Overnight Vigils
Law Enforcement and Residents Brace for Response to Darren Wilson's Fate Over Killing of Mike Brown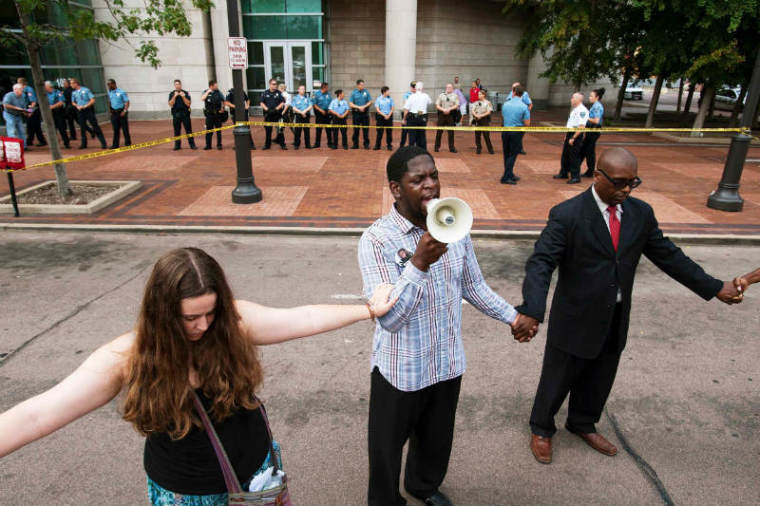 NEW YORK — Ferguson, Missouri, — and perhaps the entire nation — is bracing for a grand jury decision on whether or not police officer Darren Wilson will be indicted for the fatal shooting of Michael Brown. At least one Christian and social justice activist is calling on people of faith to pray, for whatever might ensue once the verdict is revealed, while local churches are planning for overnight vigils.
If news headlines are any indication — "Missouri Governor Outlines Ferguson Preparations;" "Gun sales spike as Ferguson area braces for grand jury decision;" "New Riot Gear at the Ready in Ferguson" — the atmosphere in the 21,000-person St. Louis suburb is taut with anxiety.
Although no one knows for certain when the grand jury's decision will come, St. Louis County Prosecuting Attorney Robert McCulloch, whose office will make public the decision, has said in a statement that he does not expect the grand jury to give word "until mid to late November."
Whether the grand jury completes its work days or weeks from now, city and state officials and residents have the same expectations — that failure to indict Wilson for shooting unarmed 18-year-old Michael Brown will result in wide-scale protests or even rioting, as was the case in the immediate aftermath of the teen's killing. There were further concerns that the aggressive and militarized response shown by law enforcement during early days of protests, and which garnered international attention, might again rear its head.
Onleilove Alston, who spoke with The Christian Posts' CP Newsroom last month about Christian responses to Ferguson, has urged "everyone to pray as Ferguson prepares for a verdict."
Alston, interim executive director at Faith in New York, was not alone in her call for prayer over the situation in Ferguson, as numerous local churches were preparing to hold vigils on whichever night the grand jury decision is revealed. Some Christian leaders in Ferguson reportedly were also planning to keep their sanctuaries open 24 hours on the day of the verdict.
"Please pray that there will not be any violence in our neighborhood or in any other neighborhood after the indictment decision," St. John's Tower Church states in a notice on its website, according to a River Front Times article on scheduled vigils in Ferguson.
Alston said during her CP Newsroom discussion, "I would encourage everyone to pray for the families who have lost (loved ones), pray for the young people who are stepping up, pray for the faith leaders on the ground ..."
The organization for which she works, Faith in New York, connects nearly 60 multicultural and interfaith congregations on a grassroots level to push for public policy initiatives to create "a more just New York."
The New York City organization, a member of the PICO National Network, has been involved in everything from interceding for survivors of Hurricane Sandy to mobilizing support for the family of Eric Garner, the 43-year-old Staten Island father whose death during a police choke-hold was determined a homicide.
"One of the reasons that the faith community, especially Christians, should care about Ferguson is because the people in Ferguson represent what our savior calls 'the least of these.' So regardless of what you feel concerning the actual legalities of the case, the focus really needs to be (on) those who feel oppressed," said Alston, who also serves on the board of directors for Sojourners.
Hear more of Alston's thoughts on the situation in Ferguson, and why Christians cannot afford to look away, in the CP Newsroom video below:
[Watch more CP Newsroom: http://www.christianpost.tv/cp-newsroom]
Brown, who is black, was shot to death by Wilson, who is white, on Aug. 9, 2014, after what authorities say was a scuffle over the officer's gun inside his vehicle. According to previous reports, Wilson claims Brown, who eventually ran away from his vehicle, had turned and charged toward him before he delivered the fatal shots. Several eyewitnesses contradict the officer's version of events, claiming that Brown had his hands up in surrender when he was shot. The Washington Post reports, however, that other eyewitnesses have provided testimonies that support Wilson's claim.
The case and resulting protests gave rise to discussions about race, economic disparities, police profiling and law enforcement tactics and interaction with civilians.
The Ferguson grand jury convened in August and has been considering if evidence and testimonies in the case warrant any charges for Wilson. The officer, who has remained in hiding since the shooting, appeared before the grand jury to present his account of how he came to kill Brown.
Brown's parents, meanwhile, traveled to Geneva to testify on Tuesday before a United Nations panel about the issues highlighted by their son's death. The United Nations Committee Against Torture's work, according to CNN, involves addressing cruel or degrading treatment or punishment by government authorities.