Louie Giglio Defines True Leadership, Addresses Dropping Obama Inauguration and Shares Excitement for First-Ever Passion Visit to an Arab Country (Part 2)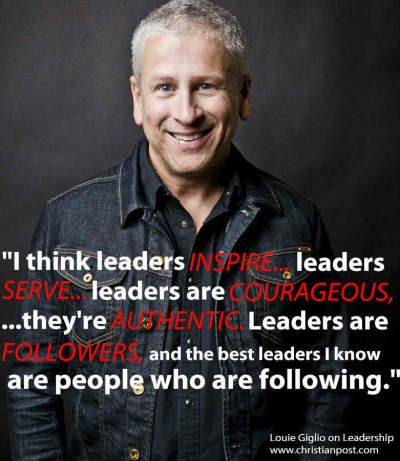 Louie Giglio, who has ministered to over a million U.S. college students at his annual Passion Conference in the past 17 years, recently shared with The Christian Post his definition of leadership, saying that he believes the best "leaders are followers." The Atlanta, Ga., pastor also commented on the 2013 Obama inauguration controversy and taking the global Passion tour to the Middle East for the very first time.
Below is a transcription of CP's interview with Giglio. It has been edited for clarity.
CP: There are so many examples of leadership, especially in the Church, and some might certainly say they aren't all good. What's your definition 'leadership' and how do you personally live that out?
Giglio: I think the keys to leadership are being called, and I don't necessarily mean like the Christian calling or religious calling. I just think for you to be a leader you have to have a sense of calling on your life, a sense of purpose. That's what differentiates people who show up for work and people who want to do great things in life, people who want to do great things in life and feel a sense of calling and again, I'm not talking about a spiritual or religious calling. It could be a CEO of a company who has no faith and no interest in knowing Jesus, but that person as a leader still comes to work each day with a sense of calling on their life, a sense of compelling, that there's a bigger story to be written.
Great leaders have great calling and they're able to lift up their eyes and the eyes of those around them from the day-to-day and the immediate, to see the future and to move toward an undefined, unknown future. I think leaders inspire, leaders serve, leaders are courageous, but at the same time they're authentic. Leaders are followers, and the best leaders I know are people who are following.
For me, personally, I have great role models in my life but ultimately I'm serving Jesus and he's actually leading me day-by-day, at least that's the plan. If he leads me, I have grace to lead the people that he's entrusted for me to leave. At the end of the day,it's about serving people.
I heard Will Smith say the other day, and I love this: 'When an artist ceases to do what they do for the pure sake of bringing enjoyment to people and out of love they express their gift and their art for the benefit of the people who hear it, then they lose the sense of the artistry that they were called to.' It really spoke to me because I think it's true of a pastor, it's true of a business leader. What we do isn't self-serving, but it's other-serving. If we're motivated by the idea that I want to do what I do, and I want to do it well, out of love for the people who can benefit from either the vision or the knowledge or the inspiration or the leadership that I can bring for the moment, then we're the right kind of leader. If people don't want to follow you, you're not going to be a leader. The beauty of it is that everybody's got somebody looking at them. …
Sometimes we think a leader means someone in charge of a lot of people or somebody with a prominent position, but every single person has someone who's looking to them so everyone's a leader in some way shape or form. It's just whether we're using that platform and opportunity for the good of those around them and to lead them into places that will really benefit them long term, that's what's going to differentiate the good leaders from everyone else.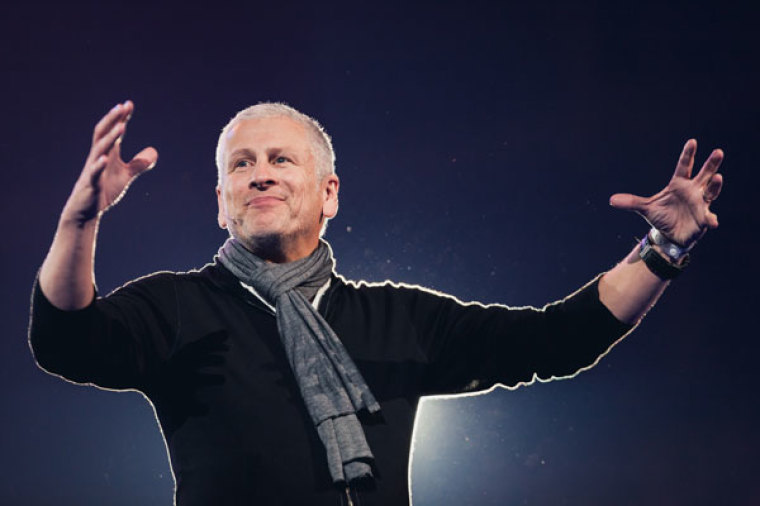 CP: It's been a little over a year since you dropped out of President Obama's second inauguration ceremony where you were invited to deliver the benediction (read about it here). What did you learn from that experience? And do you have any regrets?
Giglio: I don't think I have any regrets from what happened a little over a year ago. I think that at the end of the day for me, the focus of my life is very well-defined and I want to be able to lead people to Jesus. That's really who I was before and that's who I am today, and by the grace of God that's who I'm going to be long term.
CP: You're going overseas soon, right, for the 2014 Passion Tour (along with Kristian Paul Stanfill, Chris Tomlin and David Crowder)?
Giglio: Passion is going to be hosting a few events in the Mid-East, and we'll be doing our first event ever in an Arab country which is going to be awesome. We're doing Passion Abu Dhabi coming up in the United Arab Emirates in just a few weeks now. Our first two events are in India, in Delhi and Hyderabad. Then we'll be back in the Philippines doing two nights in Manilla, then Singapore, and Honolulu is our last stop. We're thrilled, we're looking forward to it.
People ask, 'What are you expectations in Abu Dhabi?' I don't know. I've never been to the UAE before, but I would imagine it's gonna be a roomful of young people who love Jesus who somehow because of this beautiful world we live in are singing the same songs and who will join right in with our anthem. And it will feel just like it will feel in Hyderabad a few nights later, although the faces will be different, the culture will be different.
People are singing the same songs of faith all over the world. It's beautiful to see how the Global Church is being unified and how, even though the world is big and the Church is big, somehow this modern world we live in, everyone is kind of on the same page together. We're thrilled to be taking off and being apart of what God is doing in other places around the world.
CP: Was an invitation extended your way, or was that just an area you actively wanted to seek out?
It's a little bit of both actually. We always have invitations to travel places around the world, but then we're also strategic and trying to get into a particular part of the world for a short period of time. We're both pastors and have a church to lead in Atlanta, so we can't just be flying around the world all the time. Once we started down the road of being in India, all of a sudden a relationship opened up a door to be in Abu Dhabi and we got an invitation from Singapore, and that's sort of in between Manilla and the next place. It's like putting a puzzle together but God puts all the pieces together at the right time, puts us in the right place at just the right time.
CP: What are a couple of things people don't know about you, but might be surprised to learn? Like, are you secretly a Knicks fan?
Giglio: Well, I'll tell you, one of my buddies is a close friend of the Knicks and hangs out with a lot of those guys but I'm definitely not a Knicks fan. I'm overtly and proudly an Auburn Tiger, and most people probably already knew that, but I love the SEC and I love Auburn. …
London's my favorite city in the world but barbecue is my favorite food, so I like to think that I can float in all circles. I grew up in an urban context in Atlanta, Ga., which is a fairly progressive urban city-center. So I have a great love for both urban, but I also love my southern roots and barbecue and fried chicken and fried catfish is a hard combination to beat. I will drive out of my way on any day to find fried catfish and that's something not a lot of people know, but that's on the top of my list.
---
Read part one of CP's interview with Giglio in which he discusses his latest projects, like his new Passion book, why he wants to hang out in the "university window," and why he finds it hard to believe that Jesus-following Millennials are leaving the church in large numbers, like recent surveys suggest: Louie Giglio Q&A: Millennials May Be Leaving the Church But They're Walking Toward Christ (Part 1)