Lysa TerKeurst shares moment she knew her struggling marriage 'turned a corner,' offers wisdom for couples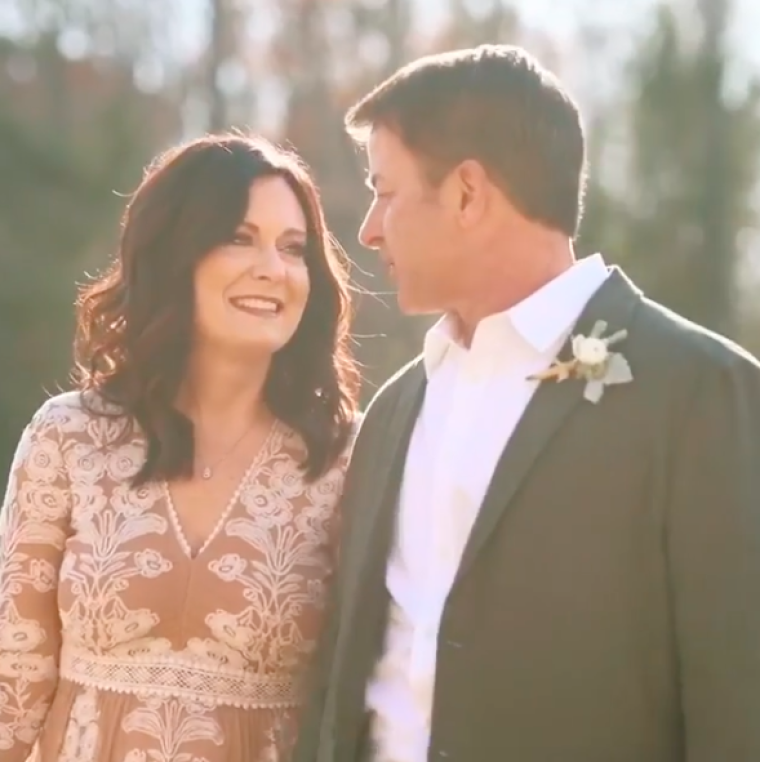 Proverbs 31 Ministries President Lysa TerKeurst reflected on the day she knew her struggling marriage had "turned a corner" and would survive and shared powerful advice for others in a similar situation.
In December, Terkeurst and her husband, Art, renewed their vows — one year after announcing they would be divorcing due to his ongoing infidelity and substance abuse.
In a recent Instagram post, the best-selling author shared a photo from the ceremony and identified the moment she knew "we had finally turned a corner in the long journey of healing."
"[One] day he whispered, 'We must help others going through this. We must let God bring good from our story.' And I knew," she wrote. "He wanted to lead the way for us to find purpose in our pain. And something about that honest humility gave my heart a soft place to land."
"Dear hurting one, we see you," she continued. "We hear you. We read your comments. You are not invisible to us. Both... those who feel abandoned. And those who are trying to figure out restoration. We know the deep nuances of your pain. And as God leads, we are committed to inviting you into what we've learned, what we know, and how to find the help you need to move forward."
"Make no mistake the light dancing in our eyes is not just a joy for us," she added. "It's a wildfire, a battle cry, a high calling to help you...fueling something to come."
TerKeurst first announced her separation in June 2017 and said she would be pursuing a divorce following "the worst kind of betrayal." Though she tried to save her marriage for years, she said her husband continued to abuse substances, be unfaithful and refused to be honest. That same year, she underwent a double mastectomy following a breast cancer diagnosis.
During a recent interview with The Christian Post, TerKeurst shared how God has been steadily restoring her broken marriage. She admitted that the process of restoration has been "so, so hard," but said it's a journey "we want to do."
"We want to give it the necessary time so that trust can be rebuilt, and trust takes an incredible amount of time," she said.
TerKeurst told CP that through her struggles, she's learned that with God, there's "always a meanwhile."
"No matter what I'm feeling today, with God, I can say, 'Meanwhile, God is working good, even if I can't see it,'" she explained. "Knowing that God exists gives me a purpose in the midst of my pain. That elevates my perspective."
"We may not see it for a little while but God is working good there even in the darkest times," she added. "What you're feeling is real. The circumstances are hard. The solutions may seem very mysterious. You've got questions, you've got pain. But with God, there's another level, and we've got to lift our eyes up and recognize that there's more than just meets the eye."
Previously, TerKeurst revealed that many people have asked her why she chose to fight for her marriage, adding: "Apart from God, who can ever truly understand a thing like that?"
"Forgiveness is a process," she said. "Healing is a long journey. And I'll never ever criticize another person for choices they made that were different than mine when placed in the same horror and heartbreak as me. Or maybe they had no choice at all. I have nothing but tender love and understanding. It's a brutal walk."
She concluded: "So why did I stay? I was given that chance. I love Art. And I've discovered imperfect love is still full of sacred possibilities, redemptive strength, its own kind of purity, and moments like the one pictured here."
In another Instagram post, TerKeurst shared, "Art and I are very committed in 2019 to serving people together. And to showing the enemy HE MESSED WITH THE WRONG PEOPLE THIS TIME."
"The devastation we walked through has made us more determined than ever to recognize the massive need to help those in the fight of their lives to cling to Biblical Truth and hope," she said.