Malala Yousafzai: My Birthday Wish Is for the Safe Return of Nigeria's Kidnapped Schoolgirls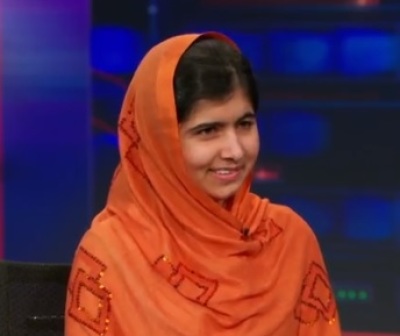 Pakistani activist Malala Yousafzai has vowed to continue fighting for the safe release of the 219 Nigerian schoolgirls kidnapped by Boko Haram in April.
While visiting Nigeria this past Saturday on her 17th birthday, Yousafzai told parents of the kidnapped schoolgirls that her one birthday wish for this year is to see the kidnapped girls freed and reunited with their parents.
"I can see those girls as my sisters … and I'm going to speak up for them until they are released," the education activist said while speaking to parents of the girls on Saturday. "I can feel … the circumstances under which you are suffering. It's quite difficult for a parent to know that their daughter is in great danger."
"My birthday wish this year is 'bring back our girls' now, and alive," she added.
Yousafzai made her comments one day before she met with Nigerian President Goodluck Jonathan. At a press conference following the meeting, Yousafzai told reporters that the president assured her the schoolgirls would be safely returned home soon.
"The president promised me … that the abducted girls will return to their homes soon," the 17-year-old activist told reporters on Monday, according to Reuters. Yousafzai added that she will hold the Nigerian leader to his word. "I will from now be counting days and will be looking. I can't stop this campaign until I see these girls return back to their families and continue their education."
The purpose of Yousafzai's recent visit to Nigeria was to promote the Twitter campaign angled at freeing the schoolgirls, known as #BringBackOurGirls. The campaign, which has been promoted by First Lady Michelle Obama and actress Angelina Jolie, seeks to pressure Nigerian authorities to do everything in their power to free the captive girls.
Nigeria's government has received international criticism since it has failed to safely recover all of the Nigerian schoolgirls kidnapped from the small village of Chibok in the northeastern region of the country in April. Countries, including France, the U.S. and Israel, have offered intelligence assistance to the African country, but officials apparently continue to make little headway in finding the kidnapped youth.
Although several of the schoolgirls have been able to escape their kidnappers, 219 still remain in captivity. The schoolgirls, the majority of whom are Christian, were kidnapped by the Islamic militant group Boko Haram, currently considered to be Nigeria's biggest security threat. The group, deemed a terror group, believes western education is against the teachings of Islam, and seeks to make Nigeria a completely Islamic state.
Yousafzai became a vocal activist for women's education after she was shot by Taliban gunmen in the Swat District of Pakistan in 2009 for promoting female education in the Middle Eastern country. Yousafzai survived the shooting and now promotes women's education across the globe, speaking at the United Nations and other international agencies.