Man arrested after protesting Virginia megachurch Pastor John Blanchard amid prostitution case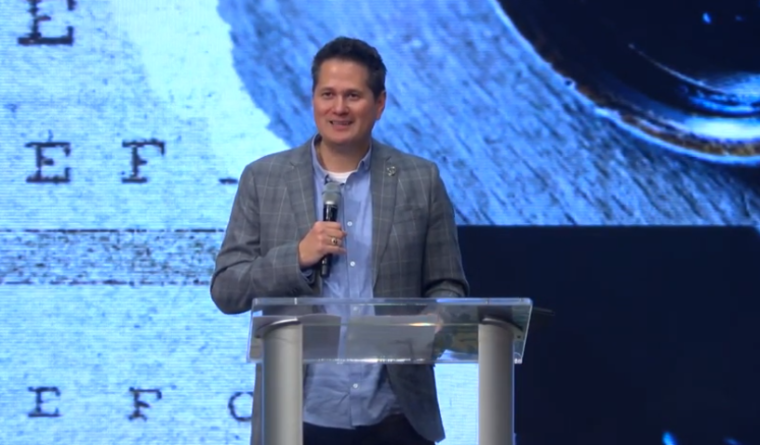 A 43-year-old man was arrested Sunday following months of protesting against Virginia Beach Pastor John Blanchard after the embattled megachurch leader, who faced solicitation of sex with minor charges, brought stalking charges against him. 
Jamie Thomas was put in handcuffs directly outside the Rock Church and was taken before a magistrate on misdemeanor charges of stalking and disclosing expunged police records, The Virginian-Pilot reports. He was later released on his own recognizance.
Thomas posted a video on YouTube of himself, his wife and son protesting outside the church. Thomas can be heard talking into a megaphone, saying, "John Blanchard is a pedophile." Minutes later, the video shows three police officers taking Thomas into custody. 
In November 2021, Blanchard, who is married with two children, was arrested in an October sting operation aimed at capturing people seeking sexual relations with minors online. 
He was among 17 total arrested by authorities at a hotel where he was supposed to meet a detective posing as a 17-year-old girl. He was later charged with felony solicitation of prostitution and using a vehicle to promote prostitution.
"The suspects communicated with people they believed to be underage members of our community and arranged to meet them at a location to have sexual relations. When the suspects came to the location, they were met by police and arrested," explained the authorities at the time.
The Rock Church posted a statement to its website in response to the arrest at the time, stating that Blanchard had "voluntarily stepped back as lead pastor and from all his ministerial duties until this present situation is totally resolved."
After almost a year of legal maneuvering, the charges against Blanchard were withdrawn or nolle prossed in October 2022 after District Attorney Stacey Davenport reached a deal with defense attorney Noel Brooks that "Blanchard would agree to a psychosexual evaluation and sex offender related counseling."
Nolle prossed cases mean that prosecutors could eventually bring the charges again.
The Chesterfield County Police Department stated that Davenport cited a "lack of evidence" in not moving forward with the case against Blanchard, according to a WRIC.
Chesterfield County Police Chief, Col. Jeffrey S. Katz, disagreed with the decision, and spoke publicly after Blanchard's attorney filed a motion to "seal all police or court records, transcripts, and investigative records associated with this case." Katz said that cases with less compelling evidence had led to convictions. 
Fifteen of the 17 people charged in the November 2021 sting were fully prosecuted. 
"When someone: 1. Rents a car, 2. Texts a phone number posted on a known sex worker website, 3. Solicits a 'qv' ('John' lingo for a 'quick visit'), 4. Makes multiple inquiries if the person he's texting is 'affiliated with law enforcement,' 5. Drives two and a half hours to a hotel and knocks on the hotel room door — as directed by our undercover '17-year-old,' I believe a jury of Chesterfield County residents deserves to weigh in on the matter of criminal culpability," the police chief wrote in a Facebook post. 
In February, a special prosecutor was appointed for Blanchard's case after Davenport said she found new evidence in Blanchard's case. A judge recently gave the special prosecutor until June 7 to decide whether to pursue an indictment in Blanchard's case, according to The Virginian-Pilot.   
As for Thomas, documents obtained by The Pilot show Blanchard filed criminal charges against Thomas early Sunday morning, claiming that Thomas showed up outside Blanchard's "place of work and worship" at least 15 times and engaged in intimidating and threatening behavior. 
"He has stated that he has us under surveillance and is using the 'Starlink' security system and knows everything we do," the complaint claims. "He has stated personal information that is not public and has repeatedly said he is looking forward to a confrontation."