Man Who Shunned Medicine While Waiting on God to Heal Sick Daughter Gets 20 Years for Her Death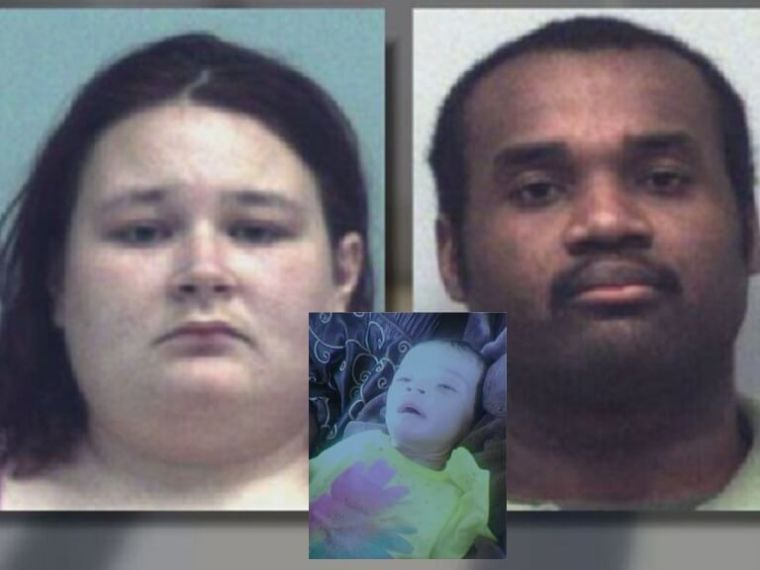 A father who chose to treat his newborn suffering from malnutrition with prayer instead of medicine because he believes all sickness is of the devil, was sentenced to 20 years in prison for her death on Monday.
Herbert George Landell, 27, and the mother of his child Lauren Heather Fristed, 26, of Duluth, Georgia, were arrested last May, about a month after they brought their emaciated 10 weeks old daughter, Nevaeh Marie Landell, to Gwinnett Medical Center on March 25 last year, according to USA Today. Police said in arrest warrants that the infant was dead when she was brought to the medical facility and both parents had refused to get the newborn medical treatment since her birth.
On Monday, as he was convicted and sentenced, Landell maintained that he was waiting for the Lord to heal little Nevaeh because he believed her illness had come from the devil.
Pastor Dwayne Murphy, Landell's spiritual adviser, testified last Friday that he met with both Landell and Fristed regularly for Bible studies and had urged them to pray when they called him and revealed Nevaeh was having medical problems, according to WSB-TV.
"All sickness, disease and infirmities are of the devil. And not of God," Murphy testified.
Authorities charged that Neveah was dying of malnutrition because her parents mixed water in with her feedings, said WSB-TV, and when she got sick, they prayed instead of taking her to the hospital.
"Well it's just water, it's just water and nothing harmful can come from water," Landell said Friday.
Dr. Sujatha Reddy, a physician at Premier Care for Women in Atlanta and a WXIA-TV medical correspondent, told USA Today that babies should not drink water until they are six months old. Arrest warrants say the parents' decision to water down the breast milk caused Nevaeh's electrolyte and sodium levels to drop and make her brain swell. They also found unsanitary conditions at the couple's apartment.
The Atlanta Journal-Constitution said Fristed pleaded guilty to involuntary manslaughter and reckless conduct on Aug. 19 and was sentenced to 20 years in prison with 10 years in confinement.
She also testified under oath that Landell believed prayer and not medicine would heal their baby.
And so even as their newborn lost weight, turned blue and stopped eating on the day she died, Landell told prosecutors last Friday that he believed his prayers were working.
"Did you think your prayers were working that day?" prosecutors asked Landell, according to WSB-TV.
"Yes," Landell replied.
Prosecutors told the jury deliberating the case that Landell had an obligation to seek help for his newborn. Landell's spiritual advisor insisted, however, that Nevaeh didn't look as bad as prosecutors claimed in her final moments.
"Is there any Christian reason for a father not taking her baby to the hospital?" prosecutors asked Murphy on Friday.
"Neveah didn't look like that," he replied.
On Monday, the jury found Landell not guilty of malice murder, which would have been a life sentence, but convicted him of second-degree murder which came with a sentence of 20 years in prison plus 10 years on probation.
"Based on the jury's findings, judge, I think it's clear that what they concluded was that Mr. Landell did not act maliciously or willfully in this case, but rather he did so negligently," attorney Maryann Blend said, according to WSB-TV.
Murphy also maintains that Landell loved his daughter and never wanted her to die.
"He loved his daughter. He was grieved at the loss of his daughter. If you will, consider the fact that George is loved by family, by friends," said Murphy.
Landell told the court that he felt the decision was fair.
"Given how the process went, I believe it was fair," he said. "I thank you that you considered what my brother said and what my attorney said. Thank you."
According to a 2011 Cincinnati Children's Hospital Medical Center study conducted at two urban pediatric clinics there, more than a quarter of families in poverty reported watering down formula or reducing feedings.
The practice, known as formula stretching, poses risks the developing brains of babies such as problems with behavior, memory and judgment, according to the study.