Manny Pacquiao Proposes 'National Bible Day' Holiday in Philippines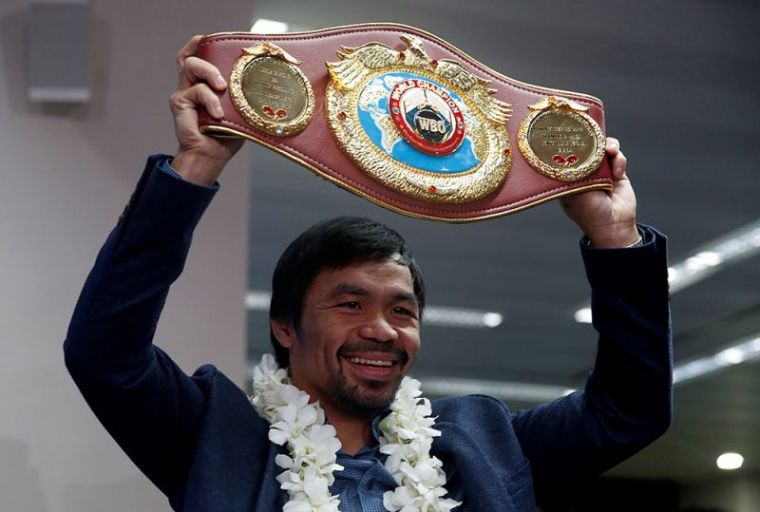 Popular Christian boxer and Filipino Senator Manny Pacquiao has proposed a bill that would officially designate a "National Bible Day" holiday in the Philippines, calling Scripture the "foundation" of strong nation building.
"The core of Christian belief is grounded on the Holy Bible. Sermons and homilies of Christian churches dwell in the teachings of the Bible. It is the primary source of spiritual manna. It forms and transforms lives of people from generations to generations," Pacquiao said.
"It serves as the foundation of spiritual, moral, and social fiber, which molds a socially responsible citizenry and strong nation building."
The Inquirer reported that Senate Bill No. 1270 proposes every last Monday of January to mark the holiday, explaining that as the largest Christian nation in the Asia Pacific, the Philippines recognizes the Bible as "the core of Christian faith."
Pacquiao noted that many of the country's former presidents, Ferdinand Marcos, Corazon Aquino and Fidel Ramos, have all recognized the significance of the Bible.
"This bill seeks to boldly emphasize the holiness of The Living Truth by allotting a holiday for its celebration on every last Monday of January, which shall be known as 'National Bible Day,'" he said.
"This calls for all Christians to altogether unite and celebrate the Holy Bible as the cradle of the Christian faith."
Pacquiao often talks about his Christian faith, and in an April 2015 interview with The Christian Post explained that his boxing career and his entire life are based around serving God.
"I want them to know I fought for God and my country, to bring them honor and glory," the boxer told CP during the interview in which he was asked what he wants his fans to know about him.
As for dividing his duties between his political career and his boxing engagements, Pacquiao said: "I want to provide opportunities for my fellow countrymen that will improve their situations. As a politician, I want to help create jobs so that I can bring them out of their poverty. I want to give them hope. Boxing has been my passion, but public service is my calling."
Pacquiao has also referred to his religious beliefs when making political decisions, and back in August said that he supports the death penalty because he believes the Bible gives government the authority to execute criminals.
"[The] death penalty is lawful, moral and sanctioned governmental action. Having read the Bible on a regular basis, I am convinced that God is not just a God of mercy, but He is also a god of justice," Pacquiao said at the time in reference to the country's massive drug problem.
"So, on the issue of the death penalty, I could not help but consult the Bible," he added.