Manny Pacquiao Says 'Jesus Lives in Me' After Gay Marriage Comments Slammed by Celebrities
Manny Pacquiao Says 'Jesus Lives in Me' After Gay Marriage Comments Slammed by Celebrities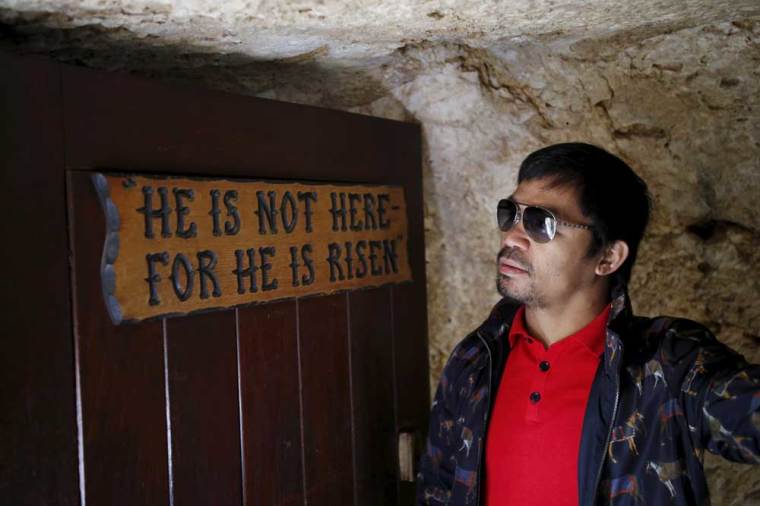 Manny Pacquiao said that he remains strong in his faith despite being criticized for his controversial comments about gay people by celebrities and being fired by Nike. The Catholic Church in the Philippines has also backed the Christian boxer and politician.
"I'm not bothered, that's the world," Pacquiao told local media regarding the criticisms, according to BoxingScene.com. "I mean, Jesus lives in me so I'm always happy. Says the Bible, everyday has enough troubles of its own, so don't be bothered about that."
Pacquiao has also been backed by the Catholic Church, which says that his opposition to gay marriage is based on the Bible.
Father Jerome Secillano, executive secretary of the Catholic bishops' public affairs office, told radio station DZMM: "This is really in the Bible. There is this quote he (Pacquiao) uses from the Bible and we cannot change that."
Still, Secillano suggested that Pacquiao could have used different language instead of comparing gay people to animals.
"The church... says that if this is your lifestyle, if this is your orientation, then we respect that, we cannot condemn them," the priest said.
The controversy arose over Pacquiao's comments to Filipino station TV5, where he said about gay people:
"It's common sense. Will you see any animals where male is to male and female is to female?
"The animals are better. They know how to distinguish male from female. If we approve [of] male on male, female on female, then man is worse than animals."
The former eight-division world champion later apologized for the comparison, but said that he stands behind his opposition to gay marriage.
"I am not condemning the LGBT (community)," the boxer said. "What I am condemning is the act. I'm happier because I'm telling the truth … It's worse if we will hide the truth."
His comments prompted backlash by some celebrities, and his contract was terminated by sportswear giant Nike.
"Nike strongly opposes discrimination of any kind and has a long history of supporting and standing up for the rights of the LGBT community," the company said.
A number of celebrities also slammed Pacquiao's views, as Sports Illustrated pointed out, including basketball Hall of Famer Magic Johnson.
"I applaud Nike for terminating Manny Pacquiao's contract after his derogatory statements that gay people are worse than animals," Johnson said on Twitter.
Former WWE superstar and Hollywood actor Dave Bautista also took offense to Pacquiao's comments, explaining to TMZ in an expletive-ridden statement that his mother is a lesbian, and he would not tolerate someone calling her an animal.
Pacquiao is scheduled to have the last fight of his career against American Timothy Bradley in April in Las Vegas, before he switches over to a full-time career in politics. Already a two-term congressman, the former boxing champion's first objective will be to secure a Senate seat in the upcoming May elections.