Manny Pacquiao Shares His Prayer for 2-Y-O Son Israel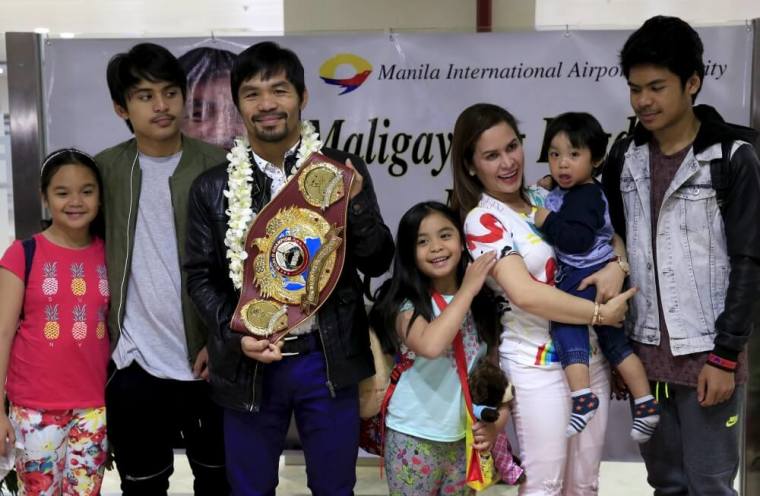 Manny Pacquiao is more than a Filipino senator and world renowned professional boxer; he is a father of five who is getting personal about the prayers he says for his children.
"Lord, my wife and I pray that our son will grow up to love the Word of God and obey your commandments," Pacquiao captioned an Instagram photograph of his 2-year-old son Israel reading the Bible.
When Pacquiao's son was born in 2014, the boxer was vocal about glorifying God for his newest addition.
"Israel is born to God be all the Glory Hallelujah! As Pacquiao's family we will serve the Lord," he previously said.
Pacquiao has made it clear that the country which his son was named after held significance for him. The 37-year-old Filipino world champion boxer and politician toured Israel for the fourth time last year with his wife, Jinkee Pacquiao.
The pair shared pictures on social media while reflecting on their faith. In an image posted on his social media accounts, the Filipino pugilist sat in an area frequented by Jesus.
Although he did not name the exact location, Pacquiao revealed the impact that the experience had on his faith.
"Sitting in the place where Jesus taught the people everyday. Reminding me that we must be faithful and obedient to Him and enable us to be save," Pacquiao wrote on Instagram. "We must follow Him thats how we can really say we believe God. John 8:47 [47] Whoever belongs to God hears what God says. The reason you do not hear is that you do not belong to God."
In another image, Pacquiao visited the town of Jesus Christ called Capharnaum along with the Mt. of Beatitudes where Jesus delivered the sermon on the mount.
"Nice to be in the Mt. of Beatitudes and Capharnaum the town of Jesus, to know more about God because the Lord says," Pacquiao previously wrote before quoting scripture. "Luke 8:10 NIV[10] He said, 'The knowledge of the secrets of the kingdom of God has been given to you, but to others I speak in parables, so that, though seeing, they may not see; though hearing, they may not understand.'"