Mark Driscoll Stokes John MacArthur's Strange Fire Conference With Impromptu Book Signing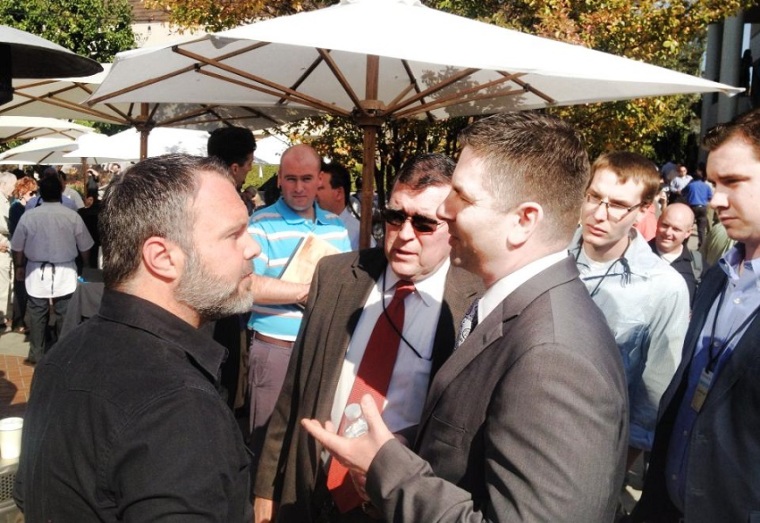 SUN VALLEY, Calif. – Pastor Mark Driscoll, in Long Beach to speak at a men's conference, made an impromptu visit just a short trip north up the freeways to John MacArthur's Strange Fire conference at Grace Community Church late Friday morning, and was promptly told he could not pass out copies of his new book while there.
The Mars Hill Church lead pastor, whose book, A Call to Resurgence: Will Christianity Have a Funeral or a Future? releases next month, told The Christian Post that the reason for coming to the church campus in Sun Valley where the conference was held was to meet with seminary students and leaders of associated organizations, some asking if they could meet with him.
However, in previous posts through social media, about one hour prior to his arrival, Driscoll did state he was going to be at the conference to pass out books that might help with the conference discussion about the Holy Spirit.
"Hey #StrangeFire friends - see u in 1hr. I'll have free copies of my new book. The chapters on tribalism & Holy Spirit may be helpful," Driscoll posted.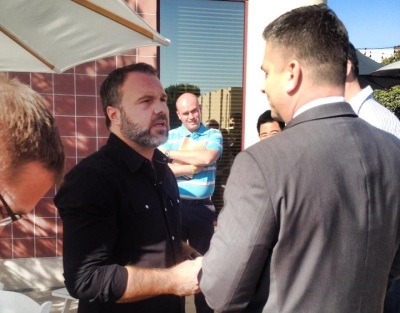 After setting a box of his books on a patio table near the back side of the church property, he began signing while meeting people in a line that was starting to grow. After signing a few books, he was told by church and conference organizers that he was not allowed to pass out the books. At this point, Driscoll continued to talk and shake the hands of people in line, after which they helped themselves to his book from the box on the table.
Moments later, organizers said they would like to take the books away and Driscoll responded by saying that he had no problem with the action and to consider the books as a gift to the church and conference staff. The box of books was then taken away.
"It wasn't that we were trying to stir up trouble with Pastor Mark, we just removed them because we have a lot of different publishing partners that are here on campus already and all of their books all the way down the line, everything they are selling has already gone through a pre-approval process," Pastor Rich Gregory, who is MacArthur's assistant, told CP. "I don't think anybody, Mark included, would probably allow their conference just to be opened to whatever private editors wanted to step onto campus and distribute anything that they wanted to. So, that's a policy that would be consistent with any church or conference."
Driscoll told CP that he thought it was "gracious that they let me on campus at all."
"They don't owe me anything and I didn't go through an official process. I wasn't planning on it. I just happened to be in town," he said.
Driscoll also described his past association with MacArthur and the seminary.
"Honestly, years ago, when I first got saved, I started listening, and I'm old enough to say, that I started listening to a lot of Pastor John's sermons on cassette," he explained. "I had a job driving a shuttle and I had hours to kill and so I would listen to hundreds, maybe thousands of hours of his preaching many years ago.
"When I first was looking at seminaries this was actually one of the schools I looked at, but I just couldn't afford it. I was newly married and in college and couldn't afford it post graduate. There's a lot of what they do in teaching the Bible and training guys to teach the Bible that I appreciate."
He added, "There are some mutual friends here. Some guys that are at this event will be at our event tonight and tomorrow (Act Like Men Conference). Also, some of the guys here are also considering like Acts 29 and those sorts of things. So, I thought I would say 'Hi,' show up and shake some hands."
When asked about his "helpful" chapters from his new book to add to the conference discussion, Driscoll said, "There's one chapter on tribalism and how within evangelicalism, Christians have tended to form into tribes and then have arguments or debates with other tribes – often times talking about them, but not with them. Then, there is a chapter in there as well on the personal work of the Holy Spirit. I talk about that for the sake of evangelism and mission that there needs to be some real effort around unity regarding the personal work of the Holy Spirit because that's where a lot of division tends to come among Christians. So, that's all in the book that comes out in a couple weeks."
When asked about the controversy surrounding MacArthur's claims against the Charismatic movement made at the conference and inside his new book, Strange Fire: The Danger of Offending the Holy Spirit With Counterfeit Worship, Driscoll replied, "When you are talking about Pentecostal and Charismatic movement, I don't know the statistics, but you may be talking about the majority of Christianity globally.
"So, I think there aren't easy generalizations because you are dealing with at least tens of millions of people and so it becomes very difficult to talk in very broad terms about a movement that is that big."
Apparently, Strange Fire organizers would have liked to have that discussion with Driscoll.
"It was great to have him here," Gregory told CP. "I just wish really that the focus of the discussion with Mark would have been more on the content of the conference itself, the real biblical issues, that's what we are trying to accomplish here. We are really wanting to see a biblical discussion take place about these issues. That's a thing you don't see taking place in evangelicalism in general, which is why the conference is necessary. We're having the conference in order to have that discussion and I wish that in coming here he would have been willing to have that discussion and stay for the sessions and hear the content of what we are doing and been willing to dialogue about that."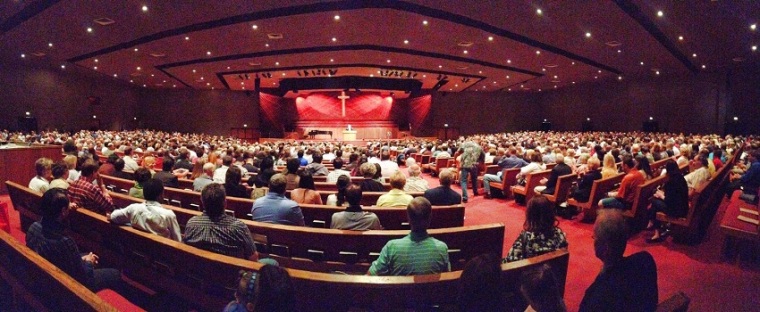 Strange Fire Confrence - John MacArthur - General Session 1 - 10.16.2013