Martin Luther King Jr.'s Niece Slams Omarosa for Mike Pence Criticism, Says MLK Also Heard Jesus' Voice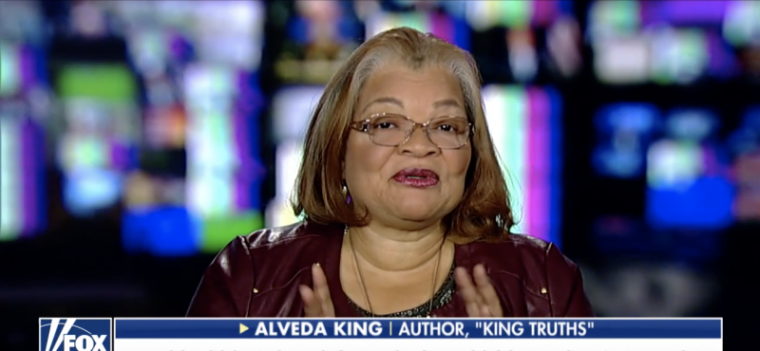 Former Georgia Democratic lawmaker Alveda King, the niece of Martin Luther King Jr. spoke out against former White House aide Omarosa Manigault Newman on Wednesday because of her comments criticizing Vice President Mike Pence after he said he hears the voice of God.
"He can pray any way he wants to. This is America," King told Fox News. "If he is hearing God say 'be strong' — Martin Luther King Jr., my uncle, said he heard the voice of Jesus say 'stand up' — Martin Luther at his kitchen table. Was my uncle crazy? Don't answer that."
Omarosa made her comments during an episode of CBS' "Celebrity Big Brother" Monday evening. The fired White House aide told the other show contestants that Pence's understanding of Christianity was "scary."
"He's extreme. I'm Christian, I love Jesus, but he thinks Jesus tells him to say things. I'm like, 'Jesus ain't say that,'" the ordained minister who left the Trump administration in December and is reportedly working on a book said on "Big Brother."
King went on to say that she herself has heard the voice of God.
"I'm going out on a limb here and I'm going to tell you when a tree limb and a hot wire fell across my car, I was driving home from a storm many, many years ago. I mean, driving home through a storm and this live wire falls across my car. I really believe I heard an audible voice in my car say 'be still and know that I am God.' I think I hollered 'oh Jesus' and then I heard that," King said.
"And you know what I did? I froze. I just sat there. It's in the book King Truths. The first responders when they got there they said 'ma'am, if you had touched anything on this car you would be dead," she shared. "And so I really believe I heard a voice that said 'be still and know that I am God.'"
Some of the ladies on "The View" actually mocked Pence's Christian faith, saying they don't want a leader who "speaks in tongues" or reportedly hears the voice of Jesus. During a segment on the daytime talk show called "hot topics," the ladies discussed comments made by Omarosa.
Joy Behar said, "It's one thing to talk to Jesus. It's another thing when Jesus talks to you. That's called mental illness if I'm not correct, hearing voices."
Guest co-host Sherri Shepherd, who is a professing Christian, explained that talking with Jesus is "just par for the course" for Christians.
"You talk to Jesus, Jesus talks back. What concerns me is, how long is the conversation with Jesus?" she said.
King was not the only one to speak out against Omarosa and Behar's comments. Julie Roys, former host of Moody Radio's "Up for Debate," took to Facebook to demand an apology.
"This is disheartening and yet another example of how people who sit in a pew every Sunday are not just misunderstood, but mocked," Roys said. "Behar, Omarosa, and everyone associated with 'The View' owes every Christian in this country an apology. And call me crazy, but Jesus talks to me too. I have some reservations about this administration, but Mike Pence's practice of talking and listening to Jesus certainly isn't one of them,"
Follow Jeannie Law on Twitter:
@jlawcp