Mary J. Blige Turns to God in Her Battle With Alcohol Addiction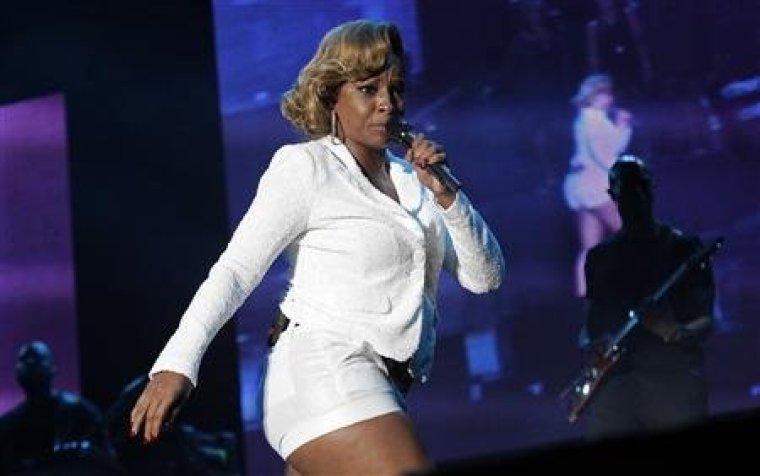 Mary J. Blige has revealed that the tragic death of Whitney Houston made her realize it was time to face her demon of alcohol addiction.
The proud born-again Christian revealed her decade-long battle with alcohol addiction to LA Confidential, sharing that she began focusing on her relationship with God instead of alcohol during the battle. The 42-year-old confessed that her alcohol addiction became worse after trying to cut back and only drink socially.
"I chose to learn how to drink socially and it didn't work," she said. "The test comes when you have to decide whether you're drinking to be social or drinking to cover up something again. To cover up depression, to cover up guilt. Shame. Abandonment… Once I realized, 'There you go again,' I had to stop."
In recent years Blige has openly discussed her tumultuous past that included cocaine and alcohol addiction, which began at the age of 16. She has explained that her dependency masked incidents of her childhood: insecurities about the way that she looked, and emotional pain that she experienced from an abusive relationship with former boyfriend K-Ci Hailey, a member of the R&B group Jodeci.
"I used to think I was ugly," she told Black Heritage Radio. "I thought I looked like a camel. A person who doesn't love themselves, they will see anything that pops up on their face. I've seen squirrels, I've seen a bird, and I've seen all kinds of animals on my face. But that is the result of self-hate. I've learned to say: 'You know what? I am a beautiful black woman'."
The "No More Drama" singer has also discussed the deep secrets of her childhood, bringing further clarification about her turbulent lifestyle. In 2001 during VH1 "Behind the Music," Blige revealed that she had been sexually abused as a child. The childhood molestation that she experienced began when she was five years old.
"That thing followed me all my life. The shame of thinking my molestation was my fault. It led me to believe that I wasn't worth anything," she said during the documentary. "I really didn't care about myself," said the singer. "I was borderline suicidal...I was like the walking dead; just smoking and drinking and hanging."
The multi-Grammy-award winner explained that it has been hard for her to let go of the past. Just as anyone who has battled addiction or abuse, she deals with flashbacks that are prompted by simple things such as sights, sounds and various familiarities of her past.
"Just lately I have been saying that to myself a lot. 'I forgive you, Mary. I forgive you.' I've been saying that to myself out loud. I've been praying to God to show me how to forgive myself. Because… maybe… that's the thing I've been searching for," she stated in her interview with LA Confidential.
In her journey to reclaim herself and her life, she has empowered other women to do the same. In 2006, she founded the Mary J. Blige Center for Women in Yonkers, N.Y., to encourage women who have experienced domestic violence.
The queen of hip-hop soul admits that during her 21-year career that her sobriety has met many bumps in the road but she is determined to be victorious. "I don't know why. But I didn't want to go to rehab. I believe that anything man himself can do for me, God can do for me in a greater way. I decided to pray and to seek God on my own. I just stayed in The Word. And it worked."