Matt Lauer Fired From NBC News for 'Inappropriate Sexual Behavior'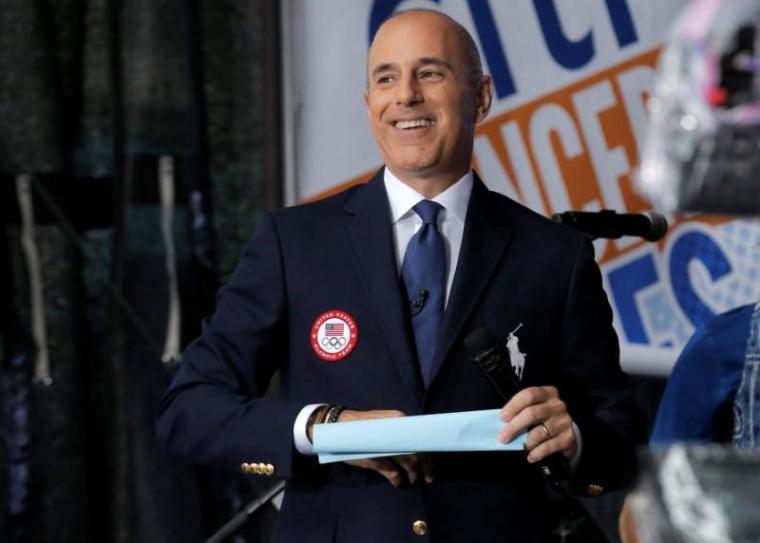 In a seismic announcement Wednesday morning, NBC News announced that the network has fired veteran "Today" show anchor Matt Lauer for inappropriate sexual behavior in the workplace.
The news comes just a week after CBS announced the firing of another broadcast TV veteran, Charlie Rose, after multiple women accused him of sexual misconduct.
According to CNN's Brian Stelter, sources told him Lauer "was informed of NBC's decision before he went to bed last night." But his emotional "Today" co-anchors, Savannah Guthrie and Hoda Kotb, who broke the news to the nation, said they only found out about the decision moments before delivering the news Wednesday.
Guthrie read a statement from NBC News Chairman Andy Lack, noting that Lauer had violated company standards.
"On Monday night, we received a detailed complaint from a colleague about inappropriate sexual behavior in the workplace by Matt Lauer. It represented, after serious review, a clear violation of our company's standards. As a result, we've decided to terminate his employment," Lack said in the statement.
"While it is the first complaint about his behavior in the over twenty years he's been at NBC News, we were also presented with reason to believe this may not have been an isolated incident. Our highest priority is to create a workplace environment where everyone feels safe and protected, and to ensure that any actions that run counter to our core values are met with consequences, no matter who the offender," he added.
Guthrie said she was heartbroken by the sudden turn of events and explained that she and her colleagues were still trying to come to terms with the news even as they shared it.
"As I'm sure you can imagine, we are devastated and we are still processing all of this," she said. "I will tell you right now we do not know more than what I just shared with you, but we will be covering this story as reporters, as journalists. I'm sure we will be learning more details in the hours and days to come. And we promise we will share that with you."
An NBC insider told the New York Post's Page Six that Lauer allegedly sexually assaulted a female NBC staffer during the Sochi Winter Olympics in 2014.
"This happened so quickly. She didn't go to the media, she made a complaint to NBC's human resources, and her evidence was so compelling that Matt was fired on Tuesday night. The victim says she has evidence that this has also happened to other women, but so far we don't have evidence of that," the insider said.
Lack and other NBC News executives had been aware for weeks, according to CNN, that damaging stories about Lauer would soon be made public.
The New York Times had reportedly contacted several sources about the allegations and Variety's New York bureau chief, Ramin Setoodeh, said on Twitter that NBC was aware that they were also investigating Lauer.
"For the last two months, @EWagmeister and I have been reporting on a story about serious sexual harassment allegations against Lauer. There were multiple victims," Setoodeh tweeted.
Many people, including President Donald Trump, expressed shock at the news.
"Wow, Matt Lauer was just fired from NBC for 'inappropriate sexual behavior in the workplace.' But when will the top executives at NBC & Comcast be fired for putting out so much Fake News. Check out Andy Lack's past!" Trump tweeted shortly after 6:00 a.m.
"Oy. Matt Lauer, too? I have a headache," CNN analyst Ana Navarro stated.