'A miracle': Maui church untouched as wildfires torch surroundings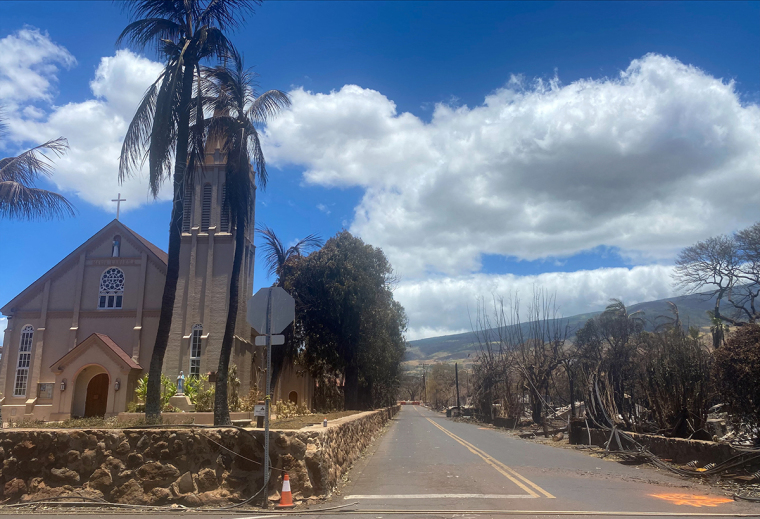 As part of what a local religious leader describes as a "miracle," a Catholic Church in Maui still stands after wildfires ravaged its surroundings.
Photographs taken in recent days reveal that Maria Lanakila Catholic Church in Lahaina, Maui, Hawaii, remains standing after a wildfire tore through the Maui County community and left several trees in the vicinity of the property scorched. The Rev. Terrence Watanabe, the vicar of Maui and Lanai, expressed gratitude for the preservation of the historic site in an interview with the Honolulu Star-Advertiser on Saturday.
"For us, it's like a miracle," he said. "When we saw the news and saw the church steeple rise above the town, it was a great sight to see." 
Maria Lanakila Catholic Church dates back to 1846, more than 100 years before Hawaii joined the union as the 50th state. While the church and its adjacent rectory appear to remain intact, the roof blew off the nearby Sacred Heart School. The roof remains on the 19th century Catholic Church, although it appears to have sustained some level of damage. 
Watanabe, who serves as the pastor of St. Anthony of Padua Catholic Church in the Maui County community of Wailiku, cautioned that an engineer may recommend the demolition of the building if he visits Maria Lanakila Catholic Church and determined it to be unsafe. "We won't know until we get in there and make an assessment," Watanabe said. 
The Rev. Kuriakose Nadooparambil, the pastor of Maria Lanakila, managed to escape the historic church before the wildfires posed a danger to the surrounding community but he told the Honolulu Star-Advertiser that one of his church staffers waited until the last minute to evacuate: "He didn't leave until the palm trees outside were on fire, and there was fire on both sides of the road as he drove away."
The news about the apparent preservation of Maria Lanakila Catholic Church comes less than a week after wildfires broke out in Maui County, Hawaii, burning thousands of acres of land and leaving approximately 100 dead. An update posted on the Maui County website detailed that as of Monday night, two of the four wildfires engulfing the region have been extinguished or contained to the point where they no longer pose a threat to residents.
The Lahaina fire, one of the two other wildfires burning in Maui County, is 85% contained and has destroyed approximately 2,170 acres. The Maui Police Department has confirmed that all four wildfires combined have resulted in 99 deaths. 
Maria Lanakila Church is not the only house of worship in Hawaii to emerge from the wildfires unscathed thus far. Harvest Kumulani, a Lahaina-based church affiliated with Pastor Greg Laurie's Harvest Christian Fellowship, has also been spared by the wildfires, welcome news that Laurie attributed to "God's grace."