Maui Waiter Gets $1,000 Gratuity; Latest in 'Tips for Jesus' Trend?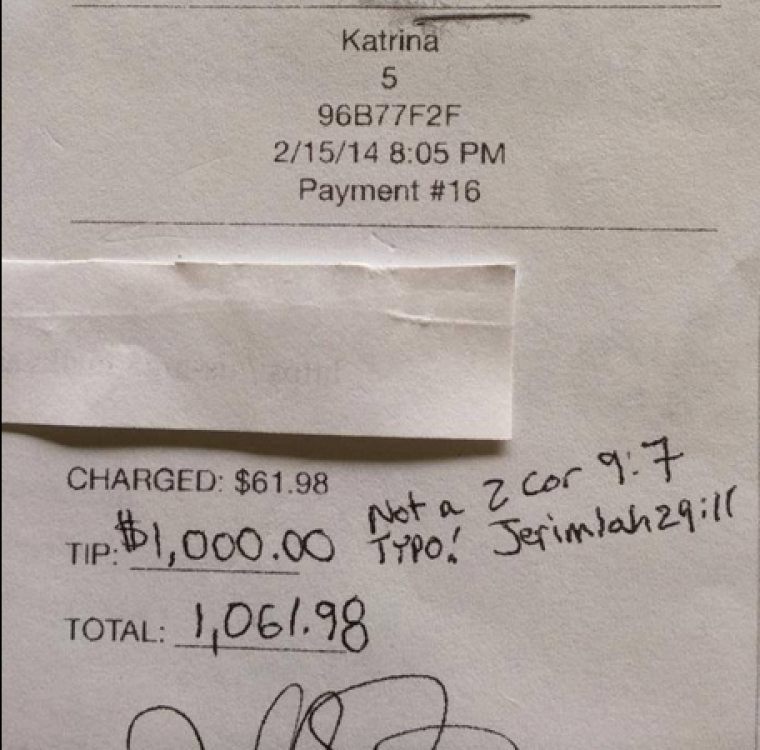 Diners at a Maui restaurant stun thir waiter with a $1,000 gratuity on a $61 meal and cite two Scriptures on their check.
"Not a typo!" the diners wrote on the receipt that included the Bible verses "2 Cor 9:7" and "Jeremiah 29:11," Hawaii News Now reported Monday.
Terry Thrasher, whose family owns Maui Brick Oven, told Hawaii News Now that he and his wife spoke to the visitors and described their convrsation as "amazing."
The two scriptures on the restaurant recepit included 2 Corinthians 9:7, which reads, "Each one must give as he has decided in his heart, not reluctantly or under compulsion, for God loves a cheerful giver;" and Jeremiah 29:11, "For I know the plans I have for you, declares the LORD, plans for welfare and not for evil, to give you a future and a hope."
Last year, a person or group of people started the social media trend "Tips for Jesus," where patrons would leave generous tips at restaurants across the country. The anonymous patrons sign their receipts Tips for Jesus and post photos of them on the TipsforJesus Facebook, Twitter and Instagram pages.
Recently, however, the trend seems to have outgrown the tagline. Earlier this month, CP reported that a woman gave three struggling waitresses $5,000 each at a diner in Caledonia, Ill. "I wasn't even waiting on her," 23-year-old Sarah Seckinger said. "We were talking about school and braces and loans and everything we can't afford and she just took it upon herself."
According to the Rockford Register Star, the woman gave each waitress a check for $5,000. "Yes, you can take that," she reportedly said. "You put that in your pocket. God sent me here to help you."
Seckinger said she will use the donation to finish her degree in criminal justice to become a police officer. 25-year-old Amy Sabani said she hopes the money will allow her to spend more time with her son, in between her two jobs.
While the recent gifts in Hawaii and Illinois are not directly related to the Tips for Jesus trend, the tipsforjesus Instagram account shows 79 different instances of generous tipping in the past year.
Last month, a Tips for Jesus diner in San Francisco left waitress Hilary Hesse a $3,000 tip, and picked up the tab for a couple dining next to him. CP reported that the waitress at the high-end sushi restaurant Roka Akor at first thought she had made a mathematical error. "First, I think that he doesn't know how to use the decimal point and that it was actually $30. And then I looked closer and […] Oh, my God […]"
Earlier in January, a group of patrons – also signing the check Tips for Jesus – left West Hollywood waitress Leigh Dallard, 27, a $5,000 tip that she said she plans to use to pay for law school applications, CP reported. The group also sent bottles of wine and champagne to different tables throughout the restaurant, and picked up an elderly couple's tab. "That type of generosity definitely shows character," Dallard said.
Last Christmas Eve, the Tips for Jesus Instagram account pushed #ProjectChristmasEve, a special effort to bless waiters who have to work on the night before Christmas. "Working Christmas Eve sucks, right? Join @tipsforjesus and make it awesome for your server," a message stated.
Also last December, New York waiter Aruj Dhawan reportedly revealed the mastermind behind Tips for Jesus as being Jack Selby, the former vice president of PayPal.