Media Criticized for 'Fawning Coverage' of North Korea During Winter Olympics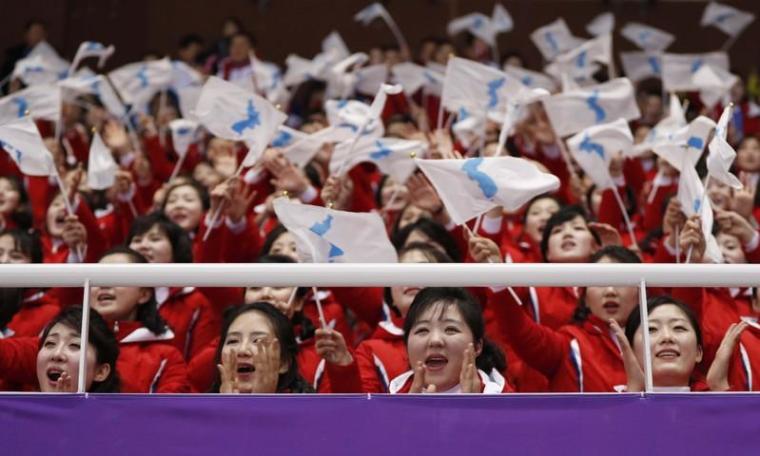 Statements are pouring in on social media condemning mainstream media's praises of North Korea as they report on the Winter Olympics in South Korea, which was attended by Kim Yo Jong, sister of North Korean leader Kim Jong Un, for three days. Leaders from North and South are likely to meet for the first time in over a decade.
"The fawning coverage in the media of the murderous North Korean regime is a kick in the gut to oppressed people and the dissidents yearning for freedom," wrote Daniel Darling, the Vice President for Communications for the Ethics and Religious Liberty Commission of the Southern Baptist Convention, on Twitter.
David French, Senior Fellow at National Review Institute, wrote, "Some of the media stupidity on display is the result of the ridiculous utopianism that plagues every Olympics. 'Oh gee, look at the world come together.' 'Oh wow, we're not that different.' But we don't 'come together,' and we are 'that different.'"
Referring to a report by ABC News, French earlier tweeted, "Just saw the first video of that North Korean cheer squad that is supposedly stealing hearts or somesuch. How any person can see that at not be creeped out is beyond me. Imagine the brutality that led to that symmetry."
A report by ABC News read, "Clad in coordinated outfits of red with white and blue accents, North Korea's throng of more than 200 cheerleaders are stealing the spotlight at the 23rd Winter Olympic Games in South Korea as they chant, sway and dance in unison."
A North Korean defector, 26-year-old Hee Yeon Lim, recently alleged in a media interview that Kim Jong Un keeps teenage sex slaves whom he takes from schools, enjoys a luxury lifestyle while his people starve, and forces children to watch public executions.
According to Open Doors, anywhere from 50,000 to 70,000 Christians are suffering in labor camps in North Korea.
The Federalist author James Hasson, a Catholic and Afghanistan veteran, tweeted, "Here are stories fawning over North Korea at the Olympics," and listed media outlets, including The Washington Post, The Wall Street Journal, The New York Times, CNN, ABC News, NBC News, NPR, Time and The Telegraph. The tweet added, "Oh and here are articles from a few weeks ago warning that NK would use the Olympics as a propaganda offensive. Good job, guys."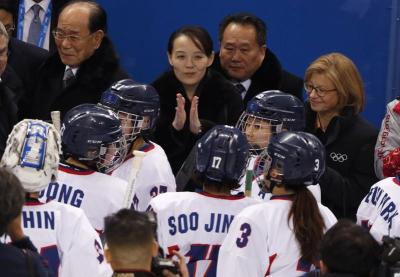 CNN anchor Jake Tapper wrote, "If you hate US leaders more than you hate the Kim Jong-un regime, you really need to read up on North Korea." He included links to reports from Amnesty International and Human Rights Watch on North Korea.
Reporter Salena Zito tweeted, "I am deeply saddened by how my profession has normalized and glamorized this murderous regime. And then we wonder why no one trusts us."
Meanwhile, Reuters reported that the North Korean dictator has invited South Korean President Moon Jae-in for talks in Pyongyang, and Moon has "practically" accepted the invitation, which was delivered verbally by Kim Yo Jong.
The North Korean dictator's sister signed a guest book belonging to Moon Jae-in, writing, "I hope Pyongyang and Seoul get closer in our people's hearts and move forward the future of prosperous unification."
CNN described it as a "warm message."
But it is "a threat to destroy a country," wrote Ethan Epstein, associate editor at The Weekly Standard, in an op-ed. North Korea's long-term goal, he wrote, "is to split the U.S. from South Korea, and then, using nuclear weapons, coerce Seoul into unification."
"It is the official policy of both Pyongyang and Seoul to prepare for unification, of course; both capitals house ministries devoted to the task," he explained. "Seoul takes a peaceful view of this process, one based on relationship-building and the eventual absorption of North Korea into South Korea's democratic, capitalist system. North Korea's is rather more bellicose: It calls unification 'final victory'—a belated end to the Korean War with Pyongyang as the victor."
Last week, U.S. Vice President Mike Pence, who was in South Korea for the start of the Olympics, met with North Korean defectors. The father of Otto Warmbier, an American college student who died after his release from captivity in North Korea last year, also joined him in the meeting.
In December, Rep. Sen. Lindsey Graham warned that the United States was "getting close to a military conflict" with North Korea, which has developed an intercontinental ballistic missile capable of reaching the U.S. with a nuclear warhead.
"We're getting close to a military conflict because North Korea's marching toward marrying up the technology of an I.C.B.M. [intercontinental ballistic missile] with a nuclear weapon on top that cannot only get to America but deliver the weapon," Lindsay said in an interview with CBS News.
"We're running out of time," he continued. "I'm going to urge the Pentagon not to send any more dependents to South Korea. South Korea should be an unaccompanied tour. It's crazy to send spouses and children to South Korea, given the provocation of North Korea. So I want them to stop sending dependents. And I think it's now time to start moving American dependents out of South Korea."
In 2016, a report by the U.K.-based Christian Solidarity Worldwide revealed the gruesome methods the communist government in North Korea has used to torture and kill Christians.
"Documented incidents against Christians include being hung on a cross over a fire, crushed under a steamroller, herded off bridges and trampled underfoot. A policy of guilt by association applies, meaning that the relatives of Christians are also detained regardless of whether they share the Christian belief."