Megachurch Pastor John Gray offers prayers for Derrick Jaxn amid cheating scandal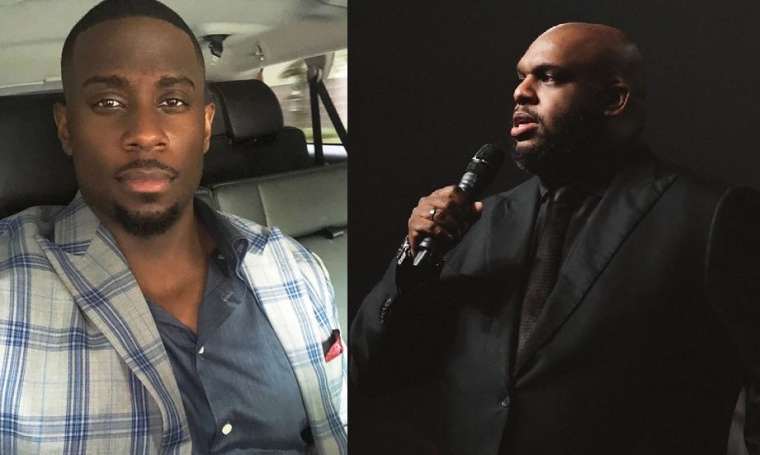 Megachurch Pastor John Gray has offered prayers to embattled Christian relationship guru Derrick Jaxn who's facing backlash after he confessed to being unfaithful to his wife multiple times during his marriage.
Gray's prayer for Jaxn, which was highlighted by The Shade Room on Instagram, comes despite previous criticism from Jaxn, when he faced public criticism over allegations of infidelity in his own marriage in recent years.
"Hey Derrick. You remember when I responded to your words about me? Remember when I posted videos about you? Neither do I. To be clear, I've slept with one woman in my life. My wife. But that DOES NOT ABSOLVE ME OF THE WRONG I DID. Any interaction or communication with anyone was wrong. My failures are mine and I have gone through – and continue to – go through counseling to address the vast empty places that led me to behavior that is antithetical to how I was raised and what I believe. I've learned in life that everyone gets a turn. When it was mine, I didn't obfuscate my wrong by addressing what I knew about others. I kept others names out of my mouth. Maybe it would be wise to do the same," Gray wrote. "One more thing, I sincerely pray for you and your family to heal. I know how people throw you away. I will never do to another man what was done to me. May you receive the grace I didn't receive from others. May you rise to be a better man. One moment will not define your life."
In early 2020, Gray, who leads Relentless Church in Greenville, South Carolina, publicly revealed he had wanted to end his life and received prayer from Bishop T.D. Jakes as allegations of infidelity clouded his marriage. Prior to that, he told his congregation that his wife, Aventer, discovered that he had started "listening to the wrong voices and let some people get too close … she set it off just like a good wife should."
Aventer Gray then revealed to their congregation that one of those wrong voices belonged to a "strange woman," whom she fought off with prayer and Scripture.
In the summer of 2020, the megachurch pastor was also accused of another inappropriate relationship, but his lawyers argued that he was being blackmailed.
Jaxn, who is known for preaching that black men shouldn't cheat and presented himself as a model mate while doling out advice on what women deserved, heavily criticized Gray and accused him of manipulating his church and his followers.
On Monday, however, Jaxn publicly told his millions of followers on social media, with his wife Da'Naia by his side, that he was far from the ideal mate he presented himself to be after he was exposed by vlogger Tasha K.
Tasha K. interviewed a woman identified as Candice De Medeiros on Friday, who said she had an affair with Jaxn. She alleged that Jaxn told her he was separated from his wife of four years and that he planned a lavish Miami trip in July last year during which they had sex. She claimed that he also took her to his marital home in Atlanta, where they also connected while his family was away.
"The truth is, and I'm saying it here now, is that Derek Jackson was involved with other women outside the marriage," Jaxn stated in his confession. "And by involved, I want to be clear: I'm not just talking about casually kicking it maybe at lunch or something like that. I'm talking about as serious as sex, sexual flirtation and that kind of thing.
"All of it falls under the umbrella of inappropriate, cheating, affairs, stepping out. Definitely not in line with the vows that I took and definitely not in the line with the biblical standard of what it means to be faithful, which is the standard that I'm going by now," he said.
 Asked by The Shade Room about his hypocrisy in calling out Gray for cheating on his wife when he was doing the same, Jaxn admitted to being "prideful" and "egotistical."
"When it came to John Gray, I don't want to make a separation because ultimately, we're not different from each other. My sin is not greater than his, any of that stuff," he said.
"He was going at the church talking about this strange woman. His wife was saying I put holy water on this strange woman. I personally felt that was manipulation. I personally felt like putting everything on the women and not on John Gray was manipulation to a church and playing organs and stuff like that. Again, from a place of pride, it's so easy to call out somebody else whenever you got your own situation," he said. "I have no place to sit there and judge the person. So if I did that, that was wrong. It was out of alignment, that was clown behavior. Egotistical," he said.
He further explained that 2020 was his lowest year but "it was really what I needed."
"For years, I've been coming down on the hammer with people. Play no games, take no prisoners when it comes to certain things. And let me tell you something, for everybody listening out there man, you can believe in something so fervently that it develops a sense of pride and pride comes before the fall. And whenever you have pride and you're in a space God has allowed you to be, He has called you to be, but you're not doing it the right way, God will humble you," Jaxn said.