Megachurch Pastor Robert Jeffress: Paris Attacks Prove Islam Inspired by Satan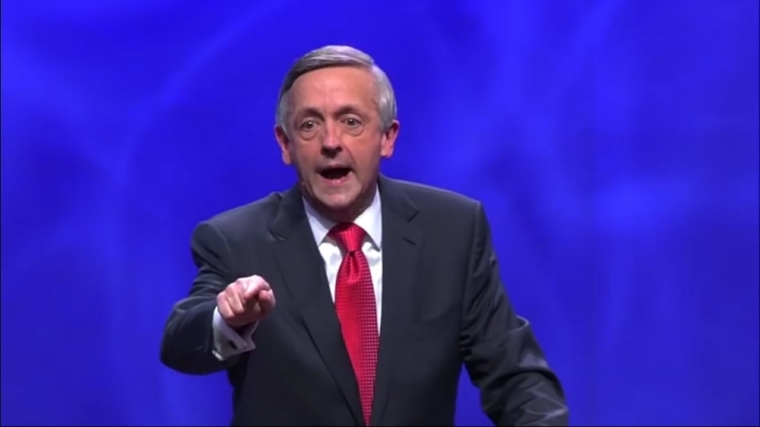 Dallas megachurch pastor Robert Jeffress has responded to the terror attacks in Paris last week by blaming the Islamic religion, claiming it is inspired by Satan and directly responsible for the actions of terrorists.
"Islam is a false religion, and it is inspired by Satan himself," Jeffress said at First Baptist Dallas in his Sunday sermon.
"This weekend we saw the fruit of Satan's destruction in the acts of these terrorists," he added.
"It is impossible to separate what these eight suicide bombers did and their faith, their religion which inspired them to do this. These terrorists were not acting in opposition to the teaching of Islam, they were acting according to the teaching of Islam."
The Islamic State terror group claimed responsibility for the mass shootings and suicide bombs across Paris on Friday, which left 129 people dead and 352 injured.
Muslim groups have strongly condemned the attacks, stating that the violent acts of the terrorists do not reflect the Islamic faith.
"These savage and despicable attacks on civilians, whether they occur in Paris, Beirut or any other city, are outrageous and without justification," said The Council on American-Islamic Relations. "We condemn these horrific crimes in the strongest terms possible. The perpetrators of these heinous attacks must be apprehended and brought to justice."
Saba Ahmed, president and founder of the Republican Muslim Coalition, said in an interview with MSNBC:
"Terrorists are not a representative of Islam in any way whatsoever."
"ISIS should go back to the basic teachings of Islam. They are misusing the teachings of Islam to carry out horrifying atrocities. That's completely un-Islamic, and they have hijacked our religion. The Muslim community strongly condemns [the attacks]," she added.
Muslim social network users took to Twitter following the attacks to insist that Islam is a religion of peace, and show solidarity with the people of France.
The Telegraph featured a collection of various Twitter messages with the sentiment, and one user reminding people of the Quran 5:32 verse, which reads:
"Whoever kills an innocent person, it is as if he has killed all of humanity."
In his sermon, Jeffress said that Christians should pray for the victims of the attack, but at the same time said that the government has a responsibility to first ensure the safety of its citizens.
The First Baptist Dallas pastor has made the controversial statement that Islam is inspired by Satan in the past, and in a sermon in May said that following such a religion will "lead you to hell."
"Islam is a false religion that will lead you to hell. It is based on a false book that is based on a fraud. It was founded by a false prophet who was leading people away instead of to the one true God," Jeffress said, talking about the Islamic prophet Muhammad.