Obama Insists His Anti-ISIS Campaign Is Working; Calls Paris Attacks 'Setback'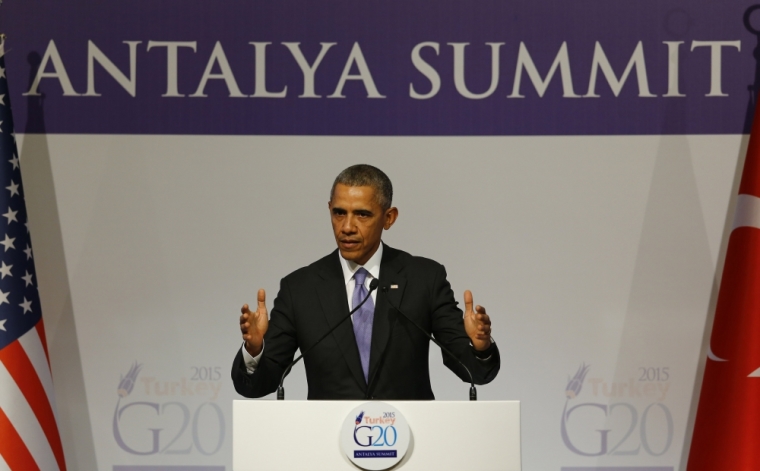 President Barack Obama has defended the U.S.'s anti-terror campaign in Syria against the Islamic State, insisting that it remains on the right track despite the "setback" of the attack on Paris Friday that left 129 people dead and over 350 injured.
"There will be setbacks and there will be successes. The terrible events in Paris were obviously a terrible and sickening setback," Obama said Monday at the G20 summit.
"We are going to continue to pursue the strategy that has the best chance of working even though it does not offer the satisfaction, I guess, of a neat headline or an immediate resolution," he added.
Anti-terror raids in France and across other European states continue this week following the mass shootings and suicide bombings in Paris on Friday, one of the worst attacks on the nation since World War II.
IS has claimed responsibility for the attack, and has warned that other Western states, including the U.S., are to be targeted next.
The morning of the attack on Friday, Obama claimed during an interview with ABC that his strategy of battling IS mostly with airstrikes in Syria, instead of sending in ground troops, is working, as it is "containing" the terror group.
"I don't think they're gaining strength," Obama claimed last week. "From the start our goal has been first to contain, and we have contained them. They have not gained ground in Iraq. And in Syria — they'll come in, they'll leave."
On Monday he defended those remarks, insisting that the goal is to "degrade and ultimately destroy this barbaric terrorist organization."
The president admitted, however, that operations against IS in Iraq and Syria will not be enough to defeat the Islamic militants.
"There will be an intensification of the strategy that we've put forward," he said. "But the strategy that we are putting forward is the strategy that ultimately is going to work."
CNN has reported that on Monday Obama "stood alone on stage and made a case for a policy to combat a virulent new threat that few politicians and experts outside his administration believe is working."
Critics, such as Obama's 2012 presidential campaign rival Mitt Romney, have said that the latest developments are proof that the strategy is not working.
"After Paris, it's clear: Doing the minimum won't make us safe. It's time the president stopped hedging and took meaningful steps to defend us and our allies," Romney wrote in an op-ed for The Washington Post.
"The president was right when he called the Islamic State a cancer, but it is a cancer that metastasized on his watch. Paris is proof. So are Afghanistan, Iraq, Syria, Lebanon and North Africa," the former governor of Massachusetts added.
"What we saw Friday we will see here if we continue on the present course. It's time to change that course, secure the safety of our homeland and preserve our democratic values. Now is the time, not merely to contain the Islamic State, but to eradicate it once and for all."
GOP presidential candidates, including New Jersey Gov. Chris Christie, have also suggested that Obama's policies against IS are failing.
"He sees the world as he likes to see it — as fantasy," Christie said of Obama, according to The Washington Free Beacon.