Memorial Day: A Time to Embrace and Honor the Sacrifices of Our Soldiers
Celebrated on the last Monday in May, Memorial Day is a United States federal holiday that's designated as a time of reverence and remembrance of those who served in the U.S. Armed Forces and made the ultimate sacrifice and died in service to their country.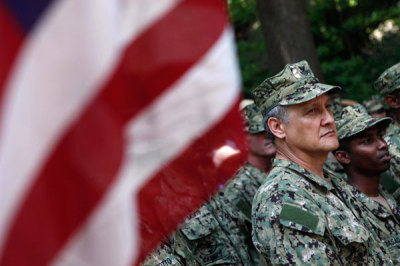 Inside Reagan International Airport in Washington, D.C., travelers awaiting their flights before the holiday weekend might hear announcements inviting them to welcome World War II veterans who've arrived on Honor Flights to attend Memorial Day services at the National WWII Memorial, where they'll be among some of their last surviving peers, and veterans from subsequent wars in Korea, Vietnam, Iraq and Afghanistan.
The Washington Post's editorial board notes in a Memorial Day column that Americans have become increasingly aware and appreciative of the sacrifices made by U.S. soldiers and Marines, with many returning from the wars in Iraq and Afghanistan with physical and often visible wounds, as well as the unseen mental and emotional trauma following their overseas tours.
"But we have not yet come to a full understanding of the debt owed those who have died and suffered for this country," the Post's editors write.
They also mention the division between military and civilian families that's described in the book, Standing By, written by Alison Buckholtz, a Navy wife who writes that: "It's not as if I expected to look around the mall and see people sobbing, but there was – and still is – a seriousness missing from American cultural life, seriousness that wartime demands. …The country has not been asked to make serious sacrifices since 9/11."
While many Americans will enjoy backyard cookouts with their friends and neighbors, in a quiet and less celebratory fashion, other families will gather at military and community cemeteries to decorate the graves of loved ones who died too young and too soon, and left a transformational mark on their family members who are forced to live the remainder of their lives without fathers, husbands and sons.
Poet Joseph Martino of Millburn, N.J., shares his thoughts about Memorial Day and writes: "Please do not take for granted the legacy they bequeath, for these brave heroes never heard the words: 'run' or 'defeat.' So always remember and shall we never forget, to thank our veterans and active service men and women every chance we get," published by the Springfield Patch.
Ret. Marine Corps Colonel Mac Miller, 98, told WALA-TV that Memorial Day reminds him of the men he served with that were killed in battle.
"All I do is sort of go back through these memories we're talking about and rejoice that I made it back and I think of some of my comrades that didn't," Miller told WALA-TV.
Watch World War II Veteran Mac Miller share what Memorial Day means to him in this video: