What is mental health, according to science and the Bible?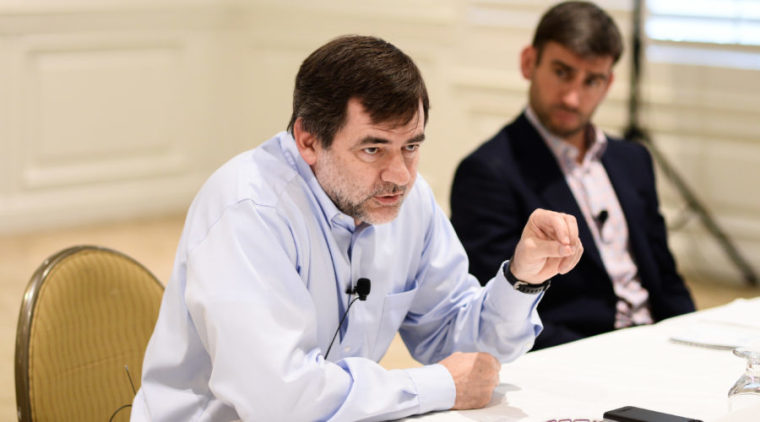 MIAMI BEACH, Fla. — What does it mean to be mentally healthy? Dr. Curt Thompson and journalist Ana Marie Cox spoke about this question at a recent Faith Angle Forum.
The Apostle Paul would relate to the current scientific understandings of the mind if he were alive today, Thompson said.
Thompson is a psychiatrist and founder of Being Known, an organization that seeks to better understand the connection between neurobiology and Christian spirituality. He went to medical school for four years and psychiatry residency training for four years, and in all that time never had training, not even a single lecture, on mental health, he recalled with astonishment.
"If you come to see a psychiatrist, you might hope to think the psychiatrist would know exactly what mental health is," he said. "But we're much more highly trained to identify pathology than we are trained to identify, 'what is mental health?' if we were to see that."
We have a good sense of when the brain is not healthy, Thompson said, such as with depression or anxiety, but have difficulty understanding what it means to be mentally healthy.
During the Q&A, Thompson explained it this way: "Like what is mental illness? Like who knows, right? I mean there's no scientific evidence that has studied what mental illness is and what it isn't. And in some respects, as we like to say, there are two kinds of people in the world: There are those of us who are screwed up and know it and those of us who are screwed up and don't. And everything else is just a matter of, you know, degree. There are different ways in which we can find ourselves in disintegrated states where there will be parts of our story that aren't being incorporated, aren't being included but that are having influence."
To understand when a mind is flourishing, he continued, start with a definition of the mind, which is an "embodied and relational process that emerges from within and between brains whose task it is to regulate the flow of energy and information."
Our mind is embodied, he explained, in that it encompasses our whole body, not just our brain. When we feel anxiety, for instance, we might feel it in our gut, not our head. And our minds function in relation to each other, not just within ourselves. The neurons in a newborn's brain don't start making the connections needed to survive until she interacts with other humans. These interactions involve a flow of energy, either within our bodies or between bodies via light or sound waves.
This definition would make sense to Paul because he would say, "renewing people's minds is not just a figment of our imagination; it's not just an abstraction. It is deeply connected to our embodied experience. And those embodied experiences are deeply connected to interpersonal interactions," Thompson explained.
In Romans 12:2, Paul wrote, "Do not be conformed to this world, but be transformed by the renewing of your minds, so that you may discern what is the will of God — what is good and acceptable and perfect" (NRSV).
And in Ephesians 4:22–24, he wrote, "You were taught to put away your former way of life, your old self, corrupt and deluded by its lusts, and to be renewed in the spirit of your minds, and to clothe yourselves with the new self, created according to the likeness of God in true righteousness and holiness" (NRSV).
A healthy mind, a mind that is flourishing, Thompson continued, is one that is "flexible, adaptive, coherent, energized, and stable."
We obtain that sort of mind in community, according to the leading neuroscience research, Thompson explained.
"It takes place most powerfully in the context in which you have multiple different people who are committed to being known along with allowing you to be known in the same way."
And these discoveries are consistent with what is found in Scripture.
"I'm really excited about what this neuroscience is telling us because it is telling us that there are ways in which the mind can change, ways in which it can be renewed. The fact that we have models for how this can be done in the context of communities is really exciting stuff for us," Thompson said.
Thompson was joined on the panel by Ana Marie Cox, a columnist and host of the "With Friends Like These" podcast, who told her personal story about overcoming drug and alcohol addiction.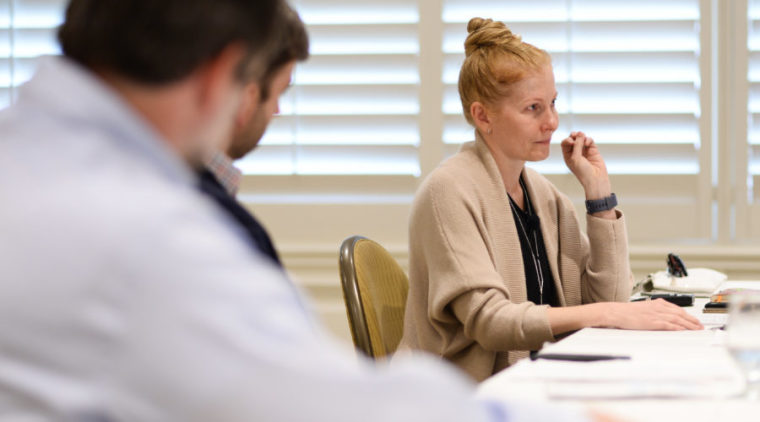 After her third suicide attempt, Cox determined to seek help and found recovery in the 12-step program of Alcoholics Anonymous. She has been sober for eight years.
Cox explained why doing service work and being in community has been essential for her recovery.
"I am so happy to be alive," she said. "I am so thrilled to be able to do service. I am ecstatic to show people who don't feel loved that they are loved. And I do that in part because it makes me believe that I'm loved. I can know that I am loved by the love I share with others because it took me a long time to believe that I was loveable, that anything could love me. But every time I'm able to love someone else, especially another addict or alcoholic, I can remember, oh, right, I can love this person; there's someone out there that loves me.
"Ultimately, I believe my higher power loves me. Like that's my fallback. But it's also good to be in that community where we're loving each other as we are."
During the Q&A, journalist Jon Ward asked about the belief in some Christian communities that mental health problems are simply a matter of not having enough faith.
"In some respects, that's a product of modernity," Thompson answered. "That's a product of how we have a Cartesian dualism. It's not just about mental health or mental illness and faith. And our friend, Descartes, was the one who effectively began to help us separate these worlds in which we have faith over here and we have embodied empiric evidence over here as if these two things are now like separate universes. One of the beautiful things about quantum mechanics is that it's helping us recognize that those things are inseparable. ...
"We come to believe that this thing called faith is different than this thing called science, which we have plenty of experience around this table, I'm sure, recognizing that those things are not different things."
Faith Angle Form is an Ethics and Public Policy Center Program that brings journalists together to talk with experts about issues related to the intersection faith and culture. You can listen to the full April 2 Thompson and Cox panel, titled "Faith and Mental Health: Can Neuroscience Free the Soul?" at the Faith Angle Forum website.