Michael Buble's Son Cancer Free: Wife Says Faith in God Encouraged Family to Believe in Miracle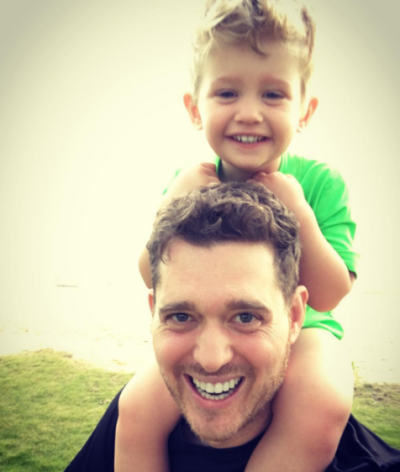 Michael Buble and his family rallied together to support his young son, Noah, while he battled through cancer earlier this year and Buble's wife, Luisana Lopilato, recently revealed that her faith in God encouraged everyone in the family to believe in a miracle.
Noah, who's 3 year old, was diagnosed with liver cancer in November 2016 but has now been declared cancer free after receiving treatment in the United States.
After a five-month battle, Luisana recently broke her silence during a press conference on April 10.
"My faith in the fact God had a miracle helped me. I became strong so my son would get better. I transmitted that to all my friends and family," the thankful mother said.
"As a family we were always very united and we fought this together. We did everything we could for our son so he would come through this," added Luisana, who's an actress and model.
"Thank God, my son is well," she continued. "When things like those that happened to us occur, your take on life changes. It happened to us. Now, I value life much more, the now and the today. I would like to thank people for their support, for the prayers they said, for their love, and I want them to know that they reached us and that it helped us a lot to come through this."
Following Noah's initial diagnosis, Buble canceled appearances and stayed close to his family. The 41-year-old also withdrew from hosting the 2017 Juno Awards and opted out of hosting the Brit Awards last year and performing at the BBC Music Awards.
But now that Noah is cancer free, the singer is set to make his first public appearance. The Governor General of Canada will award him with the National Arts Centre Award in Ottawa, Canada, on June 28. And the next day he will appear in a live telecast from the Arts Centre.
"We are delighted that Michael Bublé and his family are doing so well, and that they will all be joining us ... all of Canada wishes the Bublé family the very best," the centre's president told ABC News in a statement.
Buble and his wife first confirmed their son's illness on social media in November.
"We are devastated about the recent cancer diagnosis of our oldest son, Noah, who is undergoing treatment in the U.S. We have always been very vocal about the importance of family and the love we have for our children. Luisana and I have put our careers on hold in order to devote all our time and attention to helping Noah get well. At this difficult time, we ask only for your prayers and respect for our privacy. We have a long journey in front of us and hope that with the support of family, friends and fans around the world, we will win this battle, God willing," Buble posted on Facebook.
In addition to Noah, Buble and Luisana also have a 1-year-old son, Elias. For further updates, follow Buble on Facebook.
Follow Jeannie Law on Twitter:
@jlawcp