Michael Phelps Nears Olympic Medal Record Today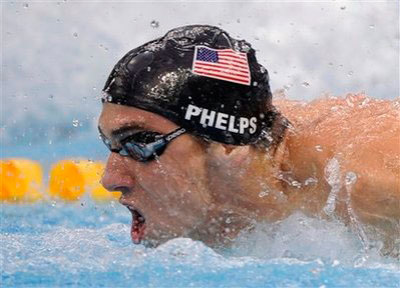 Michael Phelps approached the biggest race of his swimming career Tuesday at the 2012 Olympic Games in London.
The Team USA swimmer could set the record for winning the most amount of medals of all time during tonight's 200m butterfly and 800m freestyle relay.
As the most decorated swimmer in history, it is the last record Phelps has yet to shatter. A finish in the top three will catapult the swimmer into a tie for the most Olympics medals in history.
Phelps' 200m butterfly race could earn him his 18th medal, which would tie Larisa Latynina- a Ukrainian gymnast who won her last medal in 1964.
Then, the 800m relay could push Phelps to earn his 19th medal. If the Olympian fails on Tuesday, he will have missed his career's crowning achievement.
With so much on the line, there is no doubt that Phelps is under pressure. Fortunately, Phelps has swimming titan Ryan Lochte on his relay team Tuesday.
Lochte and Phelps join forces on the 800m freestyle relay, in which the USA is the defending champion.
Although he may break her record, Phelps met Latynina, now 77 years old, during a photo shoot in New York earlier this year.
"It was an honor to meet somebody, such a legend and icon, especially in the Olympic movement," said Phelps according to the Baltimore Sun. "We were sort of joking around, through a translator. It definitely was pretty cool."
In addition to breaking the 48-year-old standing record for the most Olympic medals at a single Games, a win in the 200m by Phelps would make him the first male swimmer to win the same event in three Olympics.
Despite high expectations, Phelps suffered surprising losses earlier this week during the London Games. The swimmer will have a chance to redeem himself Tuesday at 2:49 p.m. EST when the 200-meter butterfly final starts.
Phelps will swim the 4 x 200 meter relay at 3:51 p.m. EST.
Moreover, Phelps is scheduled to participate in the 200-meter individual medley preliminary heat at 6:06 a.m. EST on Wednesday, and if he qualifies, will swim the 200-meter individual medley semifinals at 3:43 p.m. EST.
Thursday, Phelps will swim the 100-meter butterfly preliminary heats at 6:14 a.m. EST. If qualified, his later events could include the 200-meter individual medley finals, 100-meter butterfly semifinals, and the 100-meter butterfly finals.
Olympian Michael Phelps Talks about Past Mistakes