Michelle Duggar Boasts of Daughter Jill's Marriage: 'I Know God Will Use That Love'
Michelle Duggar Boasts of Daughter Jill's Marriage: 'I Know God Will Use That Love'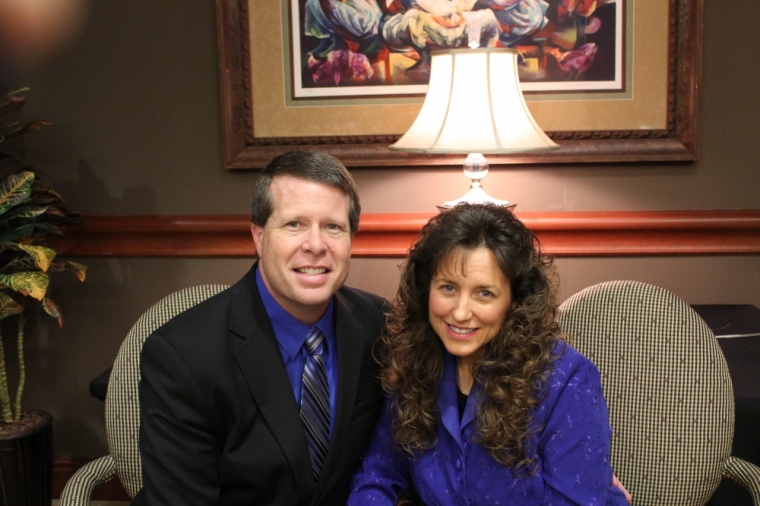 Michelle Duggar, mother of new bride Jill, who is expecting her first child with husband Derick Dillard, has opened up on Monday to brag about her daughter's marriage.
"It's just so sweet to watch these guys and girls that are really in love," Michelle wrote on the family blog about Jill and Derick. "Love is in the air and it's good for all of us to be around that, even if the little siblings have to go, 'Oh no, they're kissing again, oh my!'"
Jill and Derick waited until they exchanged vows to share their first kiss and did not even hold hands until they were engaged. It was a personal choice for the couple, who firmly believed in firm abstinence from physical intimacy until they were truly committed to one another. Now they are expecting their first son together.
"I know God's going to use that love to help stretch in ways that they might not otherwise try, because that's the good thing about marriage," Michelle continued. "It really does stretch us and helps us to become the person that God would want us to be. You're much more willing to get out of your comfort zone when it's with somebody that you deeply love."
The Duggar family has welcomed two new members in recent months: sons-in-law Derick and Ben Seewald, who married daughter Jessa just two weeks ago. Jessa and Ben made the unique decision not to kiss at their wedding ceremony but instead had their parents, Michelle and Jim Bob, perform the tradition in front of the audience. They wanted to have their first kiss in private and took the opportunity to do so before their reception.
"I think it's been a very smooth transition for Jill and Derick," Michelle wrote. "She's got her house set up and she's already had company over. It's so sweet to see them starting their lives and their family together. It was truly the joy of her life to marry Derick and they both feel so blessed to have each other."