Michelle Obama Not Amused as Obama, World Leaders Take Playful Photo During Tribute for Late Nelson Mandela
Obama, Cameron, Denmark Leader Take 'Selfie' During South African Leader's Memorial Service
Michelle Obama Not Amused as Obama, World Leaders Take Playful Photo During Tribute for Late Nelson Mandela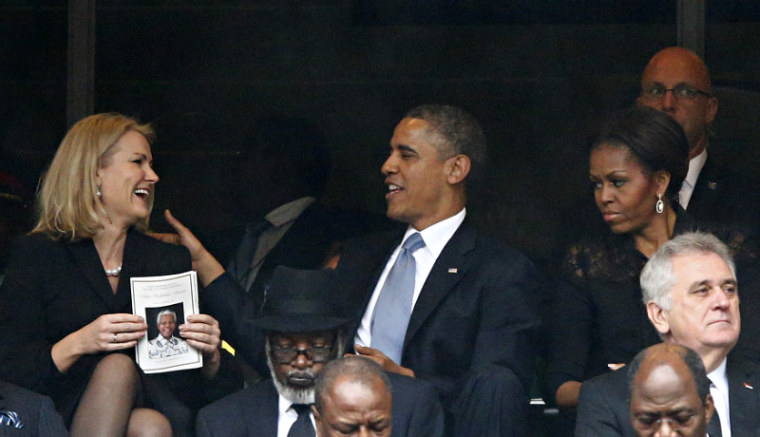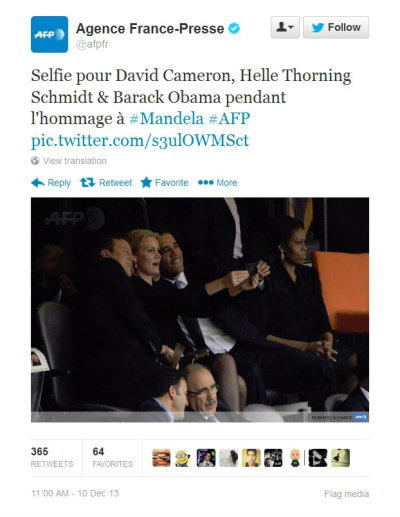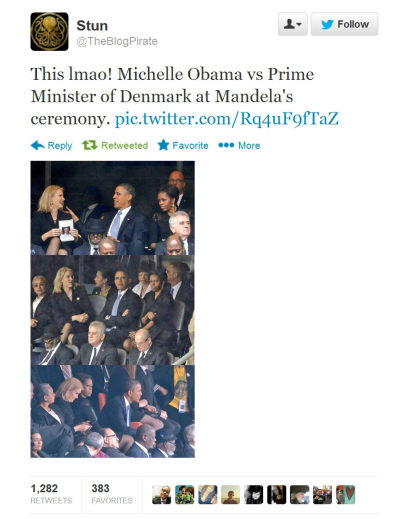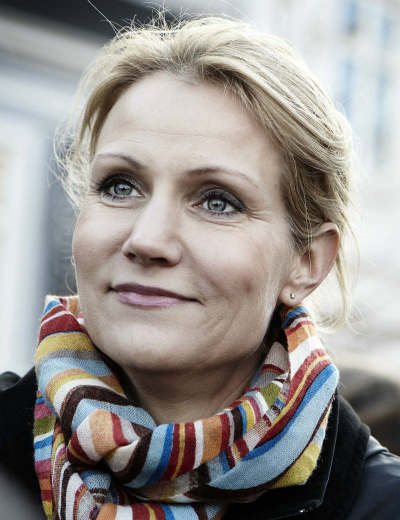 Perhaps she was upset she wasn't included in the shot, or maybe she thought taking a self-portrait during a tribute to an iconic world leader in his home country was tasteless. Whatever the case, Michelle Obama's notably tight jaw and icy glare will likely go down as one of the most memorable images from an event meant to pay tribute to South Africa's anti-apartheid hero Nelson Mandela.
"If it's a funeral she looks like she's the only one being mature. Why couldn't they take pictures after the funeral," suggested Stephanie Novak, writing on CP's Facebook page. "I bet that's what she's thinking if anything. She's probably thinking they should show more respect than that."
Novak was among numerous online readers who have been speculating exactly what might have been the cause for Mrs. Obama's hard look Tuesday during a tribute to Mandela that was attended by leaders from around the world. Tens of thousands of South Africans were also gathered at the First National Bank (FNB) Stadium in Johannesburg to remember their first democratically-elected black president who helped bring an end to decades of oppression and segregation.
It was President Barack Obama, the United States's first black president, who delivered Mandela's eulogy.
"To the people of South Africa — people of every race and every walk of life — the world thanks you for sharing Nelson Mandela with us," said Obama, according to The New York Times. "His struggle was your struggle. His triumph was your triumph. Your dignity and hope found expression in his life, and your freedom, your democracy, is his cherished legacy."
But it wasn't Obama's remarks, no matter how heartfelt, that spectators were discussing Tuesday. Rather, it was the U.S. president's playful time out with British Prime Minister David Cameron and Denmark's Prime Minister Helle Thorning-Schmidt that had people talking, and speculating.
Obama, Thorning-Schmidt and Cameron took a selfie, or self-portrait, all smiles with a cell phone — while Mrs. Obama, her hands tightly clasped in her lap and her jaw tight, looked straight ahead.
"Way to stay classy, World Leaders!! Michelle has the sense God gave a billy goat not to 'selfie' during a funeral," Karen Turk Marshall wrote on Facebook.
Some readers also speculated that it was not simply the selfie that had Mrs. Obama upset, as the first lady eventually exchanged seats with her husband, placing herself between President Obama and Prime Minister Thorning-Schmidt.
"Michelle is certainly 'out of the picture' here, any wife would be angry about that," suggested Arlene Sarver.
Chad McCabe, another CP reader, added of the president, "He looks like he won't be happy when he gets home."
In addition to the Obamas' presence at the Mandela tribute Tuesday, were former Presidents Bill Clinton, George W. Bush and Jimmy Carter. Former Secretary of State Hillary Clinton and former first lady Laura Bush also traveled to South Africa for the ceremony.
Mandela, who had been suffering lung problems for years, passed away at his home on Dec. 5 at the age of 95. His body will lie in state in South Africa's capital of Pretoria before being transported to his hometown of Qunu for an official state burial on Dec. 15.