Middle School Students Shown 'Pro-Gay' Video During Class; Christian Parent Upset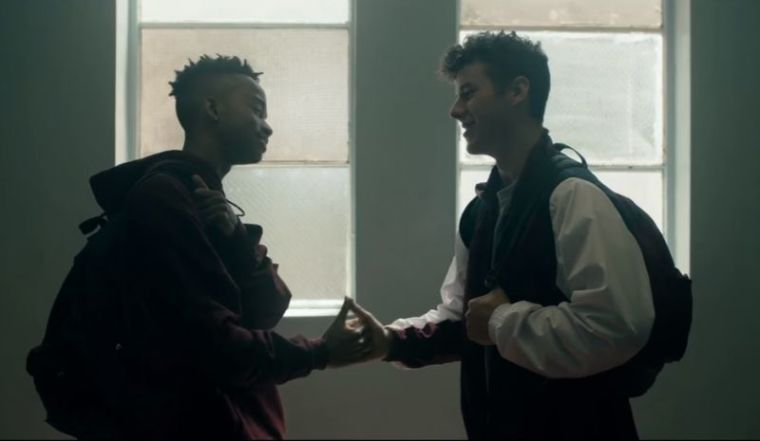 A conservative Christian parent in West Virginia has voiced concern after a middle school teacher showed her class a suicide prevention music video that featured two male high school students in bed together and a sex toy.
Rich Penkoski, who is the father of a 13-year-old student at Mountain Ridge Middle School in Gerrardstown, West Virginia, voiced his outrage with the school's principal Thursday after his daughter told him that her homeroom teacher, Jackie Coffin, showed the the music video in class on Tuesday.
The music video in question is from hip-hop artist Logic's 2017 song, titled "1-800-273-8255," which is also the number to the National Suicide Prevention Lifeline.
The plot of the video follows a gay African-American student as he struggles to gain society's acceptance of his sexual orientation. In one scene, the student visits a male classmate's house and has dinner with the classmate and his parents. The next scene shows the classmate's dad catching his son in bed with the male student.
In another scene, the African-American student opens his gym locker to find a dildo affixed to the inside of the locker door as an anti-gay joke.
Penkoski told The Christian Post in an interview Thursday that the video Coffin played for her class was the not the suicide prevention video approved by the school to be shown in homeroom classes this week. And according to his daughter, Coffin instructed students not to tell their parents that she played the music video during class.
Penkoski talked to the school's principal, Ron Branch, on Thursday to inform him of the video Coffin played.
"He called me back and told me [they] did an investigation and it turns out that the teacher admitted to showing the video," Penkoski said. "She said the students wanted her to show it but that she denied telling students not to tell their parents about it."
The Berkeley County School District issued a statement sent via email to The Christian Post Thursday afternoon, stating that the school will take steps to prevent another incident like this from happening again.
The school district's statement reads:
"Mountain Ridge Middle School administration approved a suicide prevention video that was shown in homeroom earlier this week. A second video was brought to the attention of the teacher by her students, and without negative intent, the video was shown. The second video contained unapproved content that some may find offensive.
"Mountain Ridge Middle School is committed to its students and their families and thanks Mr. Penkoski for bringing this to our attention. School administration is evaluating this incident and taking steps to prevent a similar occurrence in the future."
The school district did not answer CP's question about whether or not Coffin instructed the class not to tell their parents about the video. Coffin did not respond to CP's request for comment before press time.
When asked about the school district's claim that students asked Coffin to put the video on, Penkoski's daughter, Ariana, told CP: "No, she put it on herself."
"At first when I saw it and I was watching it, I thought, 'That is weird and I don't want to watch it anymore.' So I just stopped watching it and began reading my book,'" she explained.
Penkoski believes that he and other parents should have been given the opportunity to opt-out of having their children watch the video.
"If she is going to show this [kind of] video in school, it should be like sex-ed where they have an opt-out form where I can choose to opt my children out of that," Penkoski stated. "I wasn't given a choice here. I had no option."
"There are two issues with this. No. 1 is the teacher telling my daughter to not run home and tell your parents. I need to know and I think most parents feel the same way," he continued. "As far as the video goes, I do think showing two boys in bed — granted you didn't see the sex scene — and having the [sex toy] thing going on after that is completely inappropriate. The anti-suicide part is not the issue here. It's a pro-gay video and an educator is doing this without approval from her higher-ups. As a parent, I have a right to know what is being taught to my children in school."
Penkoski is most known for his work as one of the leaders of the "Warriors for Christ" online ministry and Facebook page. The Facebook page made headlines and received much backlash earlier this summer when it announced that anyone who posted an LGBT rainbow flag emoji to the Facebook page would be banned by the page's administrators.
Penkoski and other administrators at Warriors for Christ have also launched a new Christian social media alternative to Facebook called SocialCross.org. So far, nearly 10,000 users have joined the new platform.