Mike Huckabee Rebuffs Apocalyptic, 'Religious Cult' Global Warming Predictions but Doesn't Deny Climate Change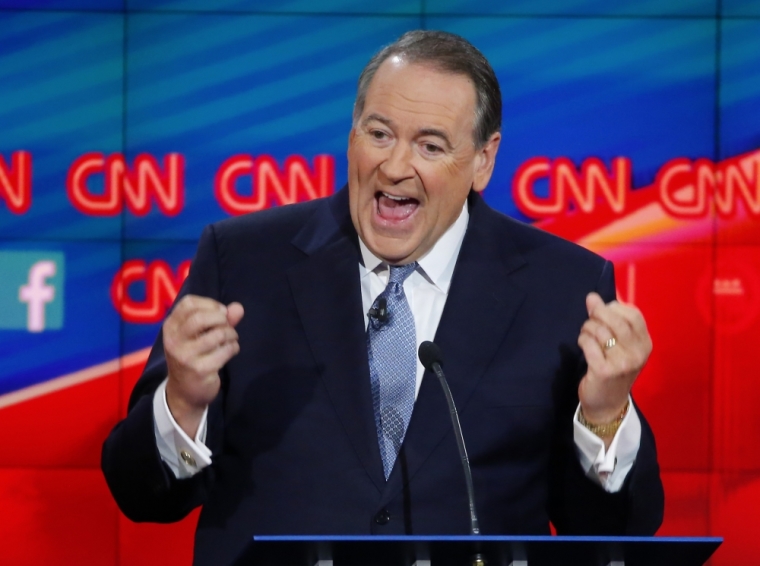 Former Arkansas Gov. Mike Huckabee claimed that numerous "fearmongering," apocalyptic predictions in the media over global warming continue turning out to be false, but insisted that he does not deny climate change.
"Polls consistently show that despite constant media fearmongering over climate change being a bigger danger than ISIS, a nuclear Iran and Alec Baldwin's temper put together, most Americans just aren't that concerned," Huckabee wrote in a Facebook post on Tuesday.
"Maybe it's because if you've been alive long enough, you've seen so many apocalyptic predictions come and go (remember when tuna became an $80-a-can rare delicacy in the 1980s? Me, neither.) And yet the world is still here, there are still fish in the sea, and the $9 million oceanfront mansion Al Gore bought with the money he made off of scary predictions of rising sea levels is still as dry as one of his speeches," he added.
The former pastor linked to an article in the Conservative Tribune which highlighted predictions that warned that the entire Arctic ice cap would melt by 2016 due to global warming, but in fact Arctic ice has increased nearly 31 percent since 2012, and now covers 2.9 million square miles.
Huckabee noted that this flies in the face of dire predictions that first believed the Ice Cap would melt by 2013, before that deadline was extended to 2016 – and looks set to pass this year as well. The former GOP presidential candidate compared Apocalyptic global warming predictions to the "religious cults that predicted the end of the world on December 31, 2000."
"This is what happens when you try to turn science into a religious cult and demonize heretics who question your dogma -- which is actually the definition of real science," he warned.
Still, Huckabee insisted that questioning wrong predictions is not the same as denying climate change.
"No, neither I nor anyone I know 'denies' climate change. We just question the expertise of those who want to destroy our economy to avert their apocalyptic weather predictions for the next century when they can't even get the weekend forecast right," he wrote.
There continue to be various positions and opinions on climate change within evangelical circles, as a Christian Post article from June 2012 pointed out.
The National Association of Evangelicals recommended four steps that Christians can take when engaging with climate change issues, as found in "Loving the Least of These:"
"First, dig deeper into the facts and scientific evidence. Second, avoid polarizing voices of 'angry people who call others names or refer to conspiracy theories.' Third, look at joint statements from professional societies that represent the collective wisdom of a large number of experts," the recommendations state.
"And fourth, get to know a Christian scientist that can help you understand the scientific information."