Mike Huckabee: Political Correctness, 'Guilty Liberals' Forced FBI to Release Orlando Shooter Omar Mateen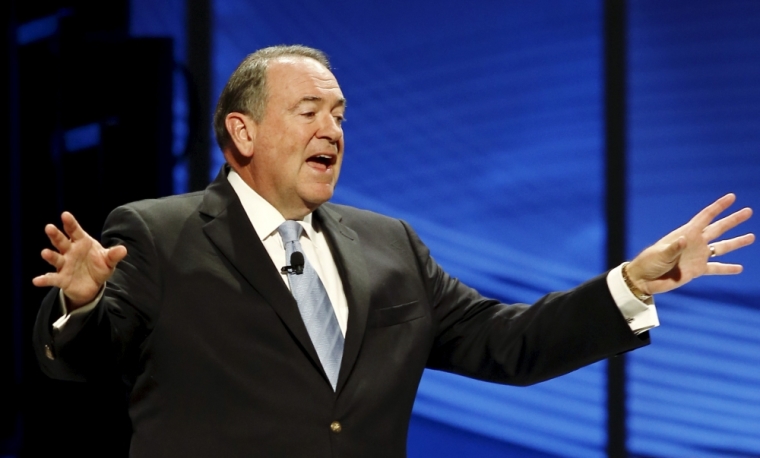 Former Arkansas governor and Republican presidential candidate Mike Huckabee has blamed President Barack Obama's administration and political correctness for the FBI releasing Orlando shooter Omar Mateen despite 10 months of investigation back in 2013.
Huckabee said Mateen, who on Sunday killed 49 people at a gay nightclub in Orlando and pledged his allegiance to the Islamic State terror group, had told co-workers in 2013 that his family had connections to other terror groups, such as al-Qaeda, and had even expressed wishes to die as a martyr.
"So why in the world did they drop the investigation and walk away after 10 months? They bought his claim that he was teasing his co-workers because he thought they were trying to marginalize him for his Muslim faith," Huckabee wrote on his website on Tuesday.
"In other words, they were more willing to believe that all his American co-workers were bigots than that he might be a danger to society. He'd learned to speak the language of political correctness well and used it to manipulate guilty liberals."
U.S. authorities are investigating all possible causes and motives behind Mateen's actions, which resulted in the biggest mass shooting in American history, including suggestions by his ex-wife and a former classmate that he was gay himself.
Huckabee accused the Obama administration, however, of working against national security.
"At the same time that the Obama administration was arguing for the right to gather electronic data on every U.S. citizen, including reporters, it was abandoning real leads, killing a serious terrorist investigative unit and deleting its files, and removing experts and training materials on how to identify threats, all because those things might be seen as culturally insensitive to Muslims," he added.
"This is how political correctness kills, and it just set a new U.S. record."
Presumptive Republican nominee Donald Trump has launched similar criticism at Obama's lack of anti-terror policies, but on Tuesday Obama shot back, stating that the suggestion to ban Muslims coming to America goes against democratic ideals.
"It will make us less safe," Obama said, according to CNN.
"If we ever abandon those values, we would not only make it a lot easier to radicalize people here and around the world, but we would have betrayed the very things we are trying to protect," the president added.
Obama has also defended his choice not to use the phrase "radical Islamic terrorism" when describing such attacks.
"What exactly would using this label accomplish? What exactly would it change?" Obama asked. "Would it make ISIL less committed to try and kill Americans?"
"Would it bring in more allies? Is there a military strategy that is served by this? The answer is none of the above," he said. "Calling a threat by a different name does not make it go away."