Mike Tyson Confesses: 'I'm on the Verge of Dying Because I'm a Vicious Alcoholic'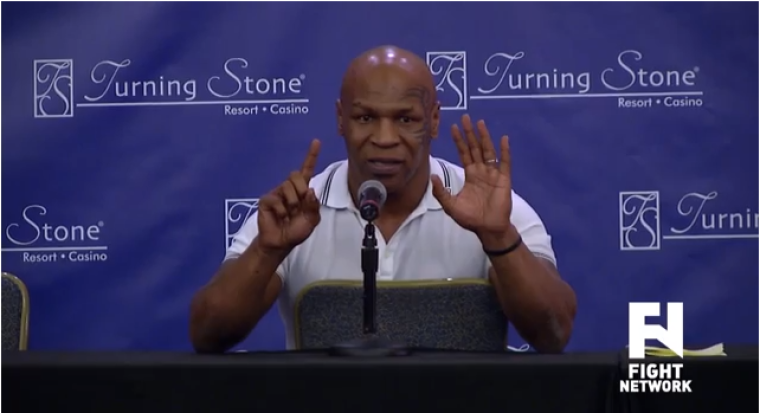 In his debut as a promoter last Friday night, former undisputed heavyweight champion boxer of the world Mike Tyson landed a blow to a strain of unforgiveness that had festered between him and his former trainer Teddy Atlas for 20 years, and confessed that he had been sober and drug-free for just six days.
"I'm a bad guy sometimes. I did a lot of bad things and I wanted to be forgiven…I want to change my life now. I want to live a different life. I want to live my sober life. I don't want to die," Tyson confessed during a discussion about seeking to patch things up with his former trainer at ESPN's Friday Night Fights post-fight press conference in Verona, N.Y., last Friday.
"I'm on the verge of dying because I'm a vicious alcoholic. I've been," he said pausing as he tried to remain composed. "I haven't drank or took drugs in six days," he continued while holding up six fingers.
"And for me that's a miracle. I've been lying to everybody else who thinks that I'm sober but I'm not. This is my sixth day. I'm never gonna use again," he ended while choking up to applause.
Atlas, now an ESPN2 commentator covering Friday Night Fights and Wednesday Night Fights, had helped train Tyson in the early 1980s in upstate New York.
Tyson and his ex-trainer had a difficult falling out, however, over what Atlas said was Tyson's crude approach toward a young girl. The girl was a relative of Atlas' wife, according to ESPN.
Atlas noted in his biography that he borrowed a .38 from a friend in 1982 and went after Tyson. He told him to smarten up and fired the gun at Tyson, missing the confessed "bad man" on purpose.
Tyson confessed during the press conference that the bad blood between him and his ex-trainer had been weighing heavily on him and it was part of the reason he sought to make amends.
"I knew it was a possibility that I would be here with Teddy and I didn't have a good thought of mind about that at first because I'm negative and I'm dark and I want to do bad stuff. I want to hang out in this neighborhood alone," he said pointing to his head. "That's dangerous to hang out in this neighborhood alone up here. It wants to kill everything. It wants to kill me too."
To prepare for the burden-lifting move, however, Tyson sought help from his peers at Alcoholics Anonymous.
"I went to my AA meeting. I had to make a discussion to check out what we gotta do. I explained to my fellow alcoholics and junkies that I was gonna deal with this certain situation here and I explained the feelings that I evoked from it. Almost like, something like a Hatfield and McKoy. I kinda explained to them," said Tyson.
And so on Friday, after 20-years of unforgiveness, Mike Tyson buried the proverbial hatchet with Atlas.
"He behaved like a man, what can I say," Atlas recollected to fellow analyst Joe Tessitore in an ESPN report. "He came over, extended his hand and asked me if I'd shake it and said, 'You're not still mad at me, are you? I wish you wouldn't be.'... I give him credit for showing a gentleman's side."
Tyson said he felt he made the right decision and it was one of the rare moments in his life that he made himself feel proud.
"I made the right decision. I made cuz proud of me. I made myself proud of me. I hate myself, I'm trying to kill myself. I used to hate myself a lot but I made myself proud of myself and I don't do that much," said Tyson. "I was happy I did that. Maybe it was overwhelming to Teddy and he didn't get it yet. He has to know that this is sincere. I don't wanna fight you no more," he explained.
"I was wrong and I'm sorry. I was wrong and I just want to make my amends. If he accepts it or not at least I could die and go to my grave and say I made my amends with everybody that I had hurt. It's all about love and forgiveness," he said.