Miley Cyrus Debuts 'Twerk' Feat. Justin Bieber; Collaborates With Kanye West After VMAs Disaster (AUDIO)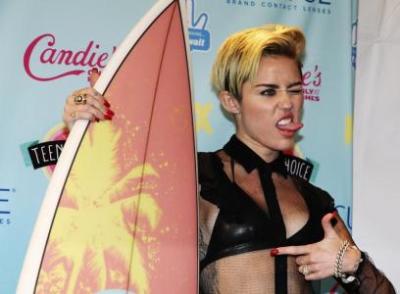 Miley Cyrus is reportedly focused on making new music following her widely criticized MTV VMAs performance, and her new song "Twerk" which features Justin Bieber went viral on Wednesday.
Sunday, the former Disney star, 20, took to the stage at Brooklyn's Barclays Center to perform her hit song "We Can't Stop" and critics were outraged over her skimpy costume and lewd dancing. In what may have been an attempt to avoid the widespread criticism, Cyrus reportedly skipped her own VMAs after-party and headed into the studio with rapper Kanye West, according to the New York Post.
Sources claim the pop star, who helped bring the twerking craze into mainstream pop culture, is brushing off the intense VMAs backlash and staying focused on new projects. "Twerk," which was produced by Bieber's friend Lil Twist, was leaked online just days after Cyrus' controversial performance and the track immediately went viral on social networking sites.
"Im came up in this party time to twerk / Im came up in this party and Im turnt," Cyrus sings on the hook.
"Hey pretty girl, tell me your name / The way that you move, I'm happy you came," Bieber sings.
"Twerk" will likely be featured on Cyrus' upcoming fourth studio album "Bangerz," which is due to be released Oct. 4.
Cyrus and West, 36, are believed to have collaborated on a remix of the rapper's new song "Black Skinhead" during their "top-secret" studio session. The remix is said to be part of a remix EP due for release in coming months.
In addition to working on new music, Cyrus is said to be planning her wedding to Australian actor, Liam Hemsworth.
"Miley hasn't talked about her wedding in ages, but she's started getting excited about it again. She had a bride magazine with her the last time I saw her," a source told HollywoodLife.com.
"As far as I know, there's no date or any plans made but it seems like things are really back on track again for her and Liam," the insider revealed.
To listen to Cyrus' latest song, click below (WARNING: Adult content and lyrics).