Miley Cyrus Ignoring VMAs Criticism, Focused on Liam Hemsworth Wedding Planning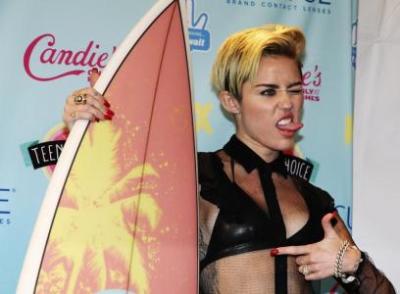 Miley Cyrus is reportedly putting her widely criticized MTV VMAs performance behind her and focusing on wedding planning.
The former Disney star, 20, raised eyebrows Sunday after taking to the stage at Brooklyn's Barclays Center where she put on an over-the-top performance alongside singer Robin Thicke. Despite making headlines for her lewd dancing and receiving criticism from fans and fellow celebrities, Cyrus is reportedly trying to focus on her upcoming wedding to her fiance Liam Hemsworth, 23.
"Miley hasn't talked about her wedding in ages, but she's started getting excited about it again. She had a bride magazine with her the last time I saw her," a source told HollywoodLife.com.
"As far as I know, there's no date or any plans made but it seems like things are really back on track again for her and Liam," the source revealed.
In February Cyrus sparked reports of a broken engagement when she abruptly stopped wearing her engagement ring, which Hemsworth gave her during his 2012 proposal, following claims of an affair between the "Hunger Games" star and actress January Jones, 35.
"It looked like they had some hot chemistry," one onlooker told Star magazine about Hemsworth and Jones who were photographed leaving a pre-Oscars party together. "They were all over each other and they even kissed!"
The Australian actor and Jones never addressed the rumors and while Cyrus was reportedly concerned about cheating rumors, she eventually began wearing her ring again in March.
"Miley is super independent, which Liam loves about her, but at the same time she's an insecure girl who's terrified of losing him and will do whatever it takes to make their relationship work," a source previously told RadarOnline.com.
"This just goes to show Miley's immaturity and lack of relationship experience," the source continued. "She's the one who's dying to make it work with Liam, when he's the one who strayed from their relationship!"
Here is a related video: