Mitch McConnell Heckled at Restaurant While Eating Dinner With Wife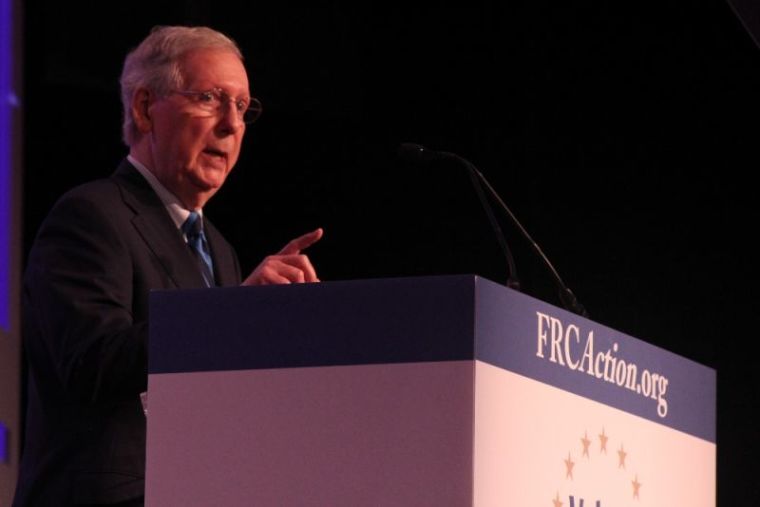 Senate Majority Leader Mitch McConnell and his wife were heckled at a restaurant in Kentucky in what many see as further evidence of rising political incivility in the United States.
McConnell and Department of Transportation Secretary Elaine Chao were eating at Havana Rumba Cuban Restaurant in Louisville last week when four individuals confronted them.
"Why don't you get out of here? Why don't you leave the entire country?" stated one of the four hecklers, as quoted by TMZ.
The confrontation appeared to be politically driven, with the protesters taking issue with Senator McConnell's views on Social Security and health care.
According to the video posted by TMZ, other patrons at the restaurant heckled the main protester, who reportedly slammed his fist on McConnell's table and threw his leftover food on the floor.
Regarding the incident, McConnell spokesperson David Popp released a statement that the McConnell family "appreciated" the support they got from other patrons.
"The Leader and Sec. Chao enjoyed their meal in Louisville last night and they appreciate those who spoke up against incivility," stated Popp, as quoted by the Daily Mail.
"They hope other patrons weren't too inconvenienced by left-wing tantrums. As the Leader often says, the Senate will not be intimidated by the antics of far-left protestors."
For its part, Havana Rumba posted a statement to their Facebook page on Saturday expressing "regret" over the incident, and adding that they "strongly believe everyone should feel welcome and safe in our restaurants."
"It was Friday night in the middle of the rush and our staff was caught off guard as the incident developed quickly. Once we were aware of the situation we acted quickly and efficiently to assure that everyone was safe," stated the restaurant.
"Havana Rumba has always been a welcoming place to all who want to enjoy delicious Cuban cuisine and we are committed to continue bringing that to our Louisville community."
Over the past several months, multiple elected officials and members of the Trump administration have found themselves harassed in public, including at various restaurants.
Last month, Senator Ted Cruz was compelled to leave a Washington, D.C., restaurant when protesters confronted him over his support for U.S. Supreme Court nominee Brett Kavanaugh. 
While most of these incidents affect Republican politicians, Democrat House Minority Leader Nancy Pelosi was heckled by protesters that included a group known as the "Proud Boys" last Friday while in Florida.
It was in June when Democrat Rep. Maxine Waters called on critics of the Trump administration to confront administration officials when they see them at a restaurant, a gas station, a department store or wherever else they might be found in public. Many, including black Christian leaders, have denounced her comments.