Former Critics Mitt Romney, Bush Family Congratulate Donald Trump, Promise to Pray for Him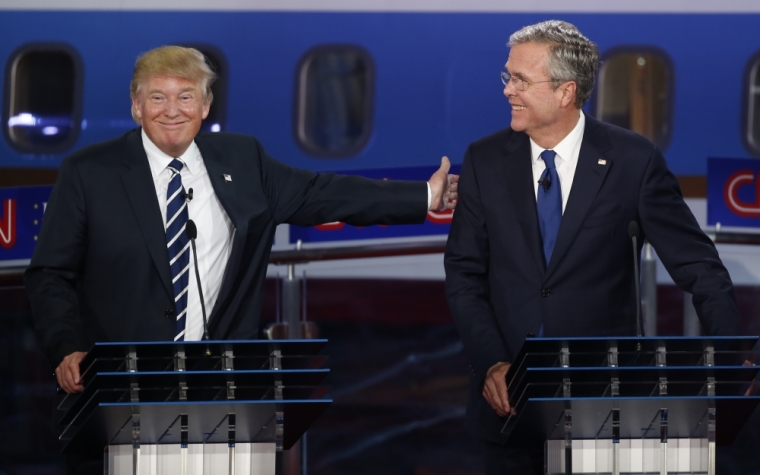 After publicly denouncing his presidential campaign in the bruising primary season, 2012 Republican presidential nominee Mitt Romney and the Bush family have congratulated President-elect Donald Trump for his unexpected win in the general election Tuesday, even promising to pray for him.
Former Presidents George H.W. Bush and his son George W. Bush revealed they called Trump after his stunning defeat of Democratic presidential nominee Hillary Clinton on Tuesday night.
According to CNN, Bush 41 made the first call from the Bush clan. His spokesman Jim McGrath said he spoke with Trump for about five minutes and wished him "good luck on your new challenge."
His son also revealed in a post on Facebook Wednesday that he made a call to the president-elect.
"This morning I called President-elect Donald Trump and congratulated him on his election as President of the United States of America. Laura and I wish the President-elect, Melania, and the entire Trump family all our very best as they take on an awesome responsibility and begin an exciting new chapter in their lives. We pray for the success of our country and the success of our new President," former President George W. Bush wrote.
The former president's brother Jeb, who was a rival to Trump in the Republican presidential primaries, also promised to pray for the president-elect.
"Congratulations on your victory @realDonaldTrump. As our President, Columba and I will pray for you in the days and months to come," Jeb Bush noted in a tweet.
While Jeb Bush did not reveal who he voted for on Tuesday, his brother and his wife, Laura, refused to vote for Trump and left the top of their ballots empty.
Romney, who wincingly denounced Trump's candidacy earlier this year was gracious in his congratulation of Trump on his win.
"Best wishes for our duly elected president: May his victory speech be his guide and preserving the Republic his aim," Romney noted.
It is a far cry from the dire warning he issued to voters during the bruising Republican presidential primary season in March.
"If we Republicans choose Donald Trump as our nominee, the prospects for a safe and prosperous future are greatly diminished," Romney said slamming Trump's policy proposals and temperament.
"Think of Donald Trump's personal qualities. The bullying, the greed, the showing off, the misogyny, the absurd third grade theatrics. You know, we have long referred to him as 'The Donald.' He's the only person in the entire country to whom we have added an article before his name, and it was not because he had attributes we admired," Romney added.
In a "Thank You" note to his supporters on Thursday, Trump praised his supporters for helping him take "our country back."
"Tuesday night you showed the world that America will once again be a country of, for, and by the PEOPLE. You fought like a winner, you defied all odds, and history will forever remember the role you played in taking our country back," Trump said. "I never could've done it without you."
"Tuesday night we learned that America is still a beacon of hope where the impossible is possible. For far too long, we've heard Washington politicians give the excuse that 'it can't be done.' They say we can't balance the budget, we can't stop corruption, we can't control the border, we can't bring jobs back to our country," he continued.
He added: "Now it's time to start uniting our country and binding the wounds of our divided nation. I promise to be a president for ALL Americans. I will work for you. I will fight for you. And I will win for you."