Morgan Roof, Sister of S.C. Church Shooter, Arrested After Wishing Classmates 'Get Shot' at School Protest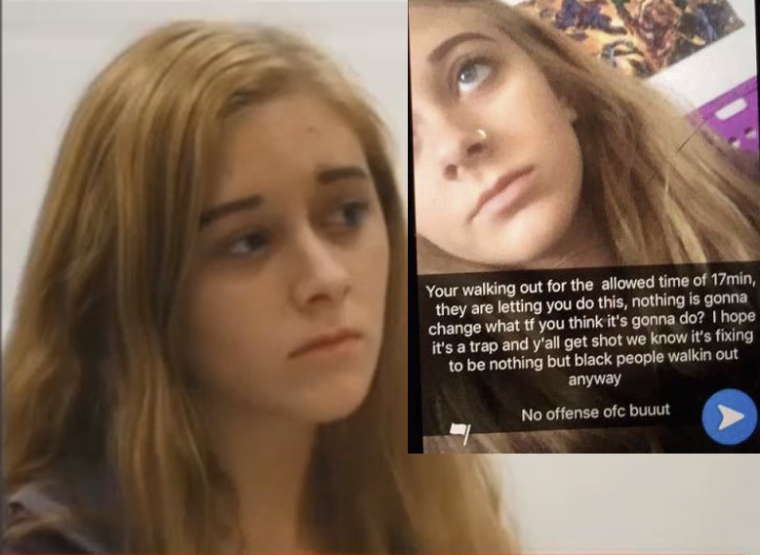 Morgan Roof, the 18-year-old sister of Charleston church shooter Dylann Roof, was arrested on drug and weapons charges at her South Carolina high school Wednesday after scaring some students with a racially charged social media post in which she wished students who participated in the national walkout against gun violence would "get shot."
"Your walking out for the allowed time of 17 mins, they are letting you do this, nothing is gonna change, what tf you think it's gonna do? I hope it's a trap and yall get shot, we know it's fixing to be nothing but black people walking out anyway, no offense ofc buuuuut," a Snapchat post attributed to Morgan allegedly said about students at A.C. Flora High School participating in the national walkout against gun violence.
Columbia authorities said the School Resource Officer at A.C. Flora was contacted by the school administrator about Morgan having marijuana, pepper spray, and a knife on school grounds as students also raised alarm about her social media post, according to WISTV.
She was later charged with simple possession of marijuana and two counts of carrying weapons on school grounds. She was also given a $5,000 bond but one of the conditions of her bond is that she not be allowed to return to A.C. Flora High School.
In a statement Wednesday, A.C. Flora Principal Susan Childs addressed Morgan's arrest as well as a separate incident at the school in which authorities discovered an unloaded gun. One report said two 16-year-old students were arrested on gun related charges after a loaded magazine was found in his book-bag and a Smith and Wesson .380 handgun was found after being tossed in bushes.
"As many of you know, today was set as a time for a student walkout. Our student leaders had asked to be allowed to spend 17 minutes to remember each of the victims of the Parkland, Florida, school shooting. This student-led event was voluntary. The walkout went well with only a minor verbal disagreement that occurred at dismissal from the event," Childs said.
"A rumor then started that a certain student had a weapon. This was heavily investigated and found to be inaccurate. In a separate situation, a student used social media to post a hateful message. The posting was not a threat, but was extremely inappropriate. That student was dealt with in a swift and severe manner as the posting caused quite a disruption," she explained.
"I realize that rumors and the tragic school shootings in Florida are events that can cause anxiety for our students, parents, faculty, and the community. Be assured that the safety of our students will always be our top priority. We must continue to work together to maintain a safe and positive learning environment," Childs added.
In his response Wednesday, South Carolina's Republican Gov. Henry McMaster praised authorities for their swift response.
"Potential tragedy was avoided at AC Flora High School. In two separate incidents, students and educators reacted quickly to reports of suspicious activity and behavior to their Richland County Sheriff's Department school resource officer. We owe a debt of gratitude to all involved who acted so quickly and decisively," he said.
McMaster, however, slammed the national walkout as a "shameful" effort by a left-wing group to further their own agenda.
"It appears that these school children, innocent school children, are being used as a tool by left-wing group to further their own agenda," McMaster told ETV.
"This is a tricky move, I believe, by a left-wing group, from the information I've seen, to use these children as a tool to further their own means. It sounds like a protest to me. It's not a memorial, it's certainly not a prayer service, it's a political statement by a left-wing group and it's shameful," he said.
"What we should all do and what these students should do — I imagine a lot of them intend to do — is to pray and to hope for the families of those who were slain," McMaster said.
Last month on Valentine's Day, Nikolas Cruz, 19, fatally gunned down 17 students and staff members at Marjory Stoneman Douglas High School in Parkland, Florida, and injured several others.
In the aftermath of the massacre, President Donald Trump urged students to ensure that they report bad behavior among their peers as soon as they see it.
"So many signs that the Florida shooter was mentally disturbed, even expelled from school for bad and erratic behavior. Neighbors and classmates knew he was a big problem. Must always report such instances to authorities, again and again!" Trump tweeted as Cruz's profile emerged.