Mother thanks Jesus for performing 'miracle' after good samaritan saves infant daughter's life
Mother thanks Jesus for performing 'miracle' after Good Samaritan saves infant daughter's life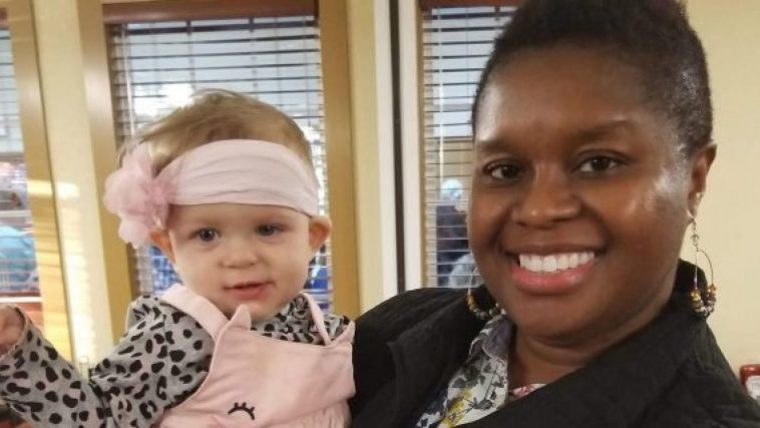 A North Carolina mother has thanked Jesus for performing a "miracle" after a good samaritan saved her infant daughter from choking this past Thanksgiving.

Hannah Marie Jarvis was enjoying the holiday with her family at a Golden Corral restaurant when her 7-month-old baby, Calli, started to choke on some mashed potatoes.
"We were all at the Golden Corral. We were celebrating Thanksgiving," Jarvis told local news station WLOS. "We were just feeding her some mashed potatoes. She just started gagging all of a sudden. She was choking."
Hearing the commotion, a waitress came over and yelled out, asking if anyone could help the family. Mother-of-five Deborah Rouse, who was dining at the restaurant, quickly began performing the Heimlich maneuver on the infant.

"This lady named Deborah intervened, and she started performing the Heimlich maneuver on her," Jarvis said to WLOS. "She held her down, like this, taking multiple blows to her back. It was miraculous, she started breathing again."
Overjoyed, Jarvis said she and her family hugged Rouse at the restaurant.

"I will never forget the many tears that were shed today in Golden Corral as this angel stepped in to preform the heimlich maneuver that saved my baby from choking to death. Most importantly, thank you Jesus for hearing our desperate cries for Calli this Thanksgiving afternoon," Jarvis wrote on Facebook, along with a picture of Rouse posing with Calli. "Christ was with us today."

Jarvis' social media post about the incident was widely shared, eventually catching Rouse's attention, prompting her to respond: "Good evening Mrs. Hannah, I saw the news article and I messaged you my number! I'm elated that Callie is doing well, y'all have been on my mind since yesterday! Love you all and take care."

Rouse later responded to Jarvis' social media post, writing, "What a blessing!! What a Thanksgiving." She added "I'm soooooooo THANKFUL to God for having me in the right place at the right time!!! God, You are WORTHY."

Jarvis said Calli was evaluated at the hospital after the incident and is doing well.
According to the Department of Health, choking is the fourth leading cause of unintentional death in children under the age of 5. At least one child dies from choking on food every five days in the U.S., and more than 12,000 children are taken to a hospital emergency room each year for food-choking injuries.
In 2016, police officer Kenneth Knox said he was "guided by God" after performing CPR on a 2-month-old infant who had choked on cereal, saving the baby's life.
"The LORD GOD ALMIGHTY touched me and I knew what to do," Knox, who had never performed the procedure before, said on Facebook. "I did reverse CPR and was able to suck the cereal out of her throat and she began breathing again. She smiled at me for a second and then starting crying which was music to my ears."
Knox, a devout Christian, was later asked by the little girl's parents to be her godfather: "Out of my 25 years being a cop this is my greatest and most profound accomplishment and it made every second of those 25 years worth it all," he said.