Music Legend-Turned-Christian Glen Campbell Remembered for Praising God in Battle With Alzheimer's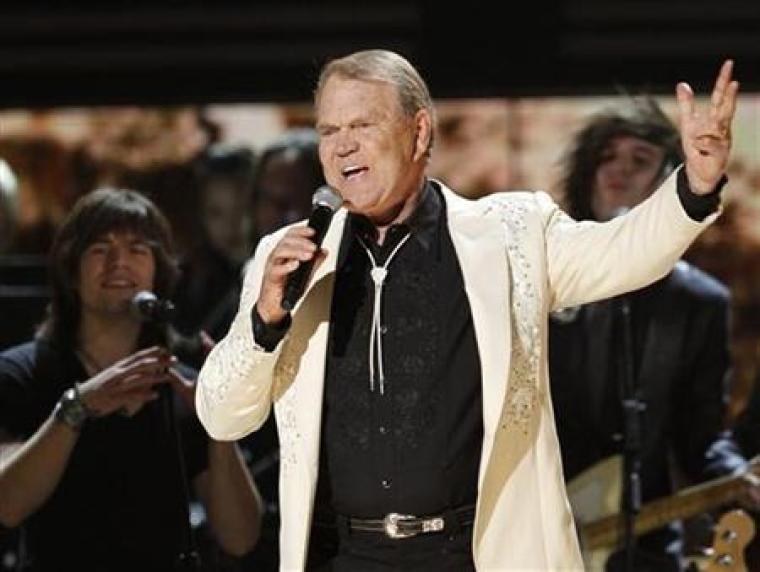 The country music world was stunned in 2011 when they learned that Glen Campbell had been diagnosed with Alzheimer's disease. On Tuesday, the Campbell family announced that the musician-turned-outspoken Christian had died at age 81.
During his 50 years in show business, Campbell released more than 70 albums, sold 45 million records and accumulated numerous Gold and Platinum albums along with one Double-Platinum album. His last documentary, 'Glen Campbell ... I'll Be Me' was nominated for an Oscar and showcased the singer's rough battle with Alzheimer's as he said farewell with a final 151-date nationwide tour.
Well-known for his hits such as "Rhinestone Cowboy," "Wichita Lineman," "Southern Nights," and "Gentle on My Mind," toward the end of his life, Campbell no longer had any recollection of his accomplishments, but still tuned his guitar at times.
Survived by his wife, Kim Campbell, their three children, Cal, Shannon and Ashley, and his children from previous marriages, Debby, Kelli, Travis, Kane and Dillon, and his 10 grandchildren, the family announced his passing in a statement shared on social media.
"It is with the heaviest of hearts that we announce the passing of our beloved husband, father, grandfather and legendary singer and guitarist, Glen Travis Campbell, at the age of 81, following his long and courageous battle with Alzheimer's disease," the message read on Facebook.
Although his legacy had a wide range of musical influences, Campbell ended his musical career singing hymns.
"I love singing gospel music and hymns. Being a Christian, I love to tell people about Christ and what He's done for me and can do for them," he told Cross Rhythms in 1990.
Although Campbell was raised in the Church of Christ and remained a God fearing man to the day he died, he also struggled with alcohol and substance abuse throughout his life.
Before he died, his wife of 36 years, Kim, revealed that he lost all of his ability to communicate but would still praise God.
"I've seen him walk over to the window and he'll raise up his hands and say 'Thank you Lord,'" Kim Told Breathecast in 2014. "Even the [Alzheimer's care facility] workers tell me about how thankful he is to God all the daylong."
The joint family statement of Campbell's passing added that Kim would make a personal statement at a later time and asked that fans pray for them all at this time. The note also said donations for Alzheimer's research can be given to the Glen Campbell Memorial Fund at BrightFocus Foundation through the donation page at Careliving.org.