Muslim Brotherhood in Egypt 'Rethinking' Peace Treaty With Israel (VIDEO)
In what is being described as a foreboding step away from peaceful international relations, Egypt's leading political party, the Muslim Brotherhood, has announced its plans to "re-evaluate" the country's peace treaty with Israel.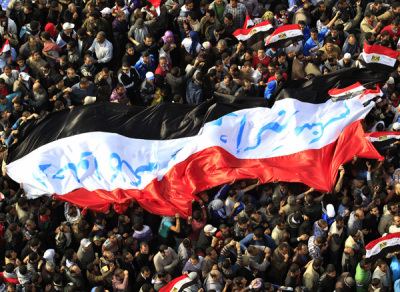 Rashad Bayoumi, deputy head of the Muslim Brotherhood, told London-based newspaper Al-Hayat Arabic that if elected, his party would work to dissolve the 1979 peace treaty between Egypt and Israel.
"This is an agreement that was formulated and signed far from the eyes of the people and the Parliament, so we must return this agreement to the people and let them have their say about whether this agreement hurts Egyptian interests and sovereignty," Bayoumi said in an interview published Sunday.
"No Muslim Brotherhood members will engage in any contact or normalization with Israel," Bayoumi reportedly said. 
Some observers argue that this is the Muslim Brotherhood's attempt to instill true democracy in Egypt, in which the country's people decide foreign relations.
The Muslim Brotherhood is expected to win the most seats in Egypt's parliament, after winning the majority of the seats in both the first and second rounds of parliamentary elections.
The Muslim Brotherhood's stance on the Israel peace treaty contrasts to that of their ultra-conservative political competitor, the Salafi Al-Nour party, whose members said in late December that they supported the treaty. 
"We are not opposed to the agreement, and we are saying that Egypt is committed to the agreements that previous Egyptian government have signed," spokesman Yousseri Hamad told Israeli Army Radio, according to ABC News. 
Bayoumi claims Egypt will not support Israel due to its illegal occupation of Palestinian land.
"We will not recognize Israel under any circumstances; we are talking about an occupation entity and a criminal enemy," Bayoumi stated.
The interview's timing proves ironic, as on Monday, Palestine's chief peace negotiator Saeb Erekat announced that his meeting with Israeli peace negotiator Yitzhak Molcho, scheduled for Tuesday, will be a last-ditch effort for peace negotiations.
Without its peaceful negotiations with Egypt, Israel will become further isolated from friendly relations in the Middle East.
Turkey's Prime Minister Recep Tayyip Erdogan told Arab foreign ministers back in September that Israel had isolated itself and must "pay the price."
Israel has relied significantly on Egypt in the past and Egypt has served as a greatly beneficial ally to Israel. Although the two have maintained a "cold peace" relationship since the signing of the 1979 peace treaty, Egypt's strength as an ally allowed Israel to focus its defense on northern boundaries and cut its defense budget, thus greatly bolstering its economy. 
Critics argue that Egypt's absolving of a peace treaty could threaten its chances for international legitimacy, which the Muslim Brotherhood has previously stated as one of its main goals in government.
Egypt's relationship with America has also been on thin ice recently. The U.S. State Department condemned Egypt's ruling military council last Thursday, when officials raided several pro-democracy organizations on the pretense of a finance investigation.
U.S. State Department spokeswoman Victoria Nuland alluded to Egypt's cut-off from American financial aid in a press conference.
"We do have a number of new reporting and transparency requirements on funding to Egypt that we have to make to Congress," Nuland said Thursday.
"The Egyptian government is well aware of that and it certainly needs to be aware of that in the context of how quickly this issue gets resolved," she added.
The Christian Post Daily Report 01.03.12