Muslim Extremists Kill Christians Gathered Outside Church in Drive-by Shooting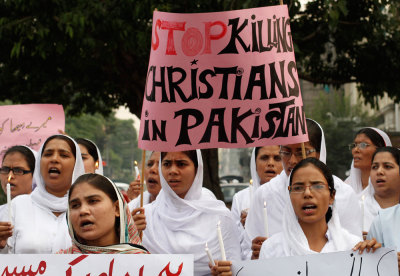 Terrorists associated with the Islamic State have claimed responsibility for killing two Christians in a drive-by shooting outside a church in southwestern Pakistan Sunday.
Over the weekend, unidentified gunmen on motorbikes opened fire at a group of Christians gathered outside a church in Quetta, capital of Balochistan province, officials said.
"Four men on two motorbikes opened indiscriminate fire, killing two people while injuring three others," local police official Abdul Razzaq Cheema told AFP.
Local official Javed Anwar Shawani told the outlet that "around 500" protesters blocked a road by placing the bodies of the two victims in the middle.
"We are negotiating with them to make them disperse and bury" the victims, he added.
The shootings, later claimed by members of the the Islamic State group's local franchise, comes just weeks after four Christians from a single family were gunned down on Easter Sunday.
Police officials confirmed that armed men on a motorcycle opened fire on the family when they were returning home from a bazaar in Quetta city. A young Christian girl was also wounded in the attack, but unlike her father and three cousins, survived the shooting.
ISIS later applauded a "covert unit" of its militants who "managed to target a number of the combatant Christians."
The radical group says its fighters "shot them with a pistol, which resulted in the killing of four of them, and all praise is due to Allah."
Provincial police official Moazzam Jah Ansari told Reuters that the incident "appears to be a targeted attack," calling it an "act of terrorism." 
Christians, who make up less than two percent of Muslim-majority Pakistan's 200 million people, have long faced discrimination and violence at the hands of Islamic extremists. Pakistan ranks as the 5th-worst nation in the world when it comes to Christian persecution, according to persecution watchdog Open Doors USA's 2018 World Watch List.
In December last year, two suicide bombers blew themselves up at a Quetta church, which was packed with worshipers, killing nine people and wounding over a dozen.
Global critics have also condemned Pakistan for having unfair blasphemy laws that are often used by Muslims to settle personal scores with religious minorities.
"Pakistan's notorious blasphemy laws target religious minorities but affect Christians the most, especially those who seek to evangelize," Open Doors USA reported in a fact sheet.
Wilson Chowdhry, chairman of the British Pakistani Christian Association, accused Western nations of "ignoring" the plight of Pakistan's minority Christian population.
"Christians find themselves at the worst end of society with millions stuck in slavery or undertaking sewerage and cleaning jobs commensurate with their untouchable status," he said in a statement.
"The government of Pakistan must renew efforts to protect Christians and other minorities through changes in law, better scrutiny of their statutory services in a drive to remove prejudice, improvements to the educational system in particular the national curriculum which should highlight the contribution made by minorities rather than baselessly condemning them and by increasing minority representation in the political and legal system."