Muslim, Jewish, Christian Leaders to Sign Historic 'Bahrain Declaration' on Religious Freedom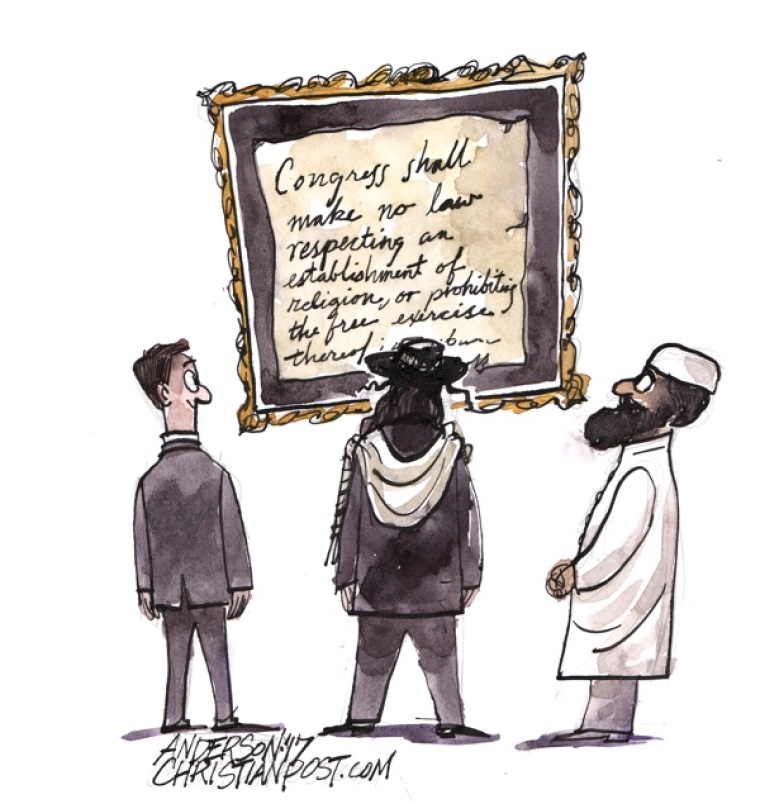 "One thing that I have learned today is that if our pace is to change one person at a time, so let it be so," Nasser said during a press conference Wednesday afternoon at the Museum of Tolerance in Los Angeles. "Let's change one person at a time, the world is actually gaining one person at a time, and this is the way we do it. It's just a consistency and we put in place a vision and plan and we just work hard. This whole new world needs hope, needs people like us to take things forward. With forgiveness and tolerance, this world is going to be a much better world."
Moore, who is an evangelical public relations professional an informal advisor to the Donald Trump administration, spoke at the press conference directly after the prince and said that hundreds of other leading religious figures from Christian, Sunni, Shia, Ahmadi, Jewish, Hindu and Baha'i faiths who have come from all over the world are expected to attend the signing ceremony Wednesday night.
Expected attendees include popular California evangelist Greg Laurie and Bishop Joseph D'Souza, the president of the All India Christian Council. Each leader in attendance will be invited to sign the declaration at the end of the night.
"What you will hear be announced tonight is a historic document. This is not an insignificant document. This is not words thrown arbitrarily on paper. These are words that have meaning baked into them. Every single part of that document says something strong," explained Moore, who's also a senior adviser to CP. "If this document is lived out in the world we are living in today, the world will change drastically. In a time when the worst of religion is on grand display, making countless of millions of people's lives miserable, today, we will highlight the best of faith, as demonstrated by the diversity in this room and the [prince's] words you just heard."
The release of the "Bahrain Declaration" comes in the same year that Bahrain, which is attached by a bridge to Saudi Arabia, was labeled by the United States Commission on International Religious Freedom as a "Tier 2" country for the first time. USCIRF's "Tier 2" recommendation highlights nations "in which the [religious freedom] violations engaged in or tolerated by the government are serious."
Bahrain is also listed as the No. 48 worst country in the world when it comes to Christian persecution on Open Doors USA's 2017 World Watch List.
In its 2017 annual report, USCIRF claimed that Bahrain has "deteriorating" religious freedom conditions and cited a "sharp increase in the number of interrogations, arrests, convictions, and arbitrary detentions of Shia Muslim clerics, mostly on unfounded and unsubstantiated charges."
The report also stated that some Shia clerics were denied access to certain mosques and banned from conducting Friday prayers. The report added that there was continued "discrimination against Shia Muslims in government employment and other public and social services."
"No nation is perfect, but my perspective on Bahrain isn't based upon speculation. I went there, and assessed the situation myself," Moore told CP when asked about the criticisms of Bahrain.
"What I find particularly curious is that many of those most critical of Bahrain normally fit into one or both categories: either they haven't been to Bahrain themselves or they are far less critical of [the Shia nation of] Iran than they are of Bahrain. Isn't that strange?" Moore asserted. "Bahrain's critics have far less criticism for Iran than they do for Bahrain. Curious, isn't it? It seems to me that there's something more sinister afoot. Of course, some believe Iran would love to use surrogates to agitate a nation connected by a bridge to Saudi Arabia."
Moore added that even Bahrain's critics should be willing to praise the declaration for an "encouraging step in the right direction."
"After all, the declaration represents a promise to protect religious freedom," he added. "The words in the declaration are clear and they are strong. But just watch, Bahrain's critics won't praise this statement on religious freedom for it isn't actually about religious freedom to them. It's about something else all together."
"Anyone that has a question about Bahrain ought to just do what I did and go over there and see it for themselves," Moore concluded. "What I found was amazing, and I'm proud to tell their story."