Muslim Man Says He Killed New Jersey Teen Brendan Tevlin as Payback for US Action Against Muslims in Middle East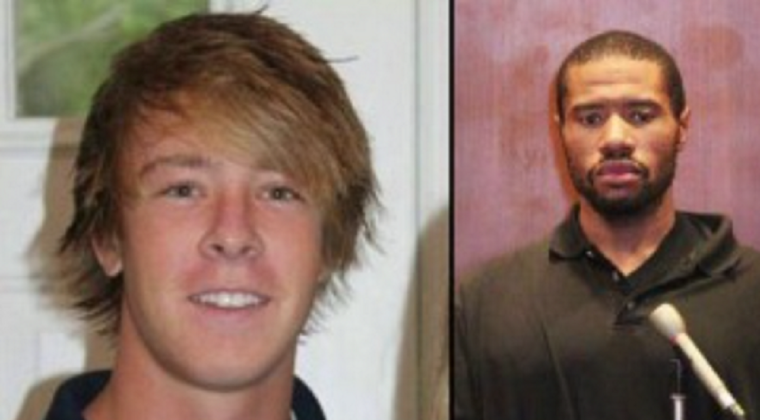 Ali Muhammad Brown, 29, a Muslim man who's facing multiple murder charges including the murder of New Jersey teenager Brendan Tevlin, 19, revealed last month that Tevlin's death was payback for the innocent lives of Muslims lost in Iraq, Afghanistan, Syria and Iran as a result of U.S. military action in the Middle East.
"All these lives are taken every single day by America, by this government. So a life for a life," Brown reportedly told detectives, according court documents cited by nj.com.
The court documents, which were filed in Washington State last month where Brown is also accused of murdering three other men, reveal that he felt it was his mission to kill Tevlin. Tevlin and the other men were all shot several times in isolated areas at night.
Brown, who prosecutors say is a devout Muslim, further explained in court papers that Tevlin's death was a "just kill" and said U.S. military intervention in the Muslim world is evil.
"During the interview Brown also stated that, as part of his beliefs, if a 'man sees evil then he must take action against that evil,'" noted court papers.
Law enforcement officials in Essex County, New Jersey, had pegged Tevlin's June 25 murder as a robbery that became violent. Brown reportedly fired 10 shots into Tevlin's vehicle while it was stopped at a red light at the corner of Walker Road and Northfield Avenue in West Orange, New Jersey.
After the shooting, Brown allegedly moved Tevlin's body into the passenger seat then drove his car to a nearby apartment building where he ditched it. Three other men, including Brown's co-defendants Eric Williams and Jeremy Villagran, reportedly fled the scene, according to NJ.com.
On Tuesday, Fox News anchor Martha MacCallum chided the media for not properly highlighting Tevlin's death and asked where was the collective outrage that stopped the nation when Missouri teenager Michael Brown was shot dead by a local police officer.
"I'm sorry if I sound too angry or impartial. But every time I look at this young man, I think, he could have been my son. My heart breaks for his mom and dad, and his sister and brothers," MacCallum wrote.
"The country stopped this summer as we watched the hurt and anger in Ferguson after Michael Brown's body lay on the ground for hours after he was shot and killed by law enforcement. The pundits and preachers flocked to Ferguson, outraged at what the police had done. Protestors filled the streets and riots broke out. It was a terrible story," she continued.
"So where is our collective outrage and remembrance of Brendan Tevlin? His story has been lost in a sorry media double standard," she said.
Brown is being held at the Essex County Jail in Newark on $5 million bail. If convicted, he could face the death penalty.
According to a recent CNN report, Brown pleaded not guilty in his first court appearance in New Jersey and officials have not said if he was motivated by a specific terrorist group.
In 2005, Brown was convicted of bank fraud in federal court and served time in jail, according to CNN. The FBI had tried then to link that case to fundraising for terrorists in Africa, but that effort was unsuccessful. One of Brown's co-defendants in that case reportedly fled to Somalia to fight with the militant group Al-Shabaab.
One legal expert told CNN that a terrorism case could be made in the Tevlin murder.
"Based on the statements he made, I believe you could prove that this is a terrorism offense," Amy Jeffress, a former prosecutor and attorney with Arnold & Porter in Washington, D.C. told CNN. She explained, however, that that didn't necessarily warrant prosecution in federal court.