Muslims, Jews and Christians Participate in Day of Fast for Peace Between Israel and Gaza Strip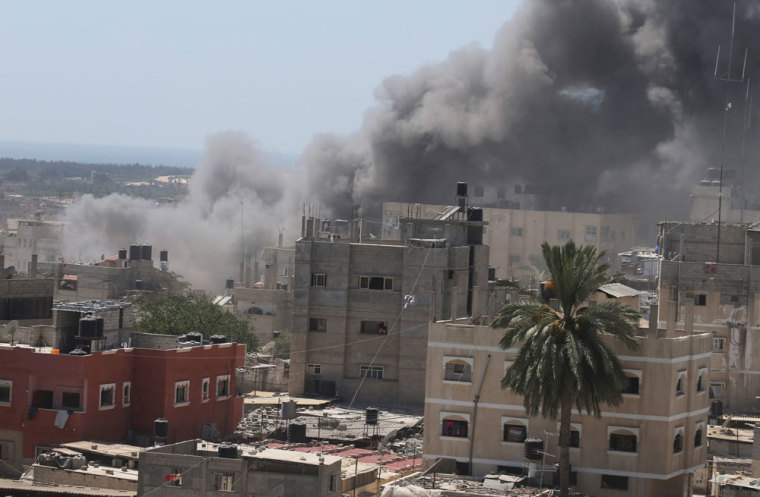 Muslims, Jews and Christians across the globe designated Tuesday as an international day of fasting to encourage peace between Israel and the Hamas-ruled Gaza Strip, as the two areas continue to exchange rocket fire in the wake of the death of three kidnapped Israeli teens.
The fasting movement, coined as #hungryforpeace on Twitter, encourages both sides of the Middle East conflict to resolve their differences and end the ongoing bloodshed.
Tuesday falls as a fasting day for both Muslims and Jews, as it is the 17th of the month of Tammuz on the Hebrew calendar, as well as the month of Ramadan, where Muslims fast during daylight hours each day.
The Twitter campaign and subsequent day of fasting began in Israel and gained momentum in the United Kingdom and the United States. Yachad, a pro-Israel, pro-peace group based in the U.K., was one of the main promoters of the international fast day.
Hannah Weisfeld, director of Yachad, told The Telegraph that her group promoted the fast day with the hope of encouraging peace between Israel, the West Bank, and the Gaza Strip. "Through the fast, British Jews want to loudly and clearly call for de-escalation, return of calm, return to the negotiating table and the creation of two states for two peoples, the only way that can guarantee stability and security in the long run."
"We must remain steadfast in our commitment to a peace that will guarantee both Israelis and Palestinians self-determination, safety and security […] we ask you to fast with us," Weisfeld continued. "The fast is an attempt to show that significant numbers of Anglo Jewry back the difficult steps that must be taken, including by Israel, in order to achieve peace."
Several Muslims, Jews and Christians have posted photos of themselves holding signs that read "#hungryforpeace" on Twitter, along with an encouraging message of hope for peace between Israel and the Hamas, a Palestinian Islamic group that governs the Gaza Strip.
"Bless the peacemakers. They're not naïve. They're not foolish. They're not weak. They're the sons and daughters of God. #Hungryforpeace," tweeted Brian Zahnd, pastor of Word of Life Church in St. Joseph, Missouri.
"2day we fast/pray for 4 our brothers & sisters in Israel & Palestine. May the spirit of Shalom overcome the shouts of hatred. #hungryforpeace," tweeted Scott Hodge, pastor of The Orchard Community in Aurora, Illinois.
According to The Telegraph, Gaza's Health Ministry reports that 185 people, including dozens of civilians, have been killed since missile strikes between Israel and the Gaza Strip escalated last month. The missile strikes increased after three Israeli teens were kidnapped in the West Banks and later found murdered. A Palestinian teen was later killed in Jerusalem in what is believed to be a revenge attack by Palestinians.