Muslims help pay ransom to free 16 churchgoers kidnapped in Nigeria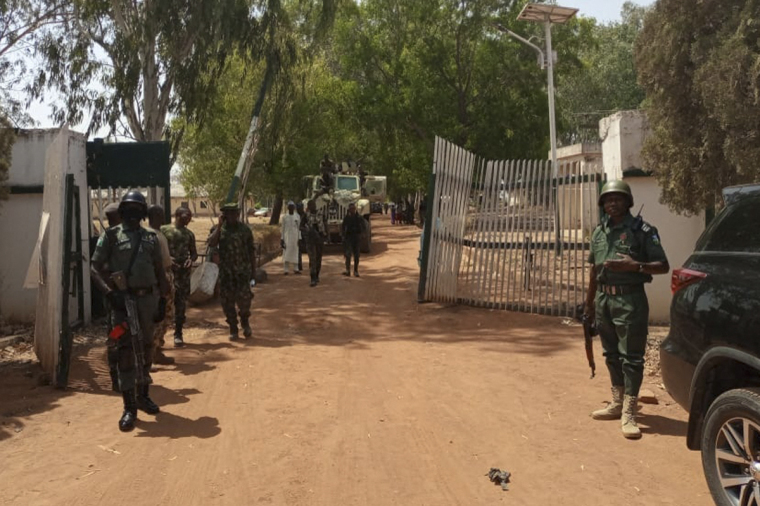 Sixteen abducted church members in Nigeria's Kaduna state have been released after nearly a month in captivity, following a ransom payment funded partly by the local Muslim community.
The members of Bege Baptist Church in Madala, Chikun Local Government Area, were released on June 4, the London-based advocacy group Christian Solidarity Worldwide reported.
About 40 congregation members were kidnapped during a Sunday service on May 7 by armed assailants of Fulani ethnicity. While most escaped, 16 remained captives for almost a month, the group said.
The Rev. John Joseph Hayab, chair of the Christian Association of Nigeria's Kaduna chapter, said local Muslims contributed to the ransom funds and purchased a motorcycle requested by the kidnappers.
"I confirm and give thanks that all 16 are now back home. We are grateful to the local Muslims who contributed towards the ransom," Hayab said.
CSW founder Mervyn Thomas applauded the contributions from the local Muslim community and hopes it "marks the beginning of a new era of reconciliation and cooperation."
This notable cooperation between the faith communities contrasts sharply with a recent viral video of Nasir el-Rufai, the former governor of Kaduna State, addressing his successor and Muslim religious leaders, CSW noted. El-Rufai reportedly expressed satisfaction at having secured Muslim dominance in key political sectors in Kaduna State, raising concerns of religious favoritism in his tenure.
Thomas said El-Rufai's comments "illustrate that the situation remains highly charged as violations in southern Kaduna continue to manifest along religious fault lines while those with the power to end them have prioritized other agendas."
Despite his claim that no one's rights were denied due to their religion during his time in office, El-Rufai's tenure witnessed an uptick in armed attacks in predominantly Christian regions of southern Kaduna.
Thousands were killed and displaced as hundreds of villages were destroyed or occupied by militia. Critics have accused El-Rufai of favoring Muslims in resource allocation for state projects and employment.
In a controversial move at the end of his tenure, El-Rufai issued a proscription order against the Atyap Community Development Association, a group effective in highlighting the plight of the Atyap community of southern Kaduna. The ACDA has described this move as "hostile" and "vindictive."
As part of a series of property demolitions ordered by El-Rufai, the Alheri Baptist Church was razed, leading to violent confrontations that claimed at least eight lives and left several others wounded, according to CSW.
Protesters defying the demolition orders were met with gunfire from the Kaduna State Vigilante Service, a group created by El-Rufai.
"We also lament the unnecessary loss of lives in the latest irregular demolitions in Kaduna state, which largely target religious minorities or political opponents of the former governor, and were once again conducted in defiance of court orders," Thomas added. "We urge the Nigerian authorities to challenge anyone who fosters religious division, to do far more to combat religion-related violence, and to prioritize the protection of vulnerable communities." 
Rev. Hayab called for the exemplary cooperation shown by the Muslim community in Madala to be replicated across the state for peaceful coexistence.
"The Muslim community has shown that one does not need to be educated before doing the needful. Nigerians from all walks of life should be their brothers' keepers in order to eliminate all forms of insecurity in every part of the country," Hayab said.
In its annual international religious freedom report, the State Department noted that a spike in deadly violence in Nigeria continued in 2022, impacting both Christians and Muslims, citing data from multiple sources, including the NGO Armed Conflict Location & Event Data Project (ACLED).
ACLED reported 3,953 civilian deaths from violence across the country for the year, with violence targeting Christians accounting for 5% of all violence. In 2021, the group tallied 3,699 deaths.
"There continued to be frequent violent incidents, particularly in the northern part of the country, affecting both Muslims and Christians, resulting in numerous deaths," the State Department's report states. "Kidnappings and armed robbery by criminal gangs increased in the South as well as the North West, the South South, and the South East. The international Christian organization Open Doors stated that terrorist groups, militant herdsmen, and criminal gangs were responsible for large numbers of fatalities, and Christians were particularly vulnerable."
Christian activists and watchdog organizations have claimed for years that Christians are being targeted for violence by radicalized herdsmen and Islamic extremist groups, and some advocates internationally have questioned whether violence against Christians has reached the standard for a genocide declaration.