'My Abortion Was the Right Decision,' Planned Parenthood President Says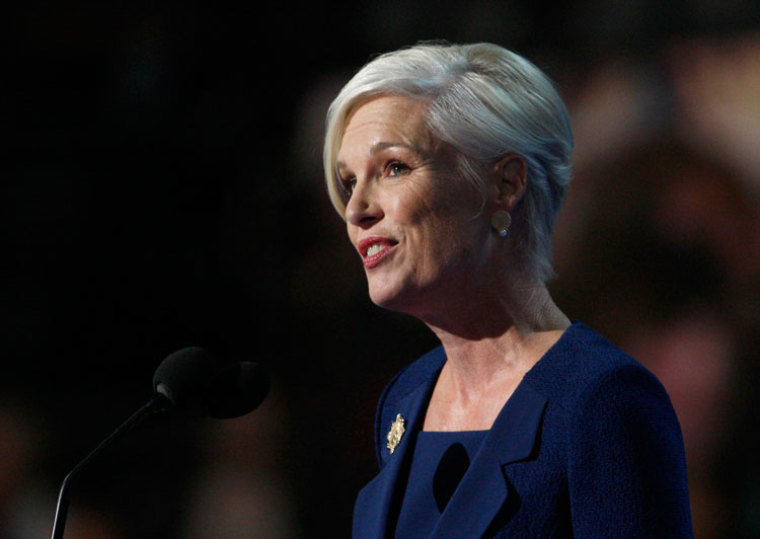 Planned Parenthood president Cecile Richards wrote an article for Elle magazine denouncing the "stigma" that abortion carries, and confessed that she had an abortion and said it was the right decision and not a difficult one for her family.
"If a woman says that she's relieved after having an abortion, she may be judged for being heartless or unfeeling. If she says that she feels regret, anti-abortion activists use this to push for laws that restrict access to abortion or laws that assume women are incapable of making their own decisions without the interference of others," Richards wrote in the piece, titled, "Ending the Silence That Fuels Abortion Stigma."
She states that stigma is behind what one third of women in the United States experience to be the focus of "intense public debate for decades, with hardly any real firsthand experiences at the center of the discussion."
Richards goes on to state that she knows this firsthand. "I had an abortion. It was the right decision for me and my husband, and it wasn't a difficult decision. Before becoming president of Planned Parenthood eight years ago, I hadn't really talked about it beyond family and close friends. But I'm here to say, when politicians argue and shout about abortion, they're talking about me — and millions of other women around the country."
She calls the climate "tough," particularly in Texas, her home state where she was the daughter of the-late Democratic Gov. Ann Richards, and says she is "encouraged and grateful for the courage and leadership of young people across the country."
Between 60,000 and 72,000 women have abortions in Texas every year.
The U.S. Supreme Court issued an order last week allowing 13 abortion clinics in Texas to stay open, superseding a state law that requires the closure of clinics that fail to meet basic health and safety standards.
The order came after 13 Texas abortion clinics announced they would close after the Fifth Circuit Court of Appeals' decision that allowed the abortion clinic regulation law to stand.
Under the law, HB 2, abortion clinics that are not in compliance are required to make mandatory upgrades, at a combined estimated cost of $1.5 million, according to the Fifth Circuit Court's ruling, or between $45,000 to $115,000 per clinic.
Richards narrates a recent incident where three high school teenagers approached her after a political rally. They launched a new project for women to share their stories about abortion via social media to help, they claimed, to decrease the stigma. "One of the young women began to cry as she talked about what it's like to see the forum she helped create provide connection and empowerment for women she's never met."
She concludes by saying that pro-choice activists have a long way to go "to end abortion stigma in this country," but people like the three high schoolers "show what's possible, and why it matters so much."
A former clinic manager, Abby Johnson, told The Christian Post earlier that, for Planned Parenthood, abortion is "the only way to make money and the only way to generate revenue."
"Workers know there's a quota. They become sales people for abortion, otherwise Planned Parenthood will lay off workers," said Johnson, president and founder of a nonprofit called And Then There Were None, which provides financial, emotional, spiritual and legal assistance to former employees who've left the abortion business.