Nashville school shooter's manifesto leaked; trans-identified killer's motivation revealed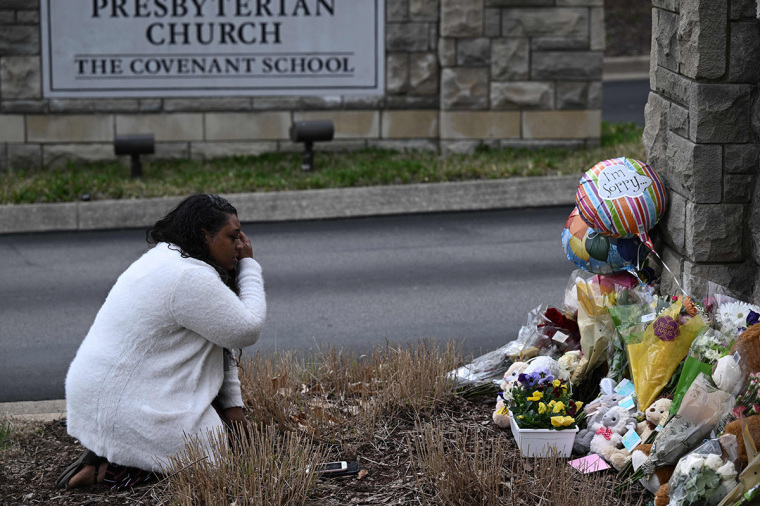 The trans-identified shooter who killed six people, including three children, at Nashville's Covenant School sought to kill "cr*ckers" with "white privileges," according to leaked pages of her manifesto that documented the plans to commit mass murder.
On Monday, "Louder with Crowder" host Steven Crowder released pages allegedly from the manifesto on X, formerly known as Twitter.
The writings have been sealed since the March 27 attack where 28-year-old Audrey Hale opened fire at The Covenant School in Green Hills, killing Evelyn Dieckhaus, Hallie Scruggs, and William Kinney, all 9 years old, as well as Cynthia Peak, 61; Katherine Koonce, 60; and Mike Hill, 61. Hale was shot and killed by police just minutes after launching her attack.
"Kill those kids!!!" a leaked page of the manifesto reads. "Those cr*ckers going to private fancy schools with those fancy khakis and sports backpacks, with their daddies [sic] Mustangs and convertibles. F*** you little sh**s. I wish to shoot you weaka** d***s w/ your mop yellow hair. Wanna kill all you little cr*ckers!!! Bunch of little f***ots with your white privileges. F*** you f***ots."
???? BREAKING: Nashville School Covenant Shooter Audrey Hale's "DEATH DAY" Manifesto Targeted "Cr*ckers" with "white privlages"

"wanna kill all you little cr*ckers"

"I hope I have a high death count"

"I'm ready...I hope my victims aren't."

"Ready to die."#NashvilleManifestopic.twitter.com/89Ie6TlgRf

— Steven Crowder (@scrowder) November 6, 2023
According to the leaked pages, which Crowder said have been verified by multiple sources, Hale wrote, "I hope I have a high death count … God let my wrath take over my anxiety."
The shooter also left a detailed schedule of the day of the shooting.
"I'm a little nervous, but excited, too," Hale wrote. "Been excited for the past 2 weeks. There were several times I could've been caught, especially back in the summer of 2021. None of that matters now. I am almost an hour and 7 minutes away. Can't believe I'm doing this, but I'm ready … I hope my victims aren't."
Hale concluded: "Ready to die haha."
Hale reportedly left behind at least 20 journals, a suicide note and a memoir, according to court filings, which were recovered at the crime scene and at her parents' home.
Police said Hale, a former student at Covenant School, identified as trans and used the pronouns "he/his" online. Some of the leaked manifesto pages were signed using Hale's given name, "Audrey," while others were signed "Aiden."
Her writings have been the subject of intense debate; Nashville police said they would release the writings, but not until they close the investigation. 
Meanwhile, multiple groups have sued for access, including a state senator, The Tennessean newspaper and a gun-rights organization, according to the AP. Presidential candidate Vivek Ramaswamy also called for its release, and the National Police Association filed Freedom of Information Act requests to try and get the manifesto released but were denied by a judge.
Conversely, The Covenant School, the church that shares its building, and many of the school's parents have sought to keep the records private, objecting to "giving voice to a horrendous criminal." Those opposed to releasing the writings also expressed concern they could spark a copycat attack and retraumatize a community already struggling to heal from the attack.
Hale's parents had transferred ownership of her "manifesto" to the families of Covenant School students earlier this year. 
According to officials, Hale was being treated for an unspecified emotional disorder and planned the attack for months in advance and studied other mass murderers. At the time of the shooting, Hale was armed with two rifles, a handgun and "significant ammunition."
"In the collective writings by Hale found in her vehicle in the school parking lot, and others later found in the bedroom of her home, she documented, in journals, her planning over a period of months to commit mass murder at The Covenant School," they said in April. 
On Twitter,Ramaswamy applauded Crowder for releasing pages of the memo: "We *can* handle the TRUTH," he wrote. "I went to Nashville in August to demand that the Governor, the Nashville Police and the FBI release the trans shooter's manifesto. Be honest with the public - not just when it's easy, but when it's hard. Get to the root cause: the mental health epidemic. The path to truth runs through transparency."
The Covenant School is a private Christian school with 33 teachers and up to 210 students starting in preschool through sixth grade, according to the school's website.
"As we capture our children's attention and their minds for learning, we also want to capture their hearts in relationships that challenge their thinking and help them learn critical skills. Our graduates attend the finest schools in the Nashville area, where they not only excel academically, but also act with character that comes from authentic faith in Jesus," the school website notes.