Natalie Grant Pleads for Prayers as Daughter's Lung Collapses
In an alarming Facebook post just days after celebrating Christmas with her family, singer Natalie Grant pleaded for prayers for one of her twin daughters who is in respiratory distress.
"My daughter Gracie has pneumonia, a partial collapsed lung and is in respiratory distress. We would so appreciate your prayers," Grant posted on her timeline.
Eight-year-old Grace Ana spent the holidays with her family in Seattle and appeared in perfect health just days before as she posed for a Facebook picture in front of a Christmas tree with her mother and sister. But on Dec. 28 Grant took to Facebook with another post that is now circulating around the Internet with petitions to pray for her daughter.
The singer made her request with a picture of Grace holding onto a stuffed animal while laying in a hospital bed wearing an oxygen mask, a polka dotted hospital robe and her nails painted festively in red.
As of Monday there hasn't been an update on the child's condition, but Grant's friends in the Christian industry, including Jason Crabb and Don Moen, have taken to social media to ask their supporters to join in prayer.
Just days before her last post on social media, Grant told fans about her daughter's health condition. "Day after Christmas ER visit with our sweet Gracie girl. Please pray for her little lungs to open up and breathing to return to normal," she wrote along with a picture of Gracie in the hospital hooked up to an asthma machine.
The Seattle native wrote that she was so "grateful for a brother who is a doctor" and acknowledged the "wonderful" ER staff at Swedish Medical Center where Graci is being treated.
Grant previously thought her daughter was well on her way to recovery because shortly after Grace was first released, the two spent some time at an ice cream shop.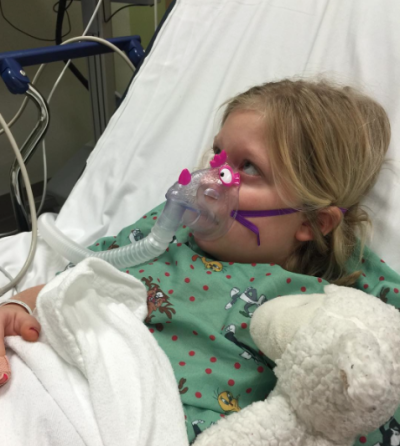 "Verdict for my sweet Gracie girl: pneumonia. And it required a big 'ol shot in her backside. Which then required a blizzard from DQ."
Grant and her husband, famous Canadian producer Bernie Herms, take much pride and joy in there three girls. The family is very active in church and are regularly seen on social media worshipping God, and enjoying life.
During a recent interview with The Christian Post, Grant offered parenting tips and explained what she and her husband do to be positive role models for their family.
"I want my kids to just see me and my husband living life with the Lord. In touch with Jesus, praying, worshiping the Lord, not just in church. If you live it even more than you speak it, the kids will learn because they'll never know anything different," she said.
The singer continues to be that example for her children as she turns to prayer and God for the healing and recovery of her daughter.