Nat'l Day of Prayer at US Capitol Focuses on Ephesians 3:4, Appeals for Unity in Midst of Violence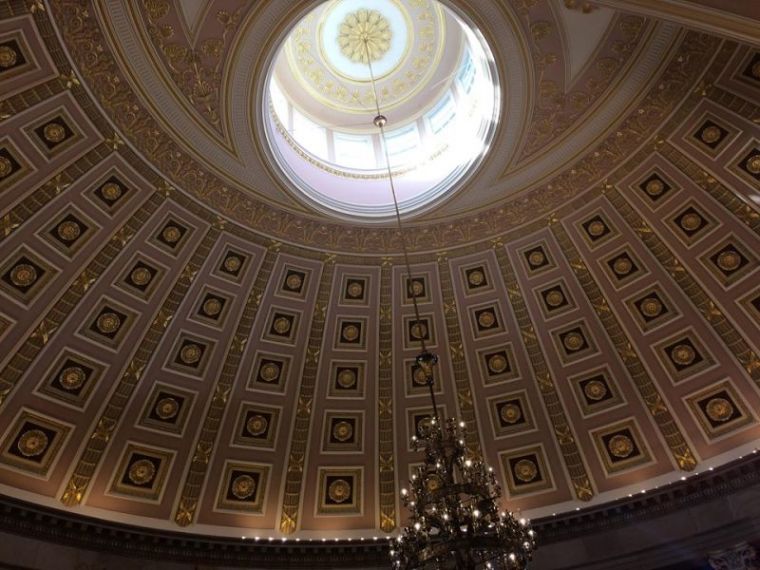 WASHINGTON — Passionate worship and fervent prayer and intercession for unity in a polarized nation rose from a space just outside the Capitol Rotunda this week.
Hundreds of Christian leaders and guests assembled in Statuary Hall in the U.S. Capitol for the 67th observance of the National Day of Prayer Thursday for a worship service centered on Ephesians 3:4, the Apostle Paul's charge to "make every effort to keep the unity of the Spirit through the bond of peace."
"A divided church cannot call the nation to unity," said Ronnie Floyd, pastor of Cross Church in Springdale, Arkansas. Floyd is the president of the National Day of Prayer and a former president of the Southern Baptist Convention.
"Unity is supernatural; unity is accomplished by God," he stressed, and it's incumbent on Christians to pray for this.
Even as differences remain, he added, it's the Spirit of God and the Gospel message that has the power to bring togetherness as nothing else can, but repentance is also necessary.
"Jesus is leading the greatest diversity movement in the history of the world, His Church," Floyd said, "and prayer always precedes every move of God."
Throughout the evening several ministers who prayed observed that the United States is going through a particularly tumultuous time, especially given the mass shootings in the past year. Attendees were asked to form groups of six to eight people in order to pray for various things, aiming for unity of heart.
Echoing Floyd, the Rev. Samuel Rodriguez, president of the National Hispanic Christian Leadership Conference, led those gathered in prayer for repentance for America's sins.
"America needs to know that there is a name that, a name that is above every single other name: the name of Jesus," Rodriguez said. 
"More than ever our nation needs to hear that name," he continued. "Now is the time to reconcile Billy Graham's message with Dr. King's March."
He added to enthusiastic applause, "Now is the time to remind our nation that the donkey [Democrat] never died for us, the elephant [Republican] never resurrected for us, but the Lamb and the Lion of the tribe of Judah did."
The Brooklyn Tabernacle Singers sang several songs during the evening, interspersed between times set aside for prayer.
Following praying for the three branches of government, Floyd showed a video about violent tragedies in America, specifically the school shooting at Marjory Stoneman Douglas in Parkland, Florida, and the massacre at Sutherland Springs Baptist Church in Texas. After the video concluded, Floyd interviewed Pastor Frank Pomeroy and his wife, Sherri. A gunman entered their church on Nov. 5, 2017, during the Sunday morning service and murdered 26 people, among them the Pomeroy's 14-year-old adopted daughter, Annabelle. The Pomeroys were out of town at the time of the shooting.
"We are seeing the growth of the church" since the tragedy, Frank Pomeroy explained, describing how much "cohesion" exists within the community and families, a bond "that is stronger now than it ever was before."
"And it was through the grace and the mercy of an Almighty God that brought that to be."
Sherri Pomeroy added that though their lives have been turned upside down, they are getting through "one breath at a time" and are grounded in their hope in Christ and have felt upheld by all the prayers that have been coming from across the nation.
Floyd asked the Pomeroys what they think about first when they hear about other violent incidents like the recent shootings at a Tennessee Waffle House and in Parkland.
Sherri Pomeroy replied, "I think of how I didn't pray enough before because it could never happen to us. And now we're on the other side so we're more aware, more in tune with those things and the hurts of other people."
Frank Pomeroy responded, "Myself, it's a little different. I look at those situations and it breaks out a cry in my heart for those situations." He said he prays for those who get forgotten weeks after the incident, including the victims who are still fighting for their lives amid of the politicization of the issue.
Pomeroy added that he was thankful his church did not go that route of politicizing when violence befell them.
"I praise God in Sutherland Springs, our community chose not to take that path. They chose to look up. And by looking up we move forward, and by moving forward we lift up Christ. And I wish that that would happen in every one of those other situations as well."
Frank Pomeroy then led a prayer for unity and security in America's churches, schools, communities and public places, appealing for unity.