National Security, Not Religion, Behind Travel Restrictions, President Trump Says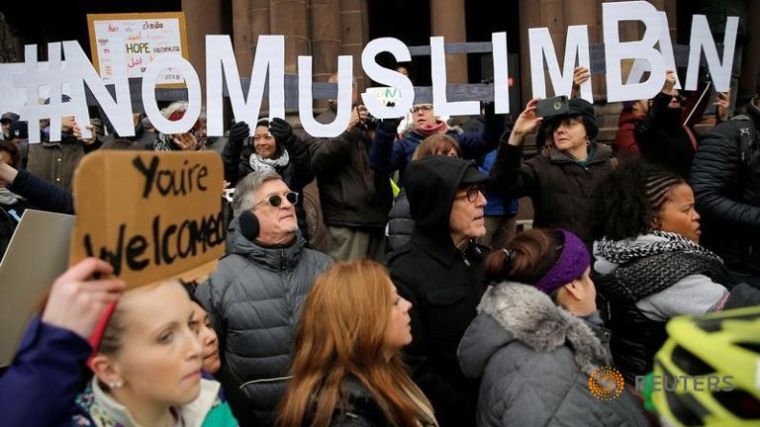 President Donald Trump defended his executive order restricting the citizens of predominantly Muslim countries of Iran, Iraq, Libya, Somalia, Sudan, Syria and Yemen from entering the country, saying it's about national security and not religion.
"America is a proud nation of immigrants and we will continue to show compassion to those fleeing oppression, but we will do so while protecting our own citizens and border," Trump said in a statement on Sunday. "America has always been the land of the free and home of the brave. We will keep it free and keep it safe, as the media knows, but refuses to say."
He added, "This is not about religion — this is about terror and keeping our country safe. There are over 40 different countries worldwide that are majority Muslim that are not affected by this order."
Trump sought to explain that the seven countries named in the order are "the same countries previously identified by the Obama administration as sources of terror."
The order prevents travelers from the seven countries for at least 90 days, and also states that "extreme vetting" will be imposed on those intending to enter the United States.
"To be clear, this is not a Muslim ban, as the media is falsely reporting …," Trump stated. "We will again be issuing visas to all countries once we are sure we have reviewed and implemented the most secure policies over the next 90 days. I have tremendous feeling for the people involved in this horrific humanitarian crisis in Syria."
On Friday, the day Trump signed the executive order, the president pledged to give priority to persecuted Christians as refugees.
"We are going to help them (persecuted Christians). They've been horribly treated," he told CBN News.
"Do you know if you were a Christian in Syria it was impossible, at least very tough to get into the United States? If you were a Muslim you could come in, but if you were a Christian, it was almost impossible and the reason that was so unfair, everybody was persecuted in all fairness, but they were chopping off the heads of everybody but more so the Christians. And I thought it was very, very unfair," he said during the interview on The Brody File.
In the fiscal year of 2016, the United States admitted 84,995 refugees, out of which 12,587 were from Syria, according to the Pew Research Center. President Obama had a plan to admit 110,000 refugees into the country in 2017, but President Trump is likely to bring the number down to 50,000.
The Refugee Processing Center data shows that more than 98 percent of the Syrian refugees who were allowed into the U.S. in 2016 were Sunni Muslims, and Christian refugees accounted for mere 0.5 percent.
"In 2002, the United States admitted only 27,131 refugees," according to The National Review, citing statistics from the Migration Policy Institute. "It admitted fewer than 50,000 in 2003, 2006, and 2007. As for President Obama, he was slightly more generous than President Bush, but his refugee cap from 2013 to 2015 was a mere 70,000, and in 2011 and 2012 he admitted barely more than 50,000 refugees himself."
According to CNN, two Syrian Orthodox Christian families were turned away at the Philadelphia airport in Pennsylvania on Saturday due to the travel restrictions.